A Clutch Wallet Explained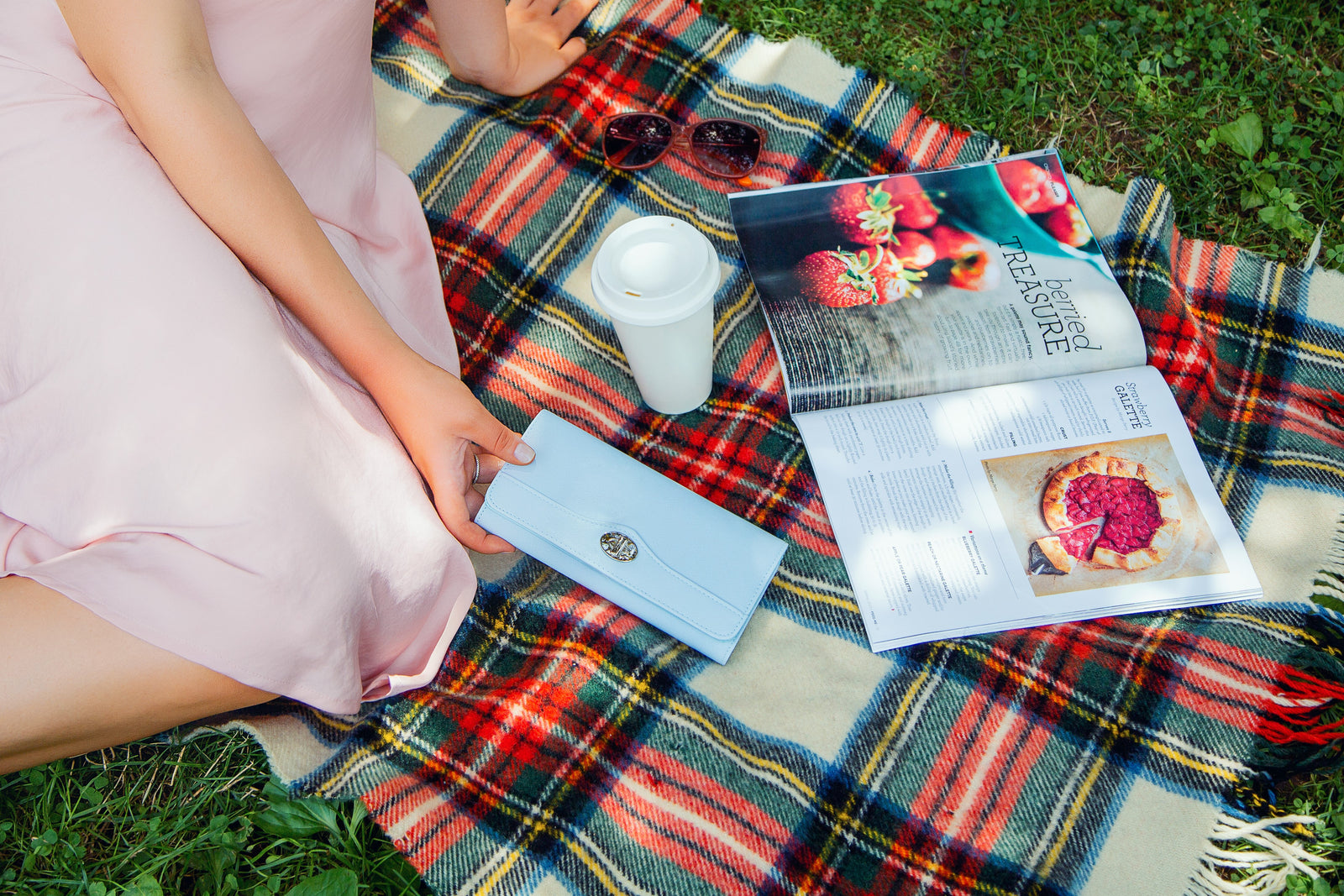 Ever heard of a new accessory and scratched your head? A what? What is a clutch wallet anyway? Well, what if we told you a clutch wallet isn't just an accessory but a total game-changer in your everyday life? Instead of being something entirely new altogether, a clutch wallet incorporates your favorite aspects of a wallet and a clutch purse (but all in one).
While you might not be sold just yet… "Why bother with a clutch wallet when my wallet and handbag work perfectly fine for now." Well, just sit tight because the clutch wallet isn't new, it's the result of women over the years perfecting the 'bag system.' Through years of bag evolution, the clutch wallet has arisen and is here to save the day (and your sanity).
What is a Clutch Wallet?
Before we dive into the world of clutch wallets, let's start by breaking down the elusive term. According to the Merriam-Webster dictionary, a "wallet" is defined as "a folding pocketbook with compartments for personal papers and usually unfolded paper money." According to the Online Etymology Dictionary, The word 'wallet' is incredibly old, originating from the late 14th century, meaning "bag." Secondly, Merriam-Webster defines the word "clutch bag" as "a woman's small usually strapless handbag."
Putting the two terms together we can determine that a clutch wallet is a wallet that you can carry around as its own strapless purse. No need to throw your wallet into another purse because a clutch wallet is meant to stand out on its own and be appreciated as the perfect complement to your outfit.
The History of a Clutch Wallet
According to Encyclopedia.com, "the clutch purse became the standard for business or daytime activities," as more women joined the workforce and their more decorative or lavish handbags were reserved for special occasions later in the evening.
Originally made out of either leather or stiff smooth cloth with a metal clasp or closure—"clutch purses were often neat, flat rectangles made of a plain color." While leather clutches were limited to being either black or brown, a cloth purse was not limited and could be any color that suited the wearer's outfit.
Top Reasons You Deserve a Clutch Wallet
There are plenty of reasons for why you deserve the best of the best, but first, ask yourself these important questions…
Does it take you more than 5 seconds to find that specific coupon or receipt in your purse?

Do you hate that your cash is always crumpled or torn while sitting at the bottom of your bag?

Do you hate having to carry around such a big and bothersome handbag everywhere you go?
Good news, if you answered "yes" to any of the questions above, your prayers have been answered. This is what a clutch wallet can do for you:
Seamless Organization
A wallet is something that everyone could benefit from. No amount of pant pockets are enough to carry all your small personal items. Wikipedia points out all the items that are typically found in a wallet, for instance, "paper currency, credit cards, and identification documents (driver's license, identification card, club card, etc.) photographs, transit pass, business cards and other paper or laminated cards."
I think we can all agree that it's better to have a nice little pocket/slot system when organizing all these items instead of having a crisis in the checkout line, digging through a larger purse that has somehow turned into a black hole abyss. Start priding yourself in being the fastest customer out there—like the wild west—have your credit cards a' blazing and raring to go (the cashier and the long line waiting will thank you).
My Personal Purifier UVC Clutch
So during our little history lesson earlier we learned what a clutch wallet USED 
to be a long time ago… but now let's talk about where the clutch wallet is GOING—the future of the clutch wallet if you will. Presenting the first of two UVC clutches.
Available in 3 bold colors, this clutch features a UVC light that cleans all of your belongings (a major win for clutches everywhere). This wallet includes a zippered pocket, USB cable, and can clean your smartphone, face masks, credit cards, money, and more with its UVC technology.
My Secret Cleaning Clutch
Definitely a clutch you won't want to keep secret. This sexy and streamlined clutch embodies style and efficiency. Featuring a built-in UVC light, 4 credit card slots, a zippered pocket, bill pockets, slip pockets, and USB cable included—this clutch wallet is everything a girl could need in 2020. With up to 10,000 hours of use, this UVC light can clean your belongings up to 200,000 times! What an overachiever.
Be the master of your File Master Clutch. With dozens of designs to choose from—we're talking preppy to professional, summery to cozy, and everything in-between. This timeless piece is a one and done purchase (meaning you'll never go back to any average handbag again). Featuring 13 credit card pockets, 2 slip pockets, 2 interior picture or ID windows, 2 zippered pockets, and 2 gusset 
pockets.
Not only will you have the most well-organized wallet in town, but you'll also be the most streamlined—just one beautiful clutch purse to tote around as you run your day! Complete with RFID Safe Keeper Technology to keep the thieves away too.
Liven Up (and Sophisticate) Your Outfits
Always look classy with great taste when pairing the simple clutch wallet with any outfit. There are clutch wallets of all different styles, patterns, and materials—just waiting to match with your bright and colorful morning brunch romper to the classic little black dress for cocktails in the evening. When answering the question: What is a clutch wallet? The simple answer is… a clutch wallet is and always will be "smart." It's a presentable choice that is suitable for all occasions and a sure-fire fun way to express yourself individually with this simple staple piece.
Leave a comment
Comments will be approved before showing up.
---
Also in Inside The Wallet
Your bag is your best friend. It's the accessory you take with you everywhere – whether you're heading to the office or grabbing brunch. While we all love our bag, it's easy to become frustrated when you can't find what you're looking for. Have you ever stood at the counter trying to find your credit card to pay for a coffee? Does your handbag seem to swallow up your lipsticks and hair accessories? That's why you need an organizer purse that makes it easy to find all your essentials. When you have an organized purse, you'll never get stressed about finding cash ever again.
Your phone is a lifeline. For most of us, it's practically become an extension of who we are. You can't leave home without it, and it rarely leaves our hand. With phones getting bigger to accommodate everyday activities streaming, it's becoming harder to slip your phone into your pocket.
We've all heard of the nightmares of people having their phones pickpocketed. Just think of how much personal information is in your phone – as well as the price tag of your phone. That's why you need a phone bag. Whether it's a wallet organizer with cell phone pocket or a dedicated cell phone bag, your phone deserves extra protection.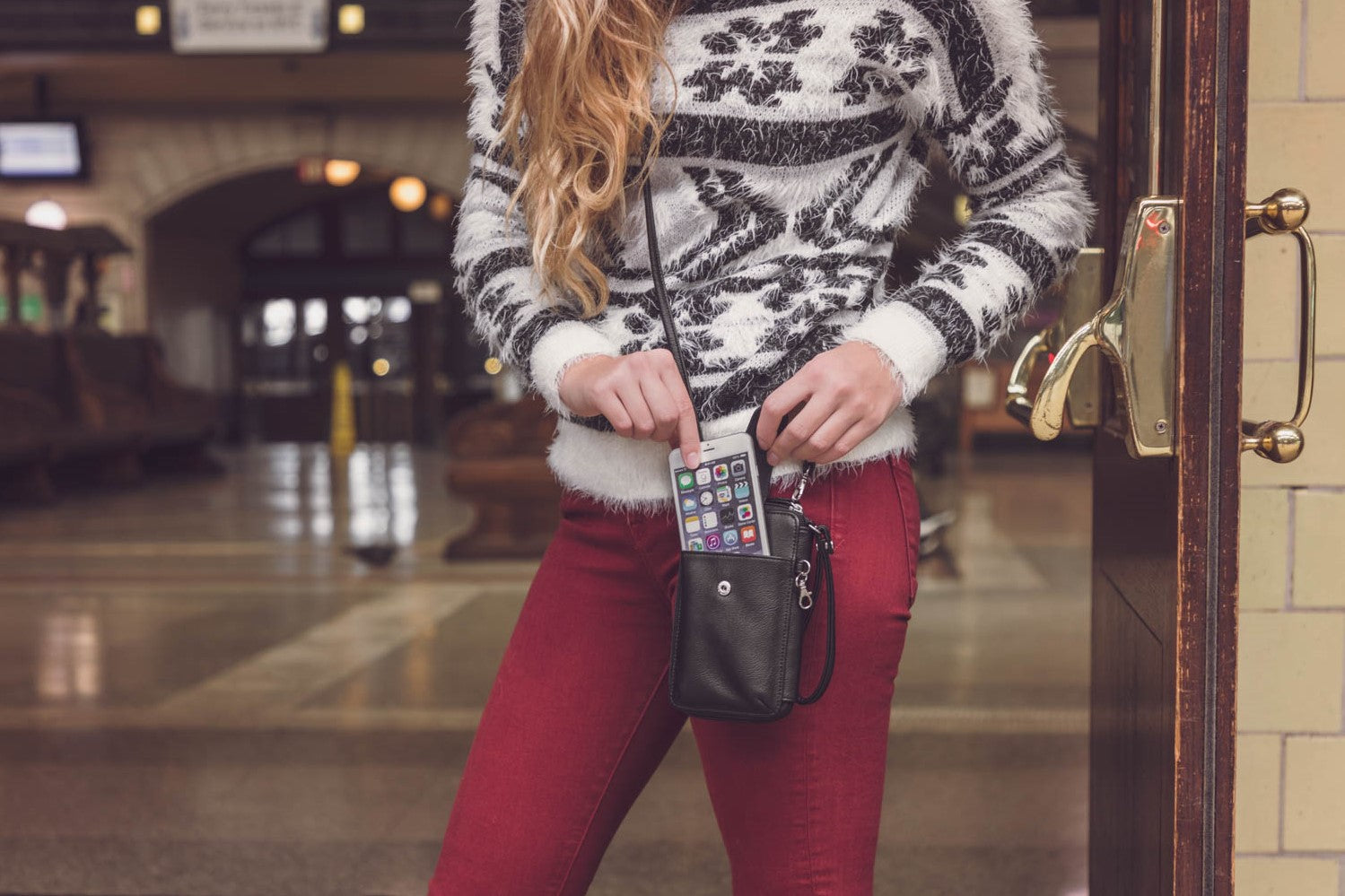 2022 is right around the corner. The New Year brings with it endless opportunities and a chance to start afresh. Whether you're happily waving '
au revior'

 
to 2021 or feeling anxious about the new year, it's a time to stop and reflect. That's why so many of us set new year's resolutions.