The Perfect Bags for Your Phone
Your phone is a lifeline. For most of us, it's practically become an extension of who we are. You can't leave home without it, and it rarely leaves our hand. With phones getting bigger to accommodate everyday activities streaming, it's becoming harder to slip your phone into your pocket.
We've all heard of the nightmares of people having their phones pickpocketed. Just think of how much personal information is in your phone – as well as the price tag of your phone. That's why you need a phone bag. Whether it's a wallet organizer with cell phone pocket or a dedicated cell phone bag, your phone deserves extra protection.
We're sharing the reasons why a wallet organizer with cell phone pocket is a must-have for your handbag collection. It's one of the most practical investments you can make and a way to protect one of your prized possessions. Read on to discover our four cell phone bag styles and how they can protect your phone on the go.
Why you need a cell phone bag
Our phones hold our lives in them. Thanks to Apple Pay and WhatsApp, most of us can leave the house with just our phones and keys. Even if you're a fan of going hands-free, you want to invest in a phone bag that makes it easier – and safer – to carry your phone around.
A crossbody phone bag gives you a truly hands-free option and a way to protect your phone from being stolen. Our wallets and cell phone bags are made with safety in mind, incorporating RFID protection to keep your data secure.
We've all heard the crack of a cell phone hitting the pavement and experienced the heart-pounding moment of waiting to see whether the screen has been smashed. With a phone wallet, you don't have to worry about your phone slipping out of your hands or being dropped in a coffee shop or on a train.
The perk of carrying a phone bag is that you can easily access your essentials without needing to dig through your luggage or a tote bag. It's the right size for carrying through an airport or taking to college.
Finding the right phone wallet for you
Our phones are just as unique as we are. Whether they're square-shaped, foldable, or the size of a small tablet, no two phones are the same. We're rounding up the cell phone bags that you'll never want to leave home without.
Each phone bag blends style with practicality for a functional accessory that protects your phone against theft and damage while you're on the go. These four options are the perfect size for throwing into a tote bag or taking with you while traveling.
1.      
Cornelia Cell Phone Bag
Do you like the freedom of heading out with just your cell phone and cards? The Cornelia cell phone bag is the perfect plus one for a day exploring the city or running errands.
The easy-access pocket means you can quickly grab your cards or cash without digging through your pockets. You can use the zip pocket to carry your other
essentials, from lip gloss to sunglasses or a snack bar. This compact cell phone bag is the right size to carry everything you need for a day out.
With five color options to choose from, the Cornelia is an accessory that works for every season. This multi-functional phone wallet can be worn as a crossbody, clutch, or wristlet. With the ID window, you can carry your driver's license or college ID without fear of losing it at the bottom of your bag.
The Cornelia bag is the perfect size to fit a phone that's 6.5" x 3.5" or less. The RFID safe keeper functionality protects your ID, credit cards, and phone from identity thieves.
2.     
Jacqui Cell Phone Wallet
Add a bold print to your look with the Jacqui cell phone wallet. It's a compact Mary Poppins bag that keeps your essentials organized and protected. You can carry everything from your apartment keys to your phone and spare cash. This cell phone wallet is available in bold neutrals and classic prints that fit every personality.
It's a 2-in-1 wristlet and crossbody that will help keep you organized on the go.
You can use it as a wallet or use the detachable strap to turn it into a bag. The outer cell phone pocket means that you have easy access to your phone and will never miss an important call.
The recycled interior liner makes this wallet a sustainable everyday essential that you'll use all year round. Its functionality makes the Jacqui cell phone wallet one of our favorites. The Jacqui works for phones that are 7" x 4" or smaller.
3.     
Little Miracle Leather Phone Bag
Embrace your minimalistic side with the Little Miracle leather phone bag. It's a sleek stylish silhouette that is made using buttery soft leather that is 100% genuine. You can use it for your commute to work or coffee runs.
With four understated neutrals to choose from, the Little Miracle phone bag is a transitional staple for your closet. It's the perfect size to hold all your essentials and safeguard your personal information with RFID protection and two zippered
pocket pouches. This bag will hold a cell phone that's 6.5" x 4.5" or smaller.
4.     
Way to Go Cell Phone Bag
Our 'Way to Go' cell phone bag is unapologetically feminine with a quirky floral and butterfly motif. It's a must-have for traveling and comes with a removable strap to change this wristlet style into a crossbody. You can pack it with your essentials for a day out in the city or a trip to a theme park. This vegan leather phone bag is fuss-free and a must-have for commuters and college students.
Protect your phone on the go with a cell phone bag. Wave goodbye to cracked phone screens and stretching your jean pockets. You can explore our range of phone wallets with RFID card slots here.
Leave a comment
Comments will be approved before showing up.
---
Also in Inside The Wallet
Your bag is your best friend. It's the accessory you take with you everywhere – whether you're heading to the office or grabbing brunch. While we all love our bag, it's easy to become frustrated when you can't find what you're looking for. Have you ever stood at the counter trying to find your credit card to pay for a coffee? Does your handbag seem to swallow up your lipsticks and hair accessories? That's why you need an organizer purse that makes it easy to find all your essentials. When you have an organized purse, you'll never get stressed about finding cash ever again.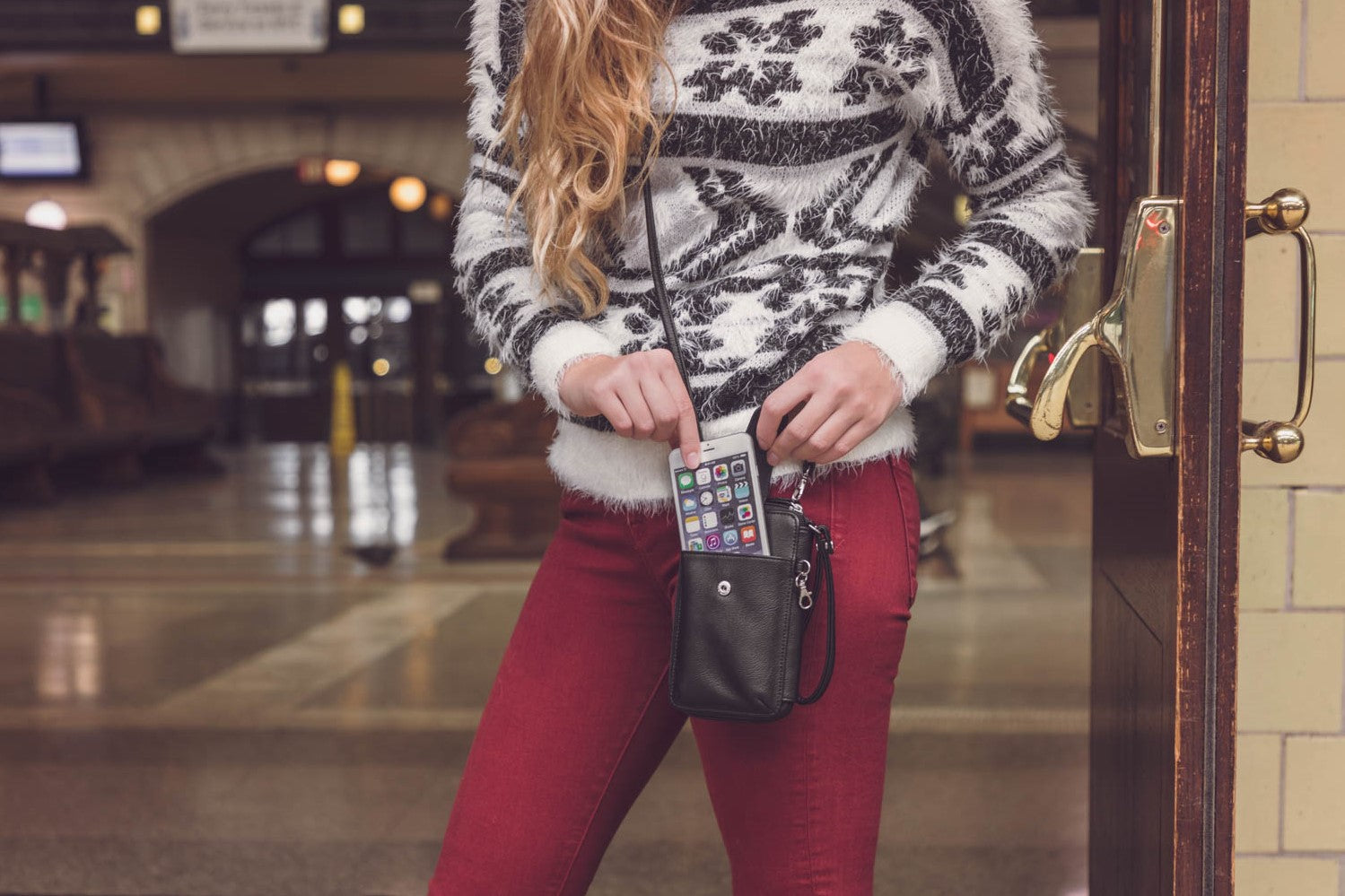 2022 is right around the corner. The New Year brings with it endless opportunities and a chance to start afresh. Whether you're happily waving '
au revior'

 
to 2021 or feeling anxious about the new year, it's a time to stop and reflect. That's why so many of us set new year's resolutions.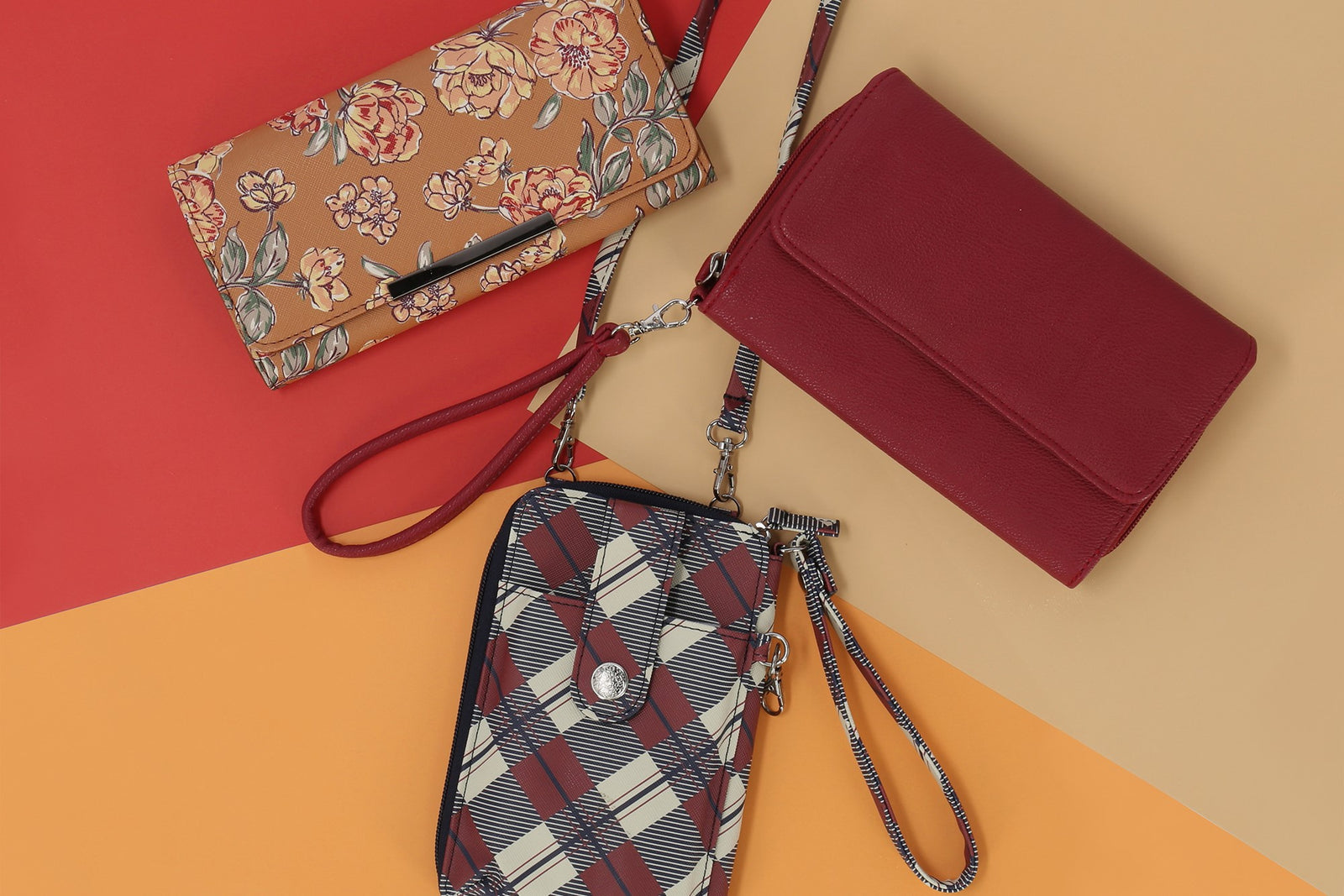 Are you struggling with last-minute shopping? With the busyness of the holiday season, it's no surprise that we often leave shopping at the bottom of our to-do list. Whether they're on your 'naughty or nice' list, you want to give them a gift that shows you care. What better way than with sustainable gifts? Not only will they get you brownie points with your friend, but they're also helping to protect the place we call home.