Bags with Built in Wallets
Your bag is your best friend. It's the accessory you take with you everywhere – whether you're heading to the office or grabbing brunch. While we all love our bag, it's easy to become frustrated when you can't find what you're looking for.
Have you ever stood at the counter trying to find your credit card to pay for a coffee? Does your handbag seem to swallow up your lipsticks and hair accessories? That's why you need an organizer purse that makes it easy to find all your essentials. When you have an organized purse, you'll never get stressed about finding cash ever again.
At Mundi Wallets, our affordable bags are RFID protected for extra peace of mind. Every design incorporates organization, so that you're never panicking looking for a credit card or your lipstick. You don't have to be a Marie Kondo to have an organized purse.
Read on to find out why you need an organizer bag and to meet four of our favorite organizer purse styles.
What is an organizer bag?
An organizer bag is that offers both style and practicality. You don't need an a-type personality to be organized. With a handbag with built in wallet, it's easy to organize your essentials and stop yourself from carrying around clutter. We've all been guilty of turning our handbag into a black hole.
Our bags make it easy by incorporating a built-in wallet for extra functionality and cutting down on carrying unnecessary accessories. With an organizer bag, you'll never misplace a credit card again. Our designs incorporate RFID Safe Keeper technology for extra peace of mind.
Why you need a purse with built in wallet
If you find that your bag is never organized, you need a built-in wallet. Everything has a place and you're not adding unnecessary items to your bag, like receipts. Our affordable bags are made with functionality in mind, so you're never left searching for a credit card.
When you have a purse with a built-in wallet, you're able to see everything you have. There's a slot for every credit card and different layouts to choose from. You want to think about what you carry every day – whether you're a credit card user or prefer to stick to cash.
Adding a wallet crossbody bag to your closet
Are you looking for a purse with built in wallet? It's an easy way to incorporate organization into everyday routine. With an organized bag, you'll be able to go anywhere without carrying around extra baggage. We're rounding up four of our favorite organizer purse styles
Everyone needs a Jacqui. This purse with built in wallet almost 20 different prints and patterns as a 2-in-1 style that holds all your essentials. The outer cell phone pocket has a secure button closure, while the large cash pocket and zippered change pocket organize your money.
The ID window makes it ideal for storing your work or college card for easy access. You can attach your keys to the outer d-ring, while the removable crossbody strap gives the bag extra versatility. The recycled interior liner gives this organizer purse a sustainable feel.
Meet the wallet on a chain that is a gamechanger for your closet. The Katie bag has an effortlessly chic silhouette with multi-way RFID functionality. It's the only purse with built in wallet that you need. This practical accessory is a staple for your capsule closet as a crossbody that transforms into an on-trend envelope clutch for nights out.
Our Katie crossbody bag is made using two recycled water bottles to create its interior liner. If you're looking for a sustainable purse, the Katie should be top of your list. With 14 prints and color options to choose from, there's a Katie bag for everyone.
This bag features 2 accordion-style pockets, an exterior pocket, and 4 larger pockets. It's the perfect choice for anyone who wants a modern – but organized – Mary Poppins bag. You can detach the removable shoulder strap and use the Katie as a catch-all for a diaper bag or larger tote.
With traveling back on the agenda, most of us are excited to be jetting off to see family and friends. Vacations are top of our to-do list for 2022.
Our 'Mavis' crossbody purse is the travel companion that you'll wear everywhere from the airport to the theme parks. Its quilting and minimalistic design give the style an effortlessly chic look with three color options. Our high-quality faux leather is durable and easy to clean, perfect for taking on the go. You get the illusion of real leather without the eye-watering price tag.
With 18 credit card slots, the Mavis wallet crossbody bag is guaranteed to hold all your essentials. You can store your hotel key, credit cards, and boarding pass for easy access. The removable crossbody straps mean the Mavis can double as a wallet for your larger totes. You can use the strap to attach the wallet to the D-ring of your bag.
Give yourself options with our Brady crossbody bag that incorporates 6 credit card pockets and a large interior pocket for carrying cash and other essentials. The set-up of our Brady handbag with built in wallet is perfect for those who prefer to swipe their credit card than deal with cash and coins.
Our vegan leather Brady bag can be worn as a belt bag or wristlet with a removable strap. Its RFID safe keeper functional offers extra protection for your cards and IDs. The zippered smart phone pocket makes this bag an all-in-one for a day out with friends.
Our wallets off functionality with a stylish look. Being organized has never been so chic. A handbag with built in wallet is the ultimate two-in-one that will hold all your essentials. You can wave goodbye to losing everything at the bottom of your bag. 
You can shop the latest arrivals and find the right organizer purse for you here.
Leave a comment
Comments will be approved before showing up.
---
Also in Inside The Wallet
Your phone is a lifeline. For most of us, it's practically become an extension of who we are. You can't leave home without it, and it rarely leaves our hand. With phones getting bigger to accommodate everyday activities streaming, it's becoming harder to slip your phone into your pocket.
We've all heard of the nightmares of people having their phones pickpocketed. Just think of how much personal information is in your phone – as well as the price tag of your phone. That's why you need a phone bag. Whether it's a wallet organizer with cell phone pocket or a dedicated cell phone bag, your phone deserves extra protection.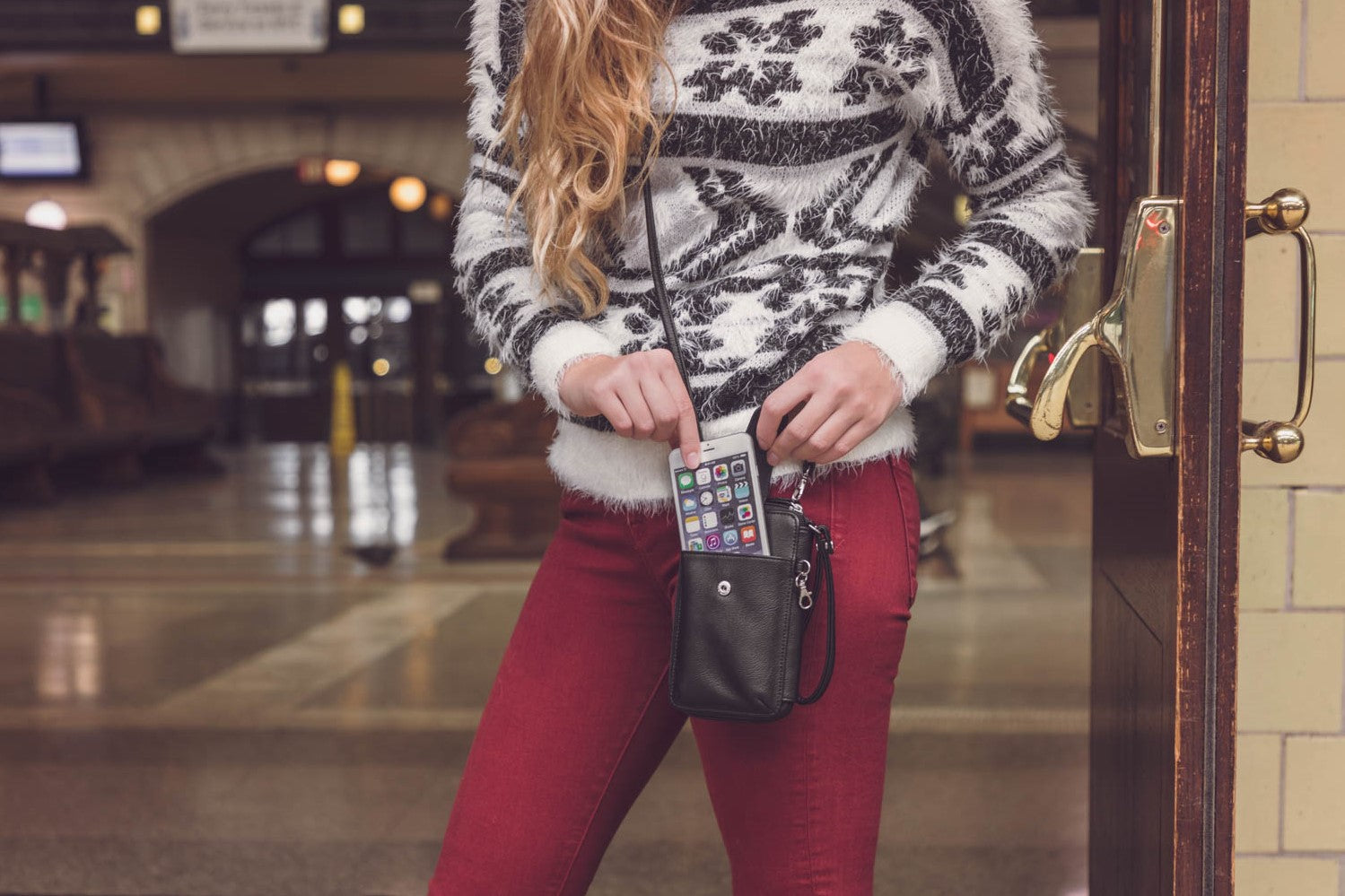 2022 is right around the corner. The New Year brings with it endless opportunities and a chance to start afresh. Whether you're happily waving '
au revior'

 
to 2021 or feeling anxious about the new year, it's a time to stop and reflect. That's why so many of us set new year's resolutions.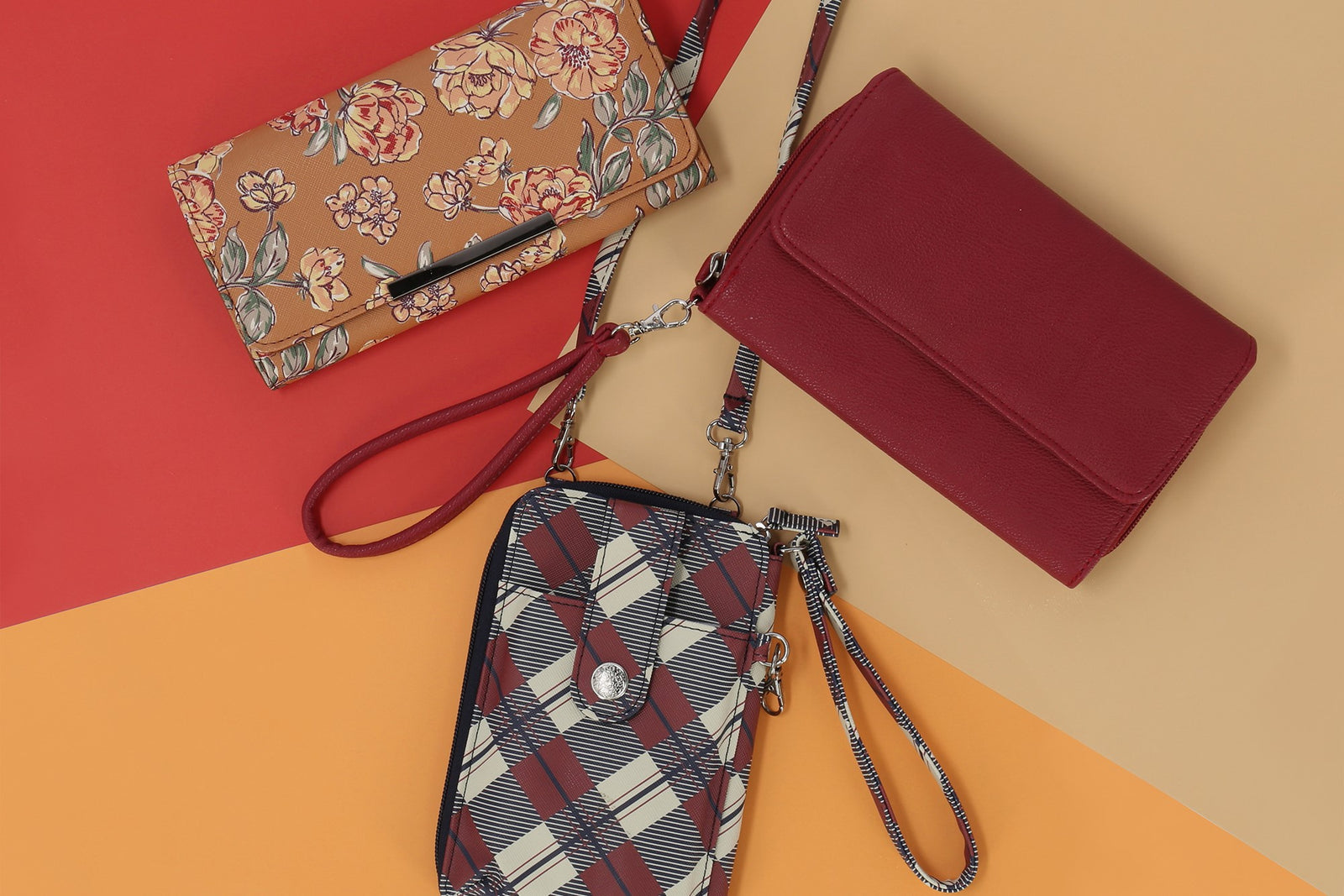 Are you struggling with last-minute shopping? With the busyness of the holiday season, it's no surprise that we often leave shopping at the bottom of our to-do list. Whether they're on your 'naughty or nice' list, you want to give them a gift that shows you care. What better way than with sustainable gifts? Not only will they get you brownie points with your friend, but they're also helping to protect the place we call home.