Affordable Stocking Stuffers For Her
Gear up for long evenings of playing board games by the fireplace, decorating your childhood home in beautiful lights, saving room for extravagant home-cooked meals, and thoughtful gift exchanges surrounded by loved ones. Tis' the season for sticking together through a global pandemic and countless other obstacles—now is the time to hit the 'reset' button and kickstart the holiday season with selfless acts of love and thoughtfulness. 
The Psychology Behind Gifting
In the true spirit of the holiday season, being the 'gifter' in a gift-giving exchange has numerous positive effects on the individual and the relationship as a whole. According to an NPR interview with Harvard University Psychology Professor Dr. Ellen J. Langer, "When you give a gift, it makes you feel generous, it makes you feel in control, it's good for your self-esteem and it's good for the relationship because you come to know the person even better."
When perusing department store aisles, or shopping online, the entire act of searching for a suitable gift for the receiver in mind proves just how much you care for that person—or know them and what they might like. In a South University article, Devin A. Byrd, Ph.D., associate professor and chair of the Department of Behavioral Sciences says, "There is the whole act—determine what needs to be given and making sure it fits with the person."
The selfless act of caring for others, lending a helping hand, or other acts of kindness can help you live longer! According to Cleveland Clinic, in "one study, people who were 55 and older who volunteered for two or more organizations were 44% less likely to die over a five-year period than those who didn't volunteer—even accounting for many other factors including age, exercise, general health and negative habits like smoking."
What better way to show your appreciation for the wonderful ladies in your life than selecting from our stocking stuffers for women. From women's wallets to phone bags, and crossbody bags—there's a stocking stuffer for everyone.
For the Globetrotter 
Cute, cozy, and quilted; the sophisticated nylon
Heather Organizer Clutch
 ($16.95) says 'first-class international' for the frequent flyer. A great choice for traveling solo with added RFID Safe Keeper blocking technology.
This clutch will prevent thieves from trying to steal a passport, credit card, or other information. Functional and fashionable, the Heather Organizer Clutch also features 16 credit card pockets, 1 ID window, 2 zipper pockets, and 4 additional pockets. Available in three classic colors; olive, black, and deep red—there's a wallet for every occasion.
Pretty N' Preppy
If Gossip Girl embodied crossbody bags they'd be the vegan leather Katie Crossbody Bag ($17.95). Springy and youthful, its simple design comes in multiple colors and patterns. Transforming its look from the floral garden to girl's night out, to shop till you drop, and more. 
This posh crossbody features an RFID Safe Keeper, 12 credit card pockets, an interior zippered pocket for loose change, 2 accordion pockets for extra hair ties or lip gloss, 4 large pockets, and an outside pocket. To make sure all your belongings stay put, use the full zip-around closure and snap button.
Always On-Call 
Who's always excited to talk on the phone with her grandchildren but sometimes misplaces it? Mundi's cell phone bags are a prime choice for when it comes to 
selecting stocking stuffers for grandma. She can keep her phone and wallet all in one place with the structured vegan leather Jacqui Cell Phone Wallet ($16.95). 
Featuring RFID Safe Keeper Technology, an outer cell phone pocket for the device 'with two legs,' 6 credit card pockets, 1 ID Window for when grandma gets carded at the country club, 1 zippered change pocket (also great for butterscotch candies), 1 large bill pocket, and removable wristlet and crossbody strap. This phone bag also features a recycled interior liner—fun fact: it takes about 2 water bottles to make its interior.
No Frills, Straight to Business
If you're in the market for some women's wallets, definitely pick up the My Big Fat Wallet ($16.95). Women's wallets are always pushed at the seams. This vegan leather wallet was made to hold organized chaos. The ideal choice for the classic satchel stuffer, purse pusher, and clutch clamper, she'll shove everything in her bag and use all her might to close it shut. 
How about instead of a wallet bursting at the seams, we try this supple large wallet that doubles as a wristlet? Featuring 7 credit card pockets, 1 ID window, 2 picture pockets, 3 large horizontal pockets, 2 zipper pockets, 2 accordion pockets, RFID Safe Keeper, and recycled interior liners.
For the Girl on the Go
Savvy and street-smart, the vegan leather Way to Go Cell Phone Bag ($17.95) is the only way to go.
 Featuring 1 front flap pocket with snap closure, 3 credit card slots, RFID protection, 1 zip around pocket, and a removable crossbody strap. 
From phone bags to crossbody bags, this streamlined and sophisticated hybrid takes the cake in stocking stuffers for women. Available in different colors and patterns, this stylish purse will match the energy of any outfit you pair it with.
The Anywhere, Anytime
Dress the vegan leather Brady Crossbody Belt Bag ($16.95) up or down and it'll rise to the occasion. Available in 10 different colors and patterns, this crossbody bag is highly versatile—from wristlet to crossbody to fanny pack with removable straps and a belt loop on the back. 
This colorful convertible purse features 6 credit card pockets, an RFID Safe Keeper, an interior zippered pocket, 2 large zip pockets, and 1 zippered smartphone pocket. Stocking stuffers for grandma are all about practicality—why not make it a little more fun with the beautifully designed and fashion-forward Brady Crossbody?
Decisions, Decisions, Decisions
With so many options to choose from, it might be hard to find the right wallet, crossbody bag, or cell phone bag. No worries! If you find yourself struggling to make a decision, just go with the safe option and get that special someone in your life a Mundi Gift Card so they can get whatever they want whenever they want!
Leave a comment
Comments will be approved before showing up.
---
Also in Inside The Wallet
Your bag is your best friend. It's the accessory you take with you everywhere – whether you're heading to the office or grabbing brunch. While we all love our bag, it's easy to become frustrated when you can't find what you're looking for. Have you ever stood at the counter trying to find your credit card to pay for a coffee? Does your handbag seem to swallow up your lipsticks and hair accessories? That's why you need an organizer purse that makes it easy to find all your essentials. When you have an organized purse, you'll never get stressed about finding cash ever again.
Your phone is a lifeline. For most of us, it's practically become an extension of who we are. You can't leave home without it, and it rarely leaves our hand. With phones getting bigger to accommodate everyday activities streaming, it's becoming harder to slip your phone into your pocket.
We've all heard of the nightmares of people having their phones pickpocketed. Just think of how much personal information is in your phone – as well as the price tag of your phone. That's why you need a phone bag. Whether it's a wallet organizer with cell phone pocket or a dedicated cell phone bag, your phone deserves extra protection.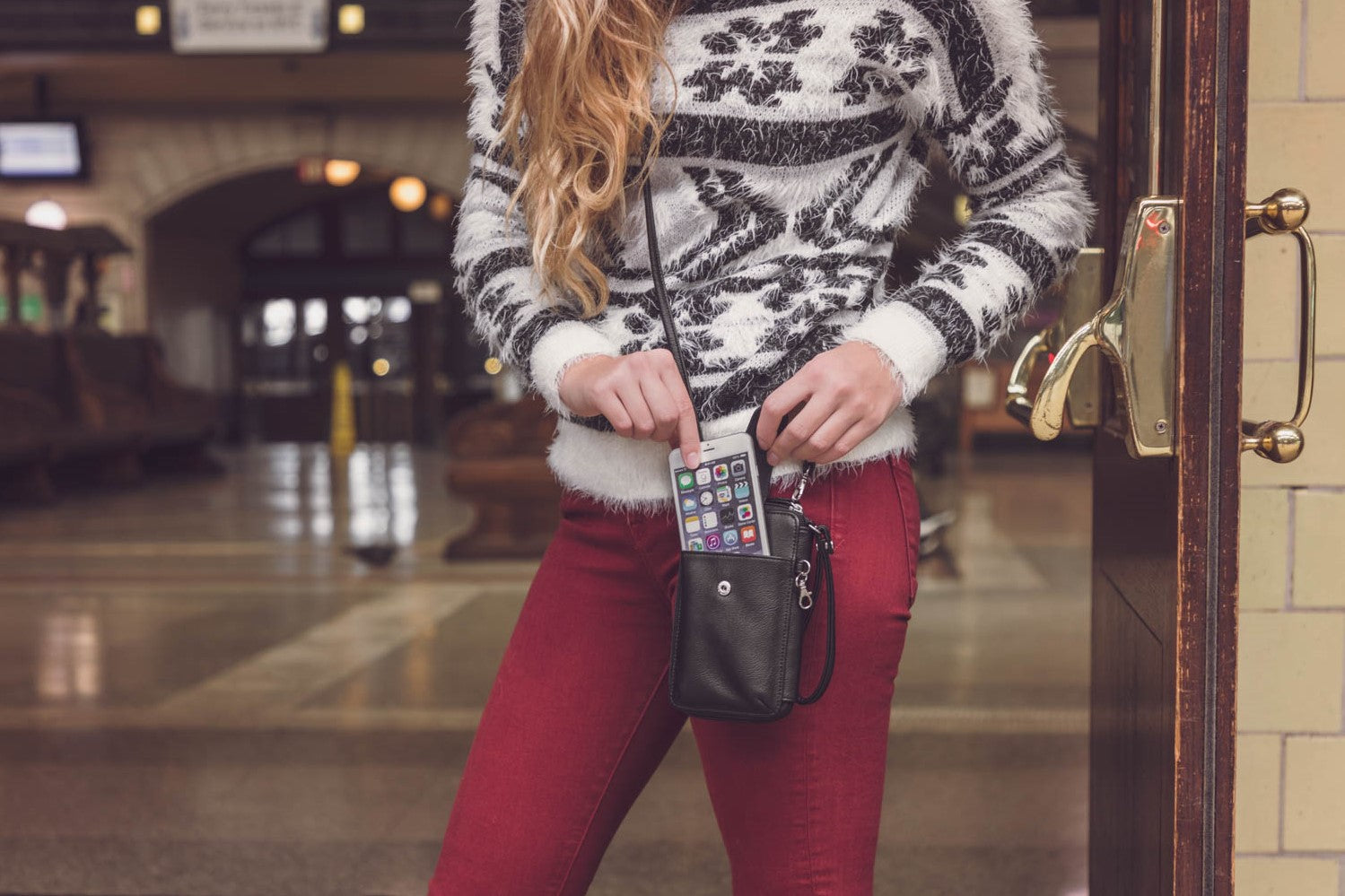 2022 is right around the corner. The New Year brings with it endless opportunities and a chance to start afresh. Whether you're happily waving '
au revior'

 
to 2021 or feeling anxious about the new year, it's a time to stop and reflect. That's why so many of us set new year's resolutions.