Eco-Friendly Wallets and Crossbody Bags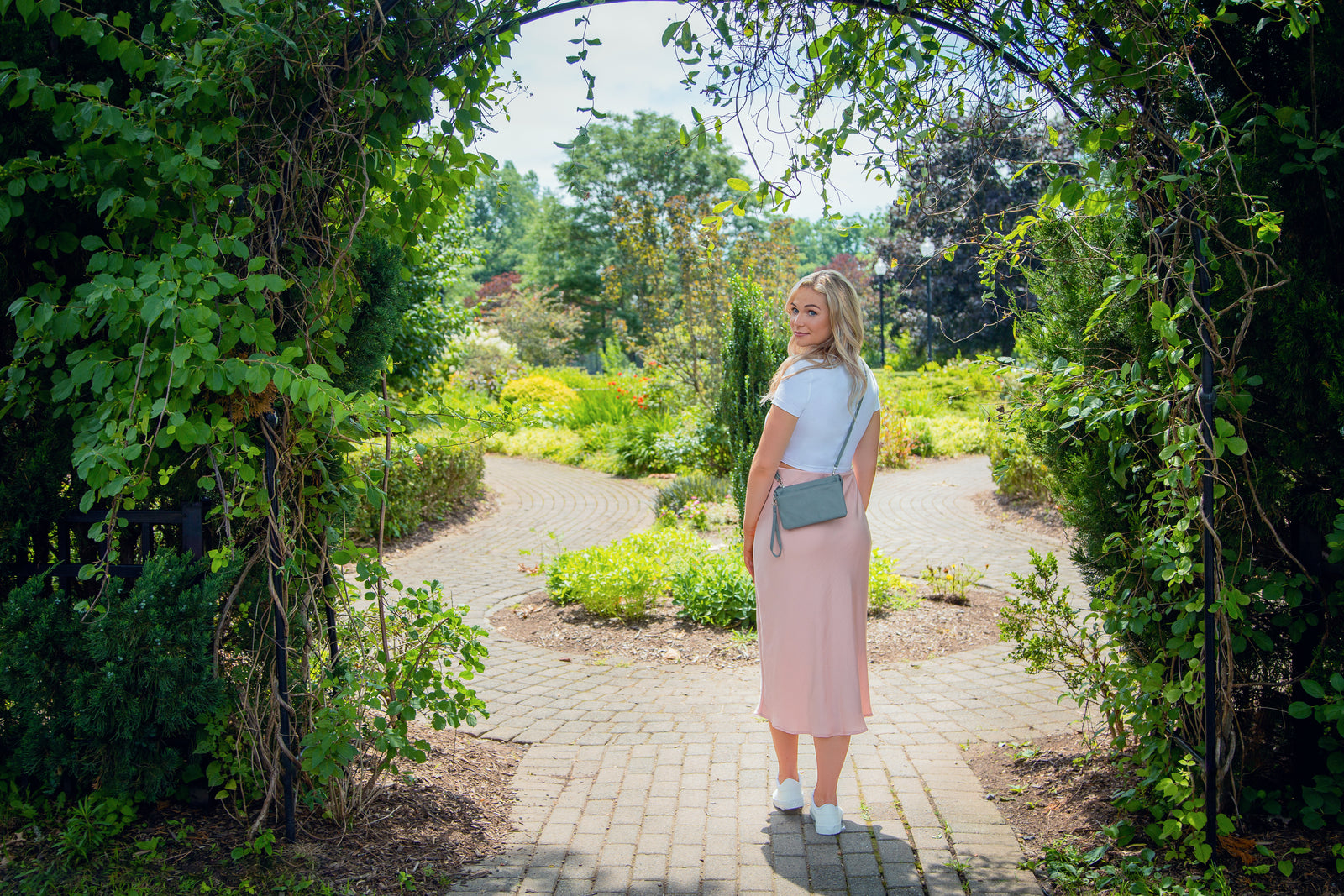 Here at Mundi. we are proactively working to source materials such as fabrics made from 100% recycled plastic bottles, water-based synthetics, and biodegradable leathers to produce our range of exclusive wallets, bags, and other accessories. At Mundi, we are striving to help keep our Earth Green.
This Earth Day, we wanted to share our sustainability goals with our fans to emphasize the importance of using sustainable products. At Mundi, we are very vigilant about using environment-friendly, sustainable materials for our products.
Here is a list of some of our efforts towards reducing our environmental footprint:
Sustainability Matters
The effects of everyone's environmental footprint are becoming more and more evident with one of the biggest effects being drastic climate change. An unprecedented increase has been observed in the concentration of carbon which was initially recorded as 280 parts per million (ppm) initially and has now risen to 400 ppm today. 
Every year, we take a look at what we are doing here at Mundi and ask ourselves "How can we do better?" As a result of this practice, we have been able to source sustainable and ecofriendly alternatives to what we have previously done in the past. We're proud to say that we can deliver our fans wallets and crossbody bags that are thoughtfully crafted with today's best ecofriendly alternatives.
Get a glimpse into some of our initiatives below!
The Use of Sustainable Designs
Our designers have worked proactively to source materials such as fabrics made from 100% recycled plastic bottles, water-based synthetics, and 
biodegradable leathers to create vegan wallets and vegan handbags. Since we started marching toward this goal of sustainable products, we have successfully transitioned 90% of our offerings from leather to vegan leather alternatives.
The Use of Vegan Leather
Leather isn't the only material that will make you look "fashionable". Vegan leather is a great alternative to leather, and it brings lots of benefits to the environment. In addition to being eco-friendly, the production of Vegan leather products does not involve any harm to animals.
Apart from being animal and environmentally friendly, vegan leather is no less than normal leather when it comes to looks and fashion sense. The material can easily be colored or toned, plus it's easy to style and create innovative designs with, which makes it a good alternative to animal-based leather. Vegan leather has a vast color palette which means it is more versatile when it comes to fashion and appearance.
The Use of Ethical Resources
Here at Mundi, we have made a commitment to environmental and ethical sourcing. This includes ensuring all of our facilities are socially compliant to protect the health, safety, and rights of their employees, the community and environment in which they operate, and the lives and communities of workers in their supply and distribution chains.
Recycling and Reducing Waste
Mundi focuses on recycling. This means there has been a significant reduction in our use of paper by eliminating excessive packaging. Our polybags and packaging are made from recyclable materials and all of our hand tags, carding, and boxes are recyclable.
Switching to Renewable Energy Resources
We are also trying to eradicate the use of polluting, and harmful resources of energy by switching to solar energy. 4000 solar panels have been installed at our NJ Corporate headquarters.
This means we produce up to 1.2 million kilowatt-hours annually. Over its lifetime, our 1-megawatt DC solar system will offset 16, 375 tons of carbon dioxide. To put it simply, the environmental impact of our solar panels is equivalent to planting 5 million trees.
No Harmful Chemicals Used
At Mundi, we prioritize our consumers, and the environment, primarily. The materials we use for the production of our bags and wallets are Proposition 65 Compliant. In simpler words, we don't use any harmful chemicals for our products meaning our wallets are harmless for you, and the environment.
The Best Sustainable Wallets and Crossbody Bags
Wallets
The wallet is made from authentic vegan leather, boasting a stylish design. It's highly convenient because of its extensive internal space that is composed of 7 credit card pockets, 3 large-sized horizontal pockets, 2 accordion pockets, and a list of other features.
Looking for a vegan wallet to help you stay organized? Our File Master Clutch is the perfect option, complementing all of your outfits with its natural solid-colored, and printed options. It is the prime example of convenience and style. 
This wallet also features labeled compartments for cash, receipts, and coupons, helping you stay organized at all times! You can also keep larger items such as your checkbook in the file master clutch with its internal slip pockets, zipper pockets, and much more!
Crossbody Bags
Our classic and compact Mundi Katie Crossbody bag is sleek in design and functional by nature. This is the perfect wristlet & crossbody bag for the daily commuters or anybody who is traveling! Keep your valuable items close and protected with RFID protection. RFID protected to keep your information safe.

Designed with functionality and style in mind, the Jacqui cell phone wallet is a
convenient wallet/crossbody duo that has a number of features. This is the perfect wristlet & crossbody bag for daily commuters or anybody who is traveling! It will hold all of your essential items in one place. Our privacy liner guards your information.- keeping your RFID enabled passport and credit cards protected.
A Sustainable Future
Our goal is to always provide our customers with the best sustainable wallets and crossbody bags on the market. This comes with a never ending pursuit to research, discover, and source the best sustainable and ecofriendly materials available to us today.

Take a glimpse at the many sustainable options we have available today from our exclusive collection for women's wallets! We have got many other designs, and styles, each with unique features, to suit your unique needs.
Leave a comment
Comments will be approved before showing up.
---
Also in Inside The Wallet
Your bag is your best friend. It's the accessory you take with you everywhere – whether you're heading to the office or grabbing brunch. While we all love our bag, it's easy to become frustrated when you can't find what you're looking for. Have you ever stood at the counter trying to find your credit card to pay for a coffee? Does your handbag seem to swallow up your lipsticks and hair accessories? That's why you need an organizer purse that makes it easy to find all your essentials. When you have an organized purse, you'll never get stressed about finding cash ever again.
Your phone is a lifeline. For most of us, it's practically become an extension of who we are. You can't leave home without it, and it rarely leaves our hand. With phones getting bigger to accommodate everyday activities streaming, it's becoming harder to slip your phone into your pocket.
We've all heard of the nightmares of people having their phones pickpocketed. Just think of how much personal information is in your phone – as well as the price tag of your phone. That's why you need a phone bag. Whether it's a wallet organizer with cell phone pocket or a dedicated cell phone bag, your phone deserves extra protection.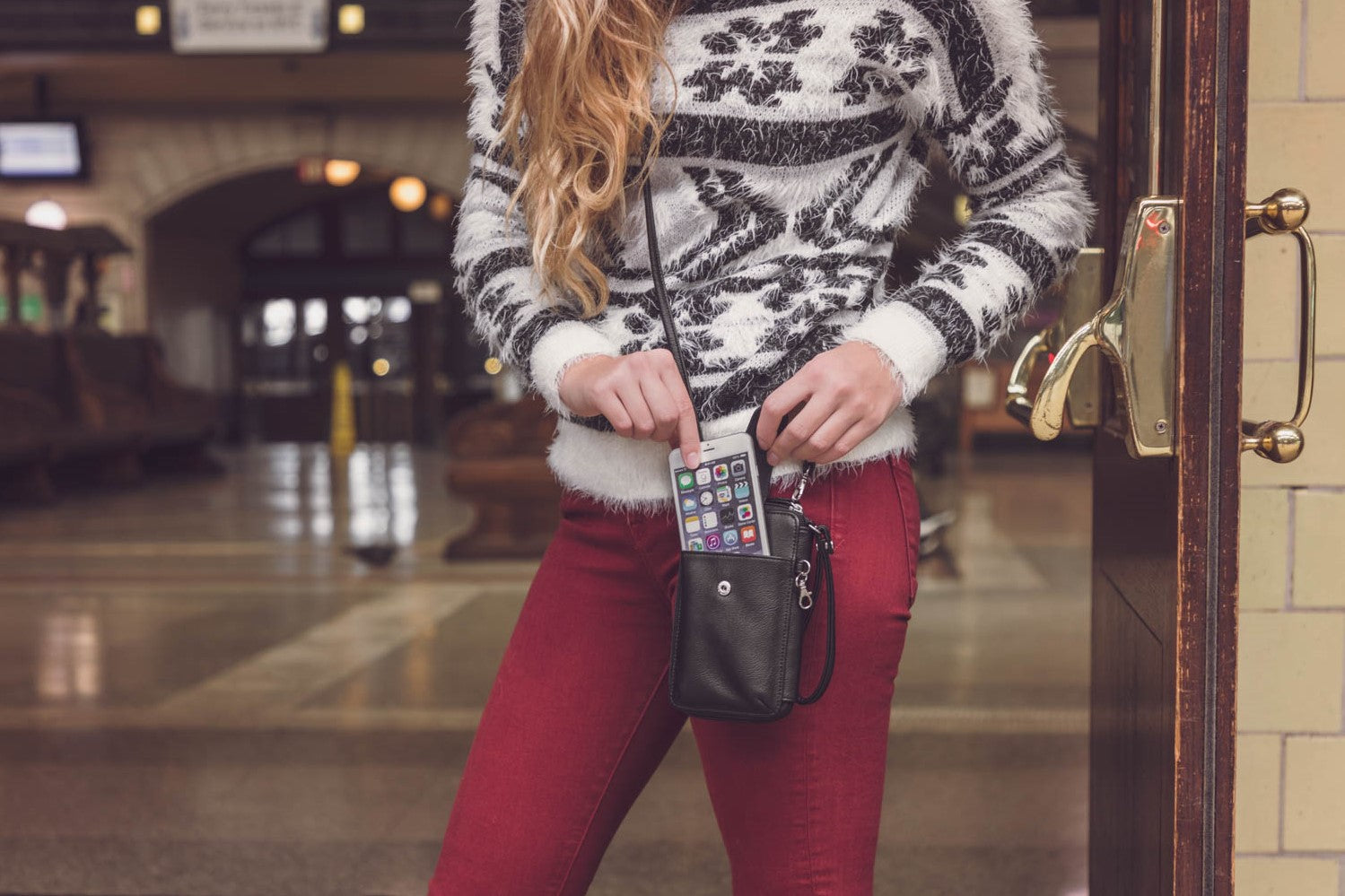 2022 is right around the corner. The New Year brings with it endless opportunities and a chance to start afresh. Whether you're happily waving '
au revior'

 
to 2021 or feeling anxious about the new year, it's a time to stop and reflect. That's why so many of us set new year's resolutions.