Gift Ideas for the Fashionistas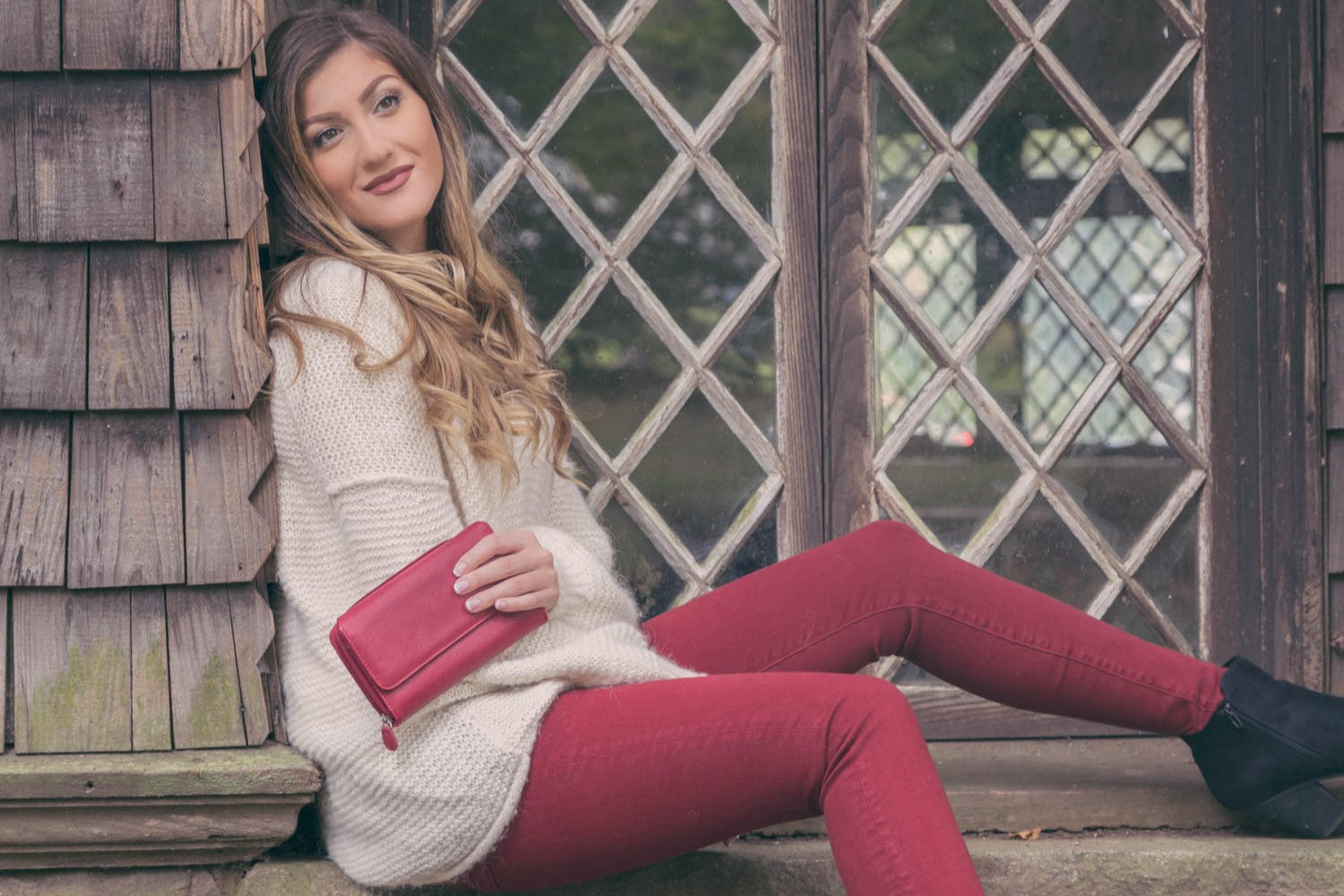 Looking for the perfect gift idea for your fellow fashionista? Grand-fashionista? Fashionista-in-law? Fashionista sister from another mister? …Ok, you get the idea. Well, when it comes to holiday shopping it can be difficult trying to come up with the perfect gift ideas for fashionistas. The problem becomes even more exacerbated when trying to pick out fashion staples that your fashionista 
Doesn't already have tucked away in their closet.

Will dare to step out in broad daylight in. 
Don't worry, it's not your fault! They're your fashionista friend for a reason, this is why you go to them for fashion advice and why we have curated the perfect list of gift ideas for fashionistas from every style background. While we might not possess a crystal ball (at least not that I'm aware of) or have the means to analyze your fashionista's current wardrobe to settle problem #1. We do, however, have the solution to problem #2 on lock… set and ready to go! 
What kind of fashionista is she?
A woman's style ebbs and flows over the years so it's totally possible that she may be a mix of all of these, but just to help you narrow down the search (A.K.A make your life a little easier… you're welcome) we've condensed our women's wallets and women's crossbody bag selection down to 3 major categories *excitable cheers.*
"The Student"
Not afraid of a little (or let's be real… A LOT) of color. Possibly into funky patterns that will match perfectly with her dorm room, day planner, and/or greek letters. According to Harper's Bazaar, the color pink is in this holiday season. Sweet, down-to-earth, studious, with a game plan for her future but likes to live in the moment. If that sounds like the fashionista you have in mind then read on! 
Talk about 'organization station' meets 'college station.' This essential wallet can carry your student fashionista's whole life, her grades, her social life—well, just about, right? Featuring 13 credit card pockets, 2 slip pockets, 2 interior ID windows, 2 zippered pockets, and 2 gusset pockets (oh my goodness trying to say all that without taking a breath). 
Complete with an RFID Safe Keeper that'll protect her information in any RFID enabled items or contactless credit cards from being stolen. Available in a ton of fun patterns and bright colors, this wallet will light up any shopping experience for her.
The Barbie of the women's crossbody bags world… this bag can go from belt bag to crossbody, to wristlet, all in one day! Ideal for the versatile student who might head from class, to work, to a (socially distant) girl's night. Available in some adorable patterns, special shoutout to Flutter/Flower and Confetti Fun. 
This crossbody belt bag features 6 credit card pockets, an interior zippered pocket, 2 large zip-close pockets, and a zippered pocket that'll fit your smartphone perfectly—easy access to whip the phone out and take pics for the 'gram (Instagram).
"The Professional"
She's got class and a little bit of sass. This gal has got GOALS and needs the best and the baddest crossbody purse and wallet to go along for the ride. Sophistication means less is more, but when it comes to practicality and organization… these gift ideas for fashionistas have those aspects covered in spades. 
The Big Fat Wallet is just begging for that promotion and you can be 100% positive that yes, she's going to get it—just like your favorite professional fashionista. Available in a myriad of fabulous patterns and colors, this wallet is sure to turn the heads of everyone in that conference room (or zoom call). Featuring 8 credit card pockets, 2 ID windows, 4 picture pockets, 3 large horizontal pockets, 2 zipper pockets, 2 accordion pockets, and an RFID Safe Keeper. Her information and company card will stay safe.
4.
On The Move Crossbody Bag
For a girl who is on the move—well here's the bag that'll be able to keep up with her. Available in 3 fashion-forward and sophisticated styles, this crossbody bag calls for the casual executive with a lunch meeting on the top floor. Complete
with an outer cell phone pocket, 2 large zip around pockets, 4 accordion pockets, and 4 credit card pockets. 
This bag also features a removable crossbody strap and wristlet strap, as well as a loop in the back to be utilized as a belt bag. How versatile! Just like the professional fashionista's resume.
"The Staycation Queen"
She's calm, collected, and has moved into her couch—for the unforeseeable future. We love a queen who quarantines! Comfy is her new buzzword. Cozy is her idea of the perfect date. The kind of women's crossbody bags she's looking for scream soft washable material and plenty of space to stash her essential… snacks. Hey, does she have room for one more on that sectional to watch the Bachelor?
Cute and comfortable is the major theme of this gift idea. According to AutoGrow.Co, in 2019 35.5% of females purchase a product via a smartphone.
Pick out your Staycation Queen's next favorite handy cell phone wallet in a color or pattern that highlights her best (tons to choose from, yay)!
This convenient little wallet contains an outer cell phone pocket, 6 credit card pockets, 1 ID window, 1 zippered change pocket, 1 large cash bill pocket, and two removable straps to alter the bag from wristlet to crossbody. The Staycation Queen will have everything she needs close by for when her hands are itching to online shop for something special for herself via her smartphone. Either way, the Jacqui Cell Phone Wallet is close by and ready to go.
Don't sweat the small stuff
Listen, we understand, a lot is going on in the world right now—she's going to love anything you gift her this season because it's the thought that counts. Any decision you make from this list is sure to impress her and hey, you get to take the credit (we won't say anything, promise). Spread a little joy this holiday season by styling your favorite fashionista(s) with Mundi's trendiest women's wallets and women's crossbody bags.
Still don't know what to get that special someone in your life? Get them a Mundi Gift Card so they can choose a wallet that's right for them!
Leave a comment
Comments will be approved before showing up.
---
Also in Inside The Wallet
Your bag is your best friend. It's the accessory you take with you everywhere – whether you're heading to the office or grabbing brunch. While we all love our bag, it's easy to become frustrated when you can't find what you're looking for. Have you ever stood at the counter trying to find your credit card to pay for a coffee? Does your handbag seem to swallow up your lipsticks and hair accessories? That's why you need an organizer purse that makes it easy to find all your essentials. When you have an organized purse, you'll never get stressed about finding cash ever again.
Your phone is a lifeline. For most of us, it's practically become an extension of who we are. You can't leave home without it, and it rarely leaves our hand. With phones getting bigger to accommodate everyday activities streaming, it's becoming harder to slip your phone into your pocket.
We've all heard of the nightmares of people having their phones pickpocketed. Just think of how much personal information is in your phone – as well as the price tag of your phone. That's why you need a phone bag. Whether it's a wallet organizer with cell phone pocket or a dedicated cell phone bag, your phone deserves extra protection.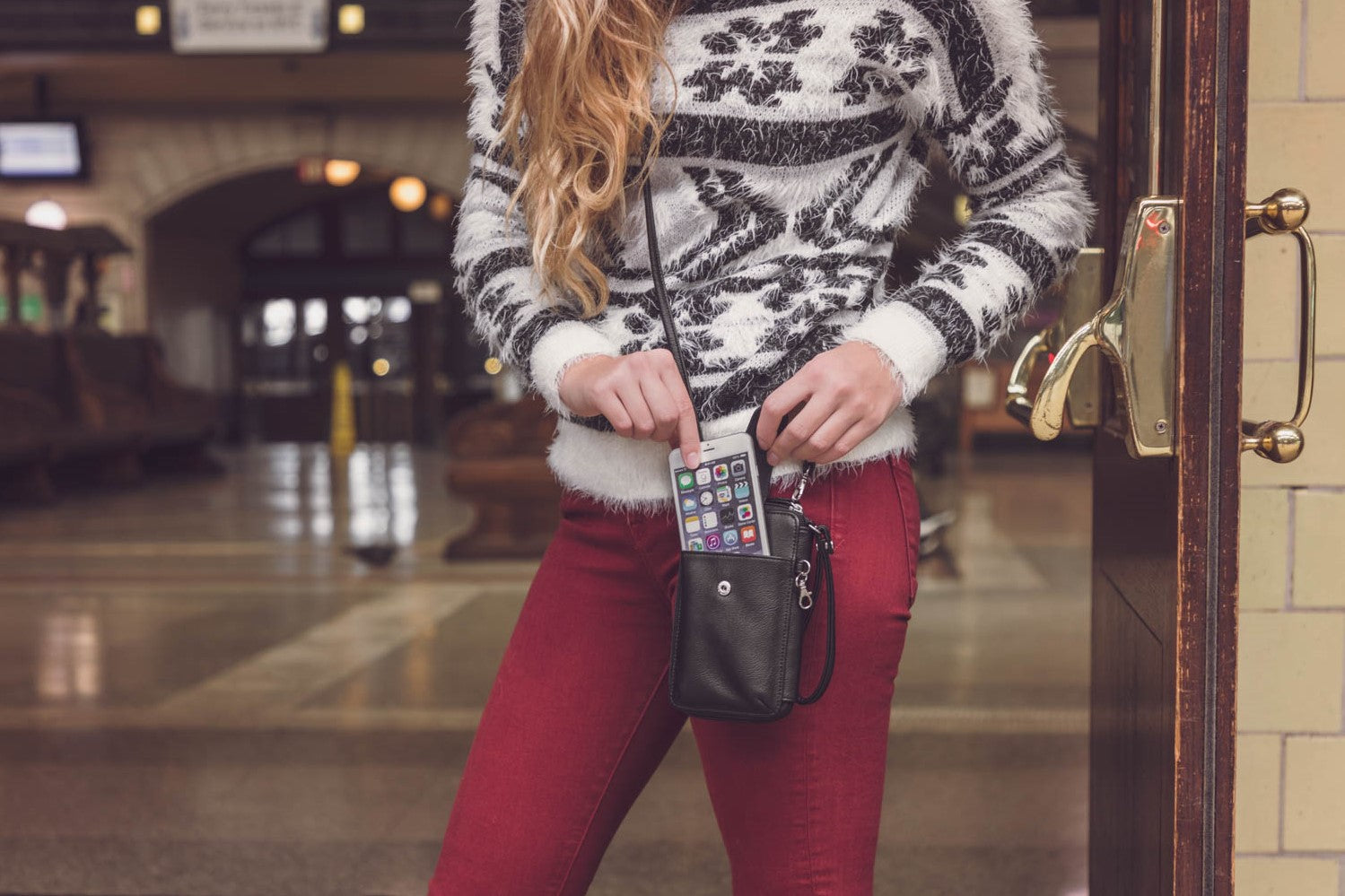 2022 is right around the corner. The New Year brings with it endless opportunities and a chance to start afresh. Whether you're happily waving '
au revior'

 
to 2021 or feeling anxious about the new year, it's a time to stop and reflect. That's why so many of us set new year's resolutions.