How Many Wallets Are Too Many Wallets?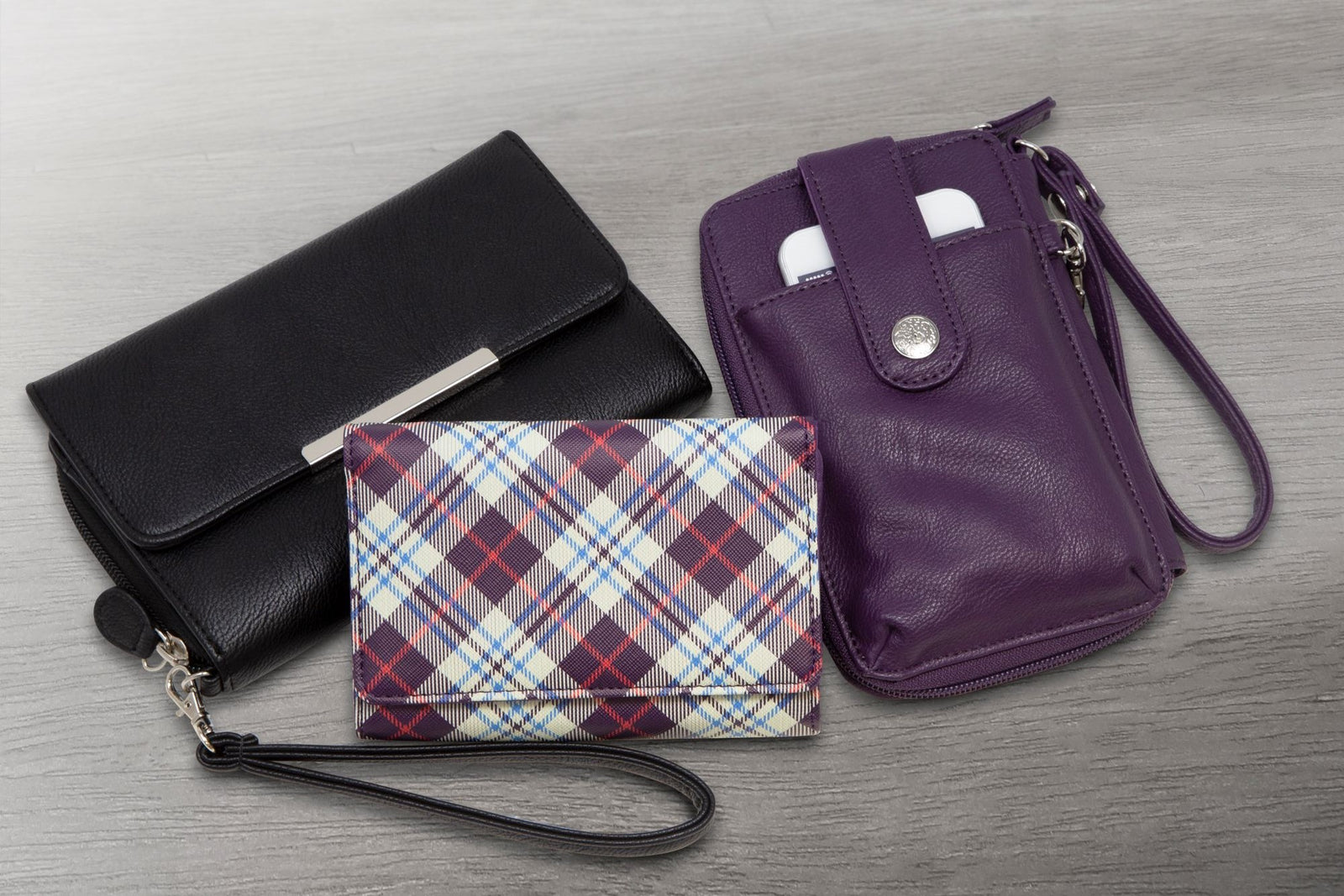 The must-have addition to every professional woman's style arsenal—women's wallets balance class, practicality, and sophistication in such a way that screams to every witness or bystander that the proud owner has it all together.
Sure, you can treat your purse as a black hole—throwing credit cards, coupons, and cash into its swirling vortex only for them to never be seen again. Or you can travel lightly and find that navigating the world is a lot more fun without carrying around a 25 lb. handbag with you wherever you go. If you're interested in trading in your uncomfortable overstuffed suitcase of a purse for a lightweight and easy to access wallet—then you're in luck.
Organization nation
Nobody likes to wait an extra ten minutes in line while another customer is digging through their handbag to find their credit card. It's not only a hassle for the poor flustered patron, but takes away the joy of running everyday errands. You'd probably save more money having all of your credit cards hidden at the bottom of your bag, but is that really the way to live?
During COVID-19 times it's more crucial than ever to touch as few things as possible while making transactions, picking items up from the store, or even going through a drive-thru. According to AARP, bacteria runs rampant on even a single dollar bill, "more than 3,000 bacteria that have been linked to stomach ulcers, acne, pneumonia, and staph infections."
This means you can't be rifling through your purse touching every last thing before finding what you're actually looking for!
To some, organization sends waves of excitement down their spine—while others shudder at the thought. But you better believe that even for the messiest of situations, there is still hope. We just need to get in the habit of organizing one step at a time.
How Many Wallets Should I Own?
Now, you are probably still wondering "how many wallets should I own?". Well, the answer to that question depends solely on the type of person you are. This depends on your style and your needs.Do you want something to go with every outfit? Do you want something to hold all of your stuff? How about a little bit of both?
Well, let's dive in to a few different style of wallets and see where it ranks on your list. 
If you like 'big' wallets and you cannot lie… then this one is for you! The vegan leather Big Fat Wallet is the ideal wallet for travelers, daily commuters, and 'big spenders' who like to keep all their credit cards handy in a fashionable and affordable wallet wristlet. Available in multiple styles and patterns, this wallet appeals to every aesthetic featuring the essential 8 credit card pockets, 2 ID windows, 4 picture pockets, 3 large horizontal pockets, 2 zipper pockets, 2 accordion pockets, and finally, an RFID Safe Keeper that blocks thieves from accessing your contactless credit cards and other RFID enabled items—stealing your personal information.
Elegant and effortless, the regal design of this wallet clutch will impress your girlfriends at a luncheon, your date at a rooftop establishment, or your boss and colleagues at a work dinner. Featuring 13 credit card pockets, 6 additional pockets perfect for storing coupons and checkbooks, and 2 interior picture ID windows—one for your ID and the other to show off a picture of your family or your little fur baby waiting at home. 
3.
Back-Up Buddy
This handy little wristlet makes for the best wing-woman during any outing. Simplified and fashion-forward, preferred for the modern woman who doesn't need to bring a bowling-bag of a purse with them everywhere they go. "Only the essentials" is the mantra of this vegan leather wallet featuring 3 credit card pockets, 3 extra pockets also equipped with an RFID Safe Keeper, portable micro USB charging cord, and an apple lightning adapter.
4.
Amsterdam Indexer Small Trifold Wallet
Designed for speedy lunch breaks or errand runs, just flip open your vegan leather trifold wallet, and voila—all your credit cards and IDs available at your fingertips. This organizational dream contains 16 card slots, 1 ID picture window, a large billfold money pocket, a zipper pocket for change and coins, and an RFID Safe Keeper to protect your vital information.
UVC Protection
Arguably the most important feature for any wallet or clutch to have during these times… we're talking about UVC protection. Easy to slide your phone, credit cards, or car keys into a secret compartment which eradicates the majority of germs with ease.
According to a 2015 study conducted by researchers at the University of Mauritius, three types of bacteria run rampant on the outside of your purse and wallet including Micrococcus, Staphylococcus, and Bacillus. Fast Company writes about the effectiveness of UV-C light in killing microorganisms. In fact, according to Fast Company, "scientists have been using UV light to kill bacteria and viruses since Niels Finsen discovered its effectiveness against tuberculosis."
No need to waste and throw away multiple disinfectant wipes or have to pack a pair of gloves for everywhere you go. Now you can clean on the go without adding any extra waste to the environment. Your immune system and the ecosystem will thank you.
5.
My Secret Cleaner Clutch with UVC Light
You asked and we delivered. For our COVID conscious and everyday bacteria battle heroes, this stealthy and stylish clutch will fly under the radar while germs DON'T. That's right, while this wallet clutch contains the same array of pockets, what makes this wallet clutch unique amongst all of our women's wallets is its built-in UVC light that safely and effectively rids the inside of your clutch up to 99.9 percent of those pesky germs. Sanitize your phone, face mask, credit cards, glasses, lipstick, keys, or cash by placing them in the UVC pocket and let the wallet do its thing—easy as cake.
6. My Personal Purifier Clutch with UVC light
If you're loving the idea of having a UVC light in your wallet clutch but looking for a little more variety in color and style then look no further than the My Personal Purifier Clutch available in 3 different colors. Featuring a spacious main compartment with a built-in UVC light, you can sanitize multiple items all at once! Making it perfect the clutch to carry with you to the club or bar.
Beauty is in the eye of the wallet holder
There is truly a wallet for everybody, and we believe it's because everyone should have a wallet, to begin with. After going through this list, how many did you end up needing? If you're like most people, chances are you need (or wanted) more than one.

Fashion-affordable
The beauty of our women's wallet selection is that they are luxury quality with affordable pricing. In essence, you could add multiple wallets to your collection without breaking the bank or sacrificing material quality.
Impress your colleagues, friends, and family with your efficiency and fashion-sense—remember that the answer to the question, "How many wallets should you own?" Is… "the limit does not exist."
Leave a comment
Comments will be approved before showing up.
---
Also in Inside The Wallet
Your bag is your best friend. It's the accessory you take with you everywhere – whether you're heading to the office or grabbing brunch. While we all love our bag, it's easy to become frustrated when you can't find what you're looking for. Have you ever stood at the counter trying to find your credit card to pay for a coffee? Does your handbag seem to swallow up your lipsticks and hair accessories? That's why you need an organizer purse that makes it easy to find all your essentials. When you have an organized purse, you'll never get stressed about finding cash ever again.
Your phone is a lifeline. For most of us, it's practically become an extension of who we are. You can't leave home without it, and it rarely leaves our hand. With phones getting bigger to accommodate everyday activities streaming, it's becoming harder to slip your phone into your pocket.
We've all heard of the nightmares of people having their phones pickpocketed. Just think of how much personal information is in your phone – as well as the price tag of your phone. That's why you need a phone bag. Whether it's a wallet organizer with cell phone pocket or a dedicated cell phone bag, your phone deserves extra protection.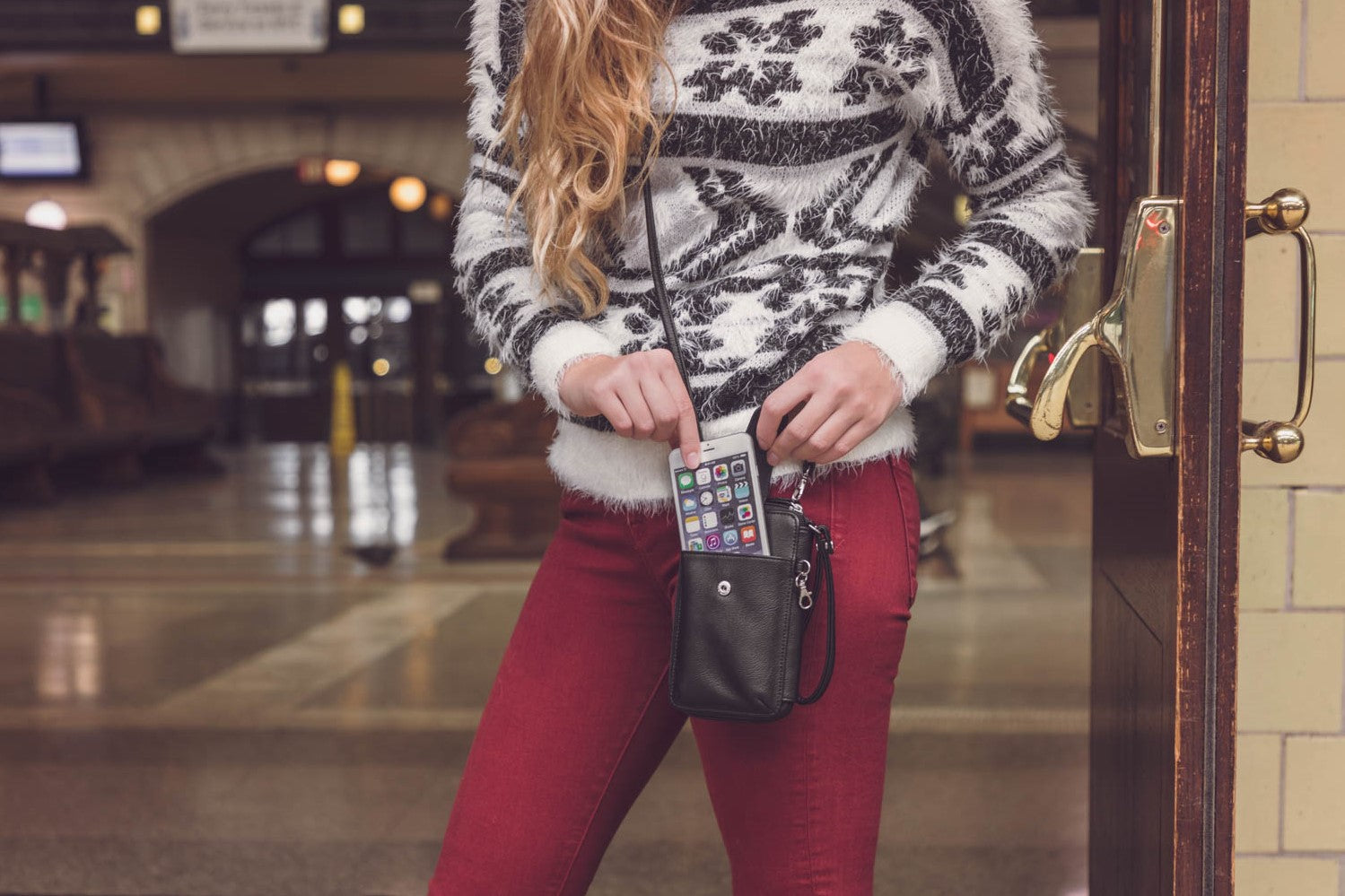 2022 is right around the corner. The New Year brings with it endless opportunities and a chance to start afresh. Whether you're happily waving '
au revior'

 
to 2021 or feeling anxious about the new year, it's a time to stop and reflect. That's why so many of us set new year's resolutions.