The Best Convertible Crossbody Bags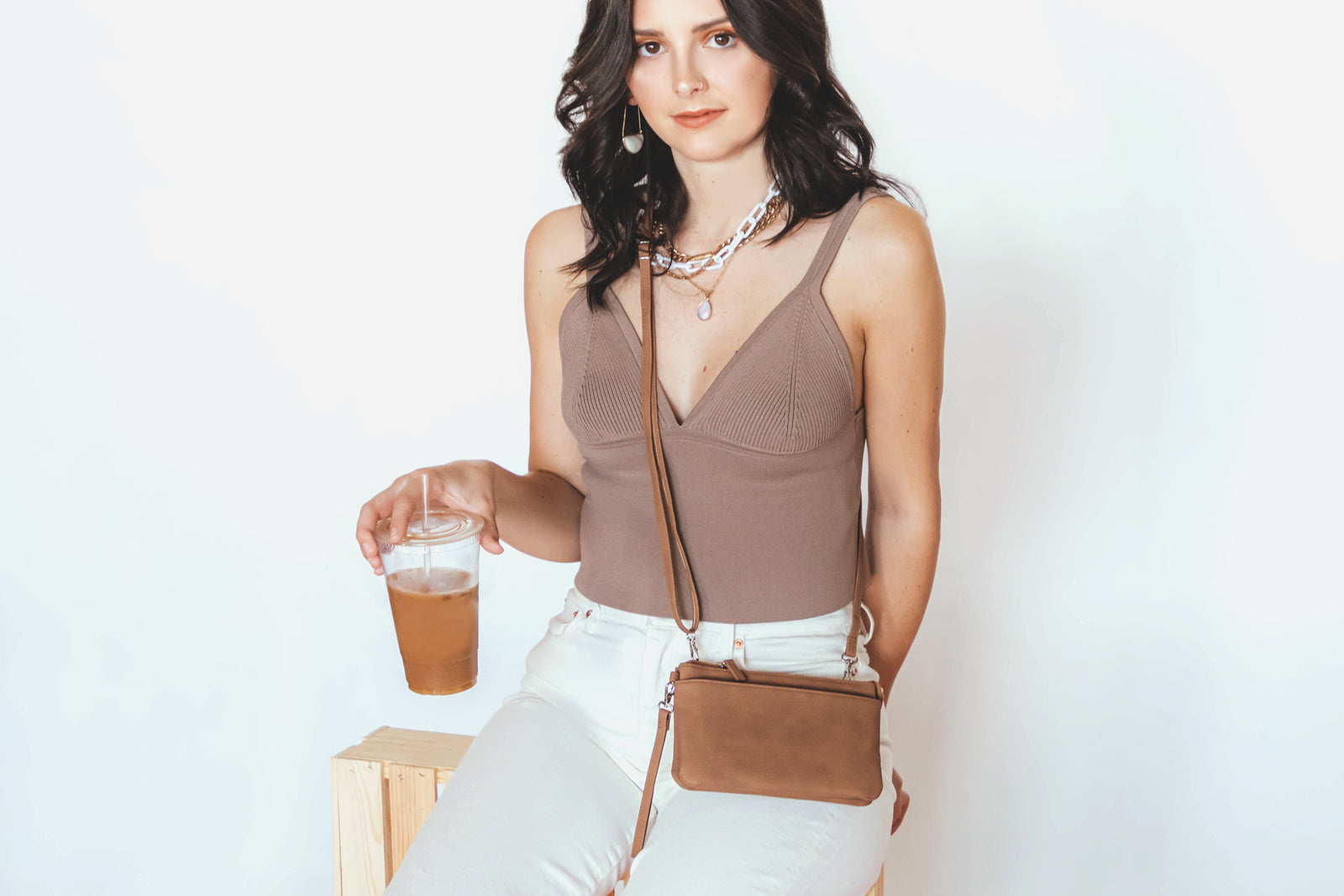 Crossbody bags are the best friends of on-the-go women everywhere. They're hands-free, they often contain tons of storage, and they're fashion-forward and chic. Crossbody purses and crossbody wallets come in numerous different styles to meet the needs of any woman. Convertible crossbody bags are even more versatile. 
These mini crossbody bags are modular and multi-use, so you only need one bag to serve multiple different functions. However, when you see how cute some of these mini convertible crossbody bags and crossbody wallets are, it will be hard to decide on just one!
If you're curious about the functionality, style, and ease of convertible crossbody bags, here's what you need to know about them and some suggestions for the best convertible crossbody purses on the market.
What is a Convertible Crossbody Bag?
Convertible crossbody bags are just that: crossbody handbags that can be converted to multiple different wear styles. These chic purses can be worn across the body as a crossbody style, can have the strap shortened to be worn over the shoulder, may be able to detach into a wristlet, and more. Some convertible crossbody bags can even be worn around the waist as belt bags or "fanny packs." 
Convertible crossbody bags combine all the function of multiple purses in one: there's a hands-free component in the crossbody setting, added class in a wristlet formation, and subtle chicness when worn as a traditional handbag. When so many women spend so much time multi-tasking already, it only makes sense that her trusty handbag should be a multi-tasker as well.
Why Should I Get a Convertible Crossbody Bag?
A 2 in 1 crossbody bag, or even more than 2 in 1, may be the exact right fit for your lifestyle. Convertible crossbody bags are a true bang for your buck if you are on a budget, as one purse can become multiple different styles of bag easily and quickly.
Crossbody bags are also a great choice for you in general if you find you are always busy, or if you are a commuter in a big city. No one wants to be struggling to hold up a handbag while they need to push elevator buttons and hold coffees for their office team! 
Convertible crossbody bags remove the burden of having your hands too full while you're trying to go about your day. The different styles of convertible crossbody bags are also suited to women who are more minimal in their everyday carry. Convertible crossbody wallets, for example, provide a great solution for women who only need to carry their cash, cards, and IDs.
The Best Convertible Crossbody Bags You Can Buy
After hearing about all the amazing qualities of convertible crossbody purses, you likely want to know what the best ones you can buy are. Just like traditional handbags, there are numerous styles and colorways of convertible crossbody bags for women. 
Brady Crossbody Belt Bag
If you're interested in a bag that truly transforms in both style and wear, the Brady Crossbody Belt Bag may be perfect for you. The Brady is a multi-way bag that can be sported as a crossbody, a chic wristlet, or even an ultra-trendy belt bag. This mini crossbody bag is anything but mini in storage and function, and it comes with a built-in wallet so you'll never have to worry about losing your cards or cash again.
Kimberly Crossbody Bag
The Kimberly Crossbody Bag has a traditional flap closure with a snap, a built-in interior organizer wallet, and two slip pockets. However, the adjustable strap and 
numerous bold colorways are what makes this convertible crossbody bag truly shine. The strap can be lengthened or removed altogether, so you can wear the Kimberly as a cool clutch or even use it as a passport holder as you travel. 
The RFID Safe Keeper technology protects your information and credit cards from potential compromise. RFID stands for "radio-frequency identification" and is a technology used to decode digital data from cards that use RFID tags. With our RFID Safe Keeper technology, you don't have to worry about your important items going unprotected.
Jacqui Cell Phone Wallet
Looking for a casual 2-in-1 crossbody bag that is even sleeker than the traditional crossbody handbag? The Jacqui Cell Phone Wallet surely delivers. This cute quilted crossbody is convertible from crossbody to wristlet, and contains an amazing organizer wallet as well as a secure cellphone pocket. This is the perfect everything-in-one convertible crossbody bag for the woman who wants to run errands, commute, or travel fuss-free.
Cornelia Cell Phone Bag
Cornelia Cell Phone Bag is the more formal sister to the Jacqui, and features a vegan leather exterior with the same adorable cell phone convertible bag functionality. This bag has a removable and adjustable strap, so it can be worn as a crossbody or wristlet. 
Plus, with multiple card slots, a phone pocket, ID window, and zippered pocket for change, the Cornelia delivers on both storage and ease of use. This is the perfect mini crossbody bag for women who live in bustling cities, travel often, or need to keep their essentials close at hand.
Switch It Up
Mundi Wallets convertible crossbody bags for women are the perfect way to get maximum value and function out of small, sleek handbags. Check out one of our many convertible wallets and crossbody bags to find one that's right for you!
Leave a comment
Comments will be approved before showing up.
---
Also in Inside The Wallet
Your bag is your best friend. It's the accessory you take with you everywhere – whether you're heading to the office or grabbing brunch. While we all love our bag, it's easy to become frustrated when you can't find what you're looking for. Have you ever stood at the counter trying to find your credit card to pay for a coffee? Does your handbag seem to swallow up your lipsticks and hair accessories? That's why you need an organizer purse that makes it easy to find all your essentials. When you have an organized purse, you'll never get stressed about finding cash ever again.
Your phone is a lifeline. For most of us, it's practically become an extension of who we are. You can't leave home without it, and it rarely leaves our hand. With phones getting bigger to accommodate everyday activities streaming, it's becoming harder to slip your phone into your pocket.
We've all heard of the nightmares of people having their phones pickpocketed. Just think of how much personal information is in your phone – as well as the price tag of your phone. That's why you need a phone bag. Whether it's a wallet organizer with cell phone pocket or a dedicated cell phone bag, your phone deserves extra protection.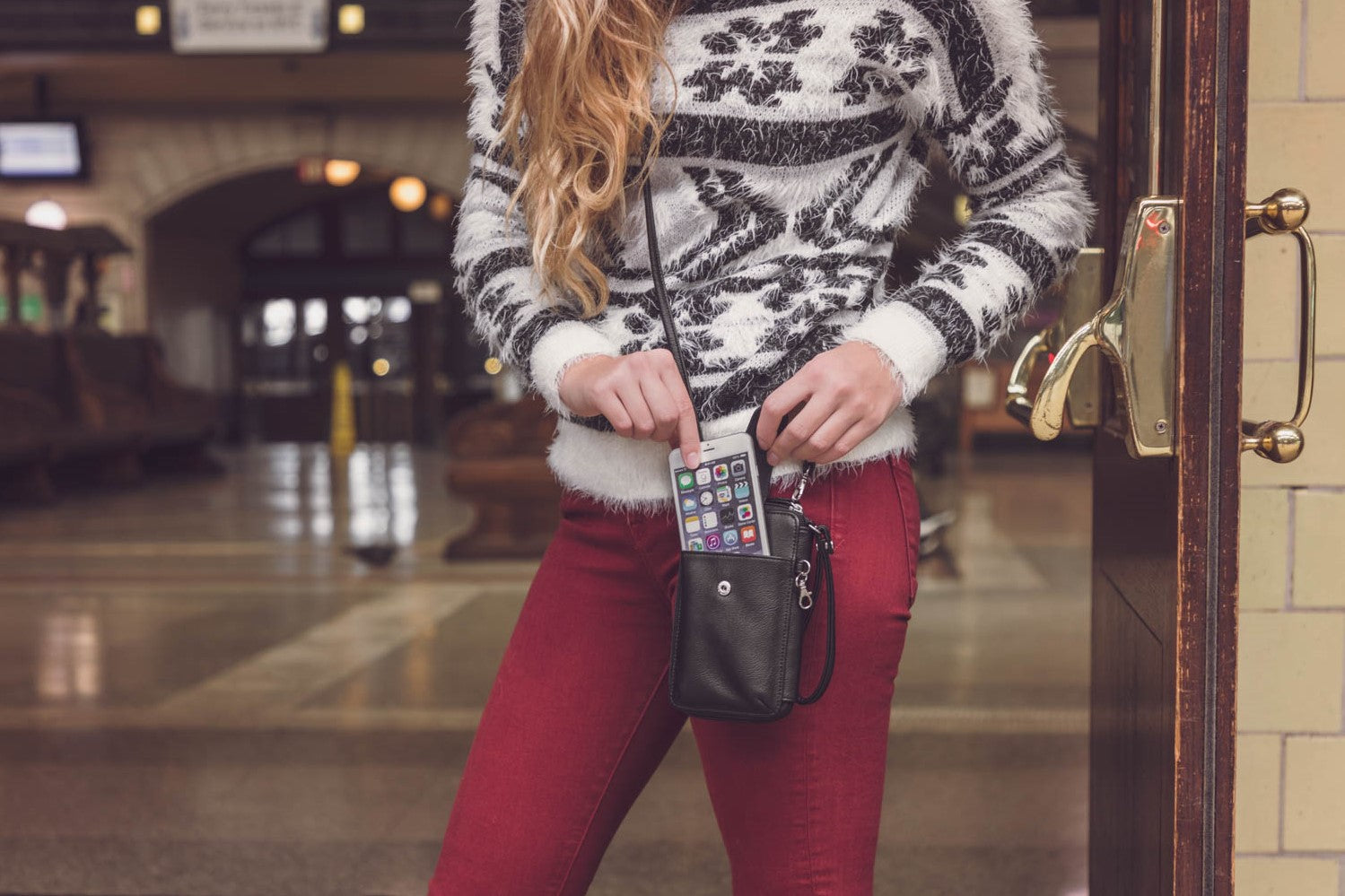 2022 is right around the corner. The New Year brings with it endless opportunities and a chance to start afresh. Whether you're happily waving '
au revior'

 
to 2021 or feeling anxious about the new year, it's a time to stop and reflect. That's why so many of us set new year's resolutions.