The Perfect Accessories For Any Spring Outfit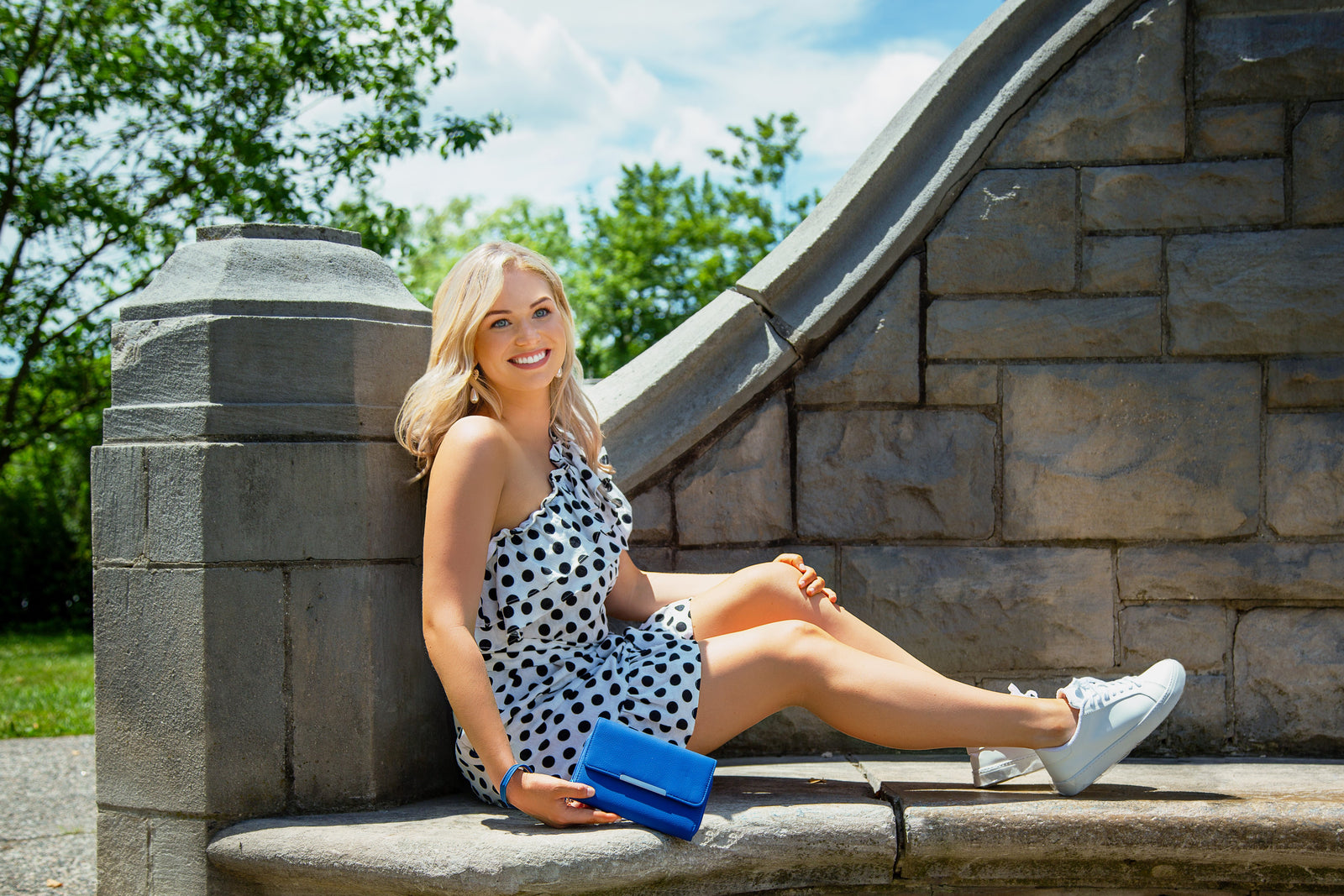 Spring is in the air and we can't wait to shed off the layers, put aside those long boots, and shrug off our parkas! It is time to take out those breezy, floral dresses and find comfort in the wonderful, balmy weather.
As you start to take out your Spring clothes, you might notice that maybe not all of our wardrobe is up to the status quo. Our favorite dress is starting to show some wear and tear, our old wallet has coins falling from the hole in it, and our handbags are visibly worn down to the point where they are now two colors: yellow and scuffed.
No need to worry though. You were thinking about spring cleaning anyway...right? Donate the wallets and handbags that no longer serve you and make some space for some new Spring Styles!
Bring on the pastels, florals, stripes, and anything that screams "SPRING IS HERE BABY"! Say goodbye to winter and hello to the perfect accessories for any Spring outfit.
The Season of Bloom & Birth
With the new beginnings on the horizon, it is an apt time to stock up on the trendiest accessories that complement your stylish and floral outfits and take your spring fashion game up a notch. As they say, behind every successful woman is a handbag! So, here we are serving you the right amount of inspiration to upgrade your spring closet with voguish bags and ladies organizer wallets. Oh, and did we mention that all of our handbags and wallets are under $25?
Check out some of our spring favorites here:
Check-Mate!
The stripes are back in style with a bang. There is no better way to add a stylish dose of geometric prints to your ensemble than the checker bags. Nail your spring fashion with the File Master Clutch Wallet in Bonebar and Plaid 2. 
Maybe you're looking for something for the transition from winter into spring.
Check out our Katie Crossbody Bag in Galway. You can swag in your spring outfits with them strung across your shoulder. 
Or, if you are a minimalistic soul, opt for the Jacqui Cell Phone Wallet in Red or Navy Nylon to rock that subtle hint of pattern. Plus, it's the perfect bag to hold your cell phone, money, credit cards, and much more!
Calling out the Boho Lovers!
Wear that ankle-grazing maxi dress and walk the earth as it blossoms around you. As you take in the beautiful nature, keep your essentials handy with the Katie Crossbody Bag in Native Garden which simulates the revival of life! 
Want to channel your inner Kylie Jenner? Flaunt your off-the-shoulder outfits with our Kimberly Crossbody bag in Butterfly!
Ebb & Flow of Life!
Blue is just the color to rock this spring, and our range of ladies organizer wallets and handbags offers ample options to nail your blue fashion moment. Pair up your embroidered hemlines with our Katie Crossbody Bag in Aqua representing the moment of birth in a restrained fashion! 
Need something a bit more feminine? The dusty lavender of the Kimberly crossbody calls out to the hopeless romantics to reconnect with the wanderer soul within!
Come, My Little Flower!
Nothing screams spring louder than off-the-shoulder floral dresses and embroidered skirts. To hit all the right chords of suave, tie off your knee-length spring dresses with the Katie Crossbody in Floral Excess. 
Want to add a perfect accessory to your navel grazing V-neck floral gown? Go for the Kimberly Crossbody in Floral. Meanwhile, we just can't get enough of the stylish vibes of Katie Crossbody in Maize Floral. 
If those floral options don't do it for you, we have plenty of other options to choose from! 
Small Talk!
For the minimalistic souls who want to nail that Kawaii look with the cute and small stuff, our Brady Crossbody Belt Bag in Paisley is just the right option for you. 
Or maybe you're someone who prefers to show off your girlie side. Go for all pinks, mauves, or maybe something a little bit more fun like our Miami print for our Jacqui Cell Phone Crossbody Bag. 
Need a wallet more than a crossbody bag? Then play up your love for cute little accessories by rounding off your spring outfit with the File Master clutch in Marseille.
Spring Has Sprung
This season, nail your Spring fashion by complementing your outfit with one of these women's organizer wallets or handbags. With so many colors, prints, and florals, you can find the perfect wallet or handbags for spring that can follow you all the way into the summer months. Plus, think about all of the upcoming holidays that you'll need to get dressed up for (Easter, Mother's Day, Memorial Day Weekend, The Fourth Of July, and labor day weekend).  Happy Dressing!
Leave a comment
Comments will be approved before showing up.
---
Also in Inside The Wallet
Your bag is your best friend. It's the accessory you take with you everywhere – whether you're heading to the office or grabbing brunch. While we all love our bag, it's easy to become frustrated when you can't find what you're looking for. Have you ever stood at the counter trying to find your credit card to pay for a coffee? Does your handbag seem to swallow up your lipsticks and hair accessories? That's why you need an organizer purse that makes it easy to find all your essentials. When you have an organized purse, you'll never get stressed about finding cash ever again.
Your phone is a lifeline. For most of us, it's practically become an extension of who we are. You can't leave home without it, and it rarely leaves our hand. With phones getting bigger to accommodate everyday activities streaming, it's becoming harder to slip your phone into your pocket.
We've all heard of the nightmares of people having their phones pickpocketed. Just think of how much personal information is in your phone – as well as the price tag of your phone. That's why you need a phone bag. Whether it's a wallet organizer with cell phone pocket or a dedicated cell phone bag, your phone deserves extra protection.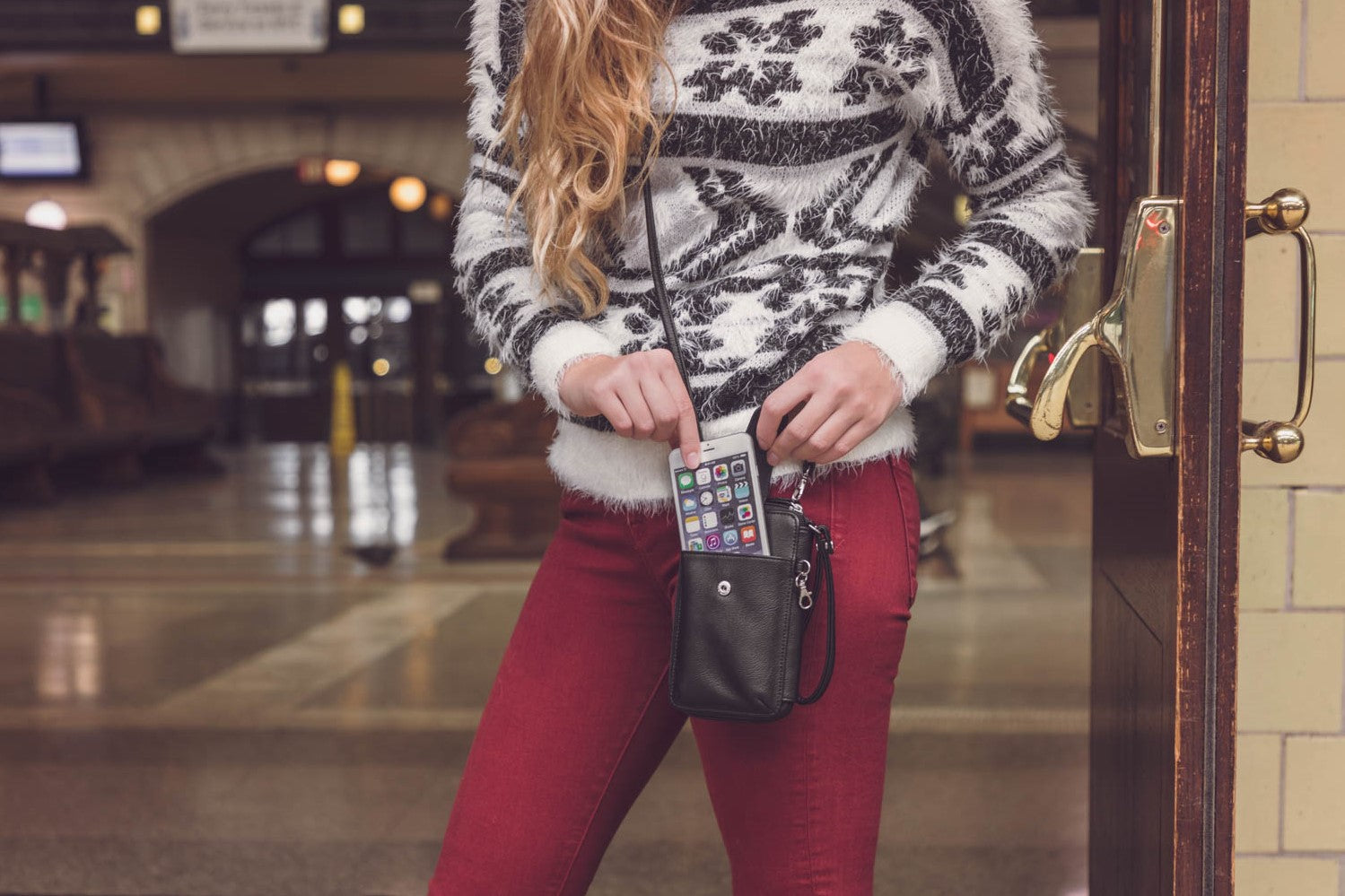 2022 is right around the corner. The New Year brings with it endless opportunities and a chance to start afresh. Whether you're happily waving '
au revior'

 
to 2021 or feeling anxious about the new year, it's a time to stop and reflect. That's why so many of us set new year's resolutions.