The Perfect Valentine's Day Gift For Her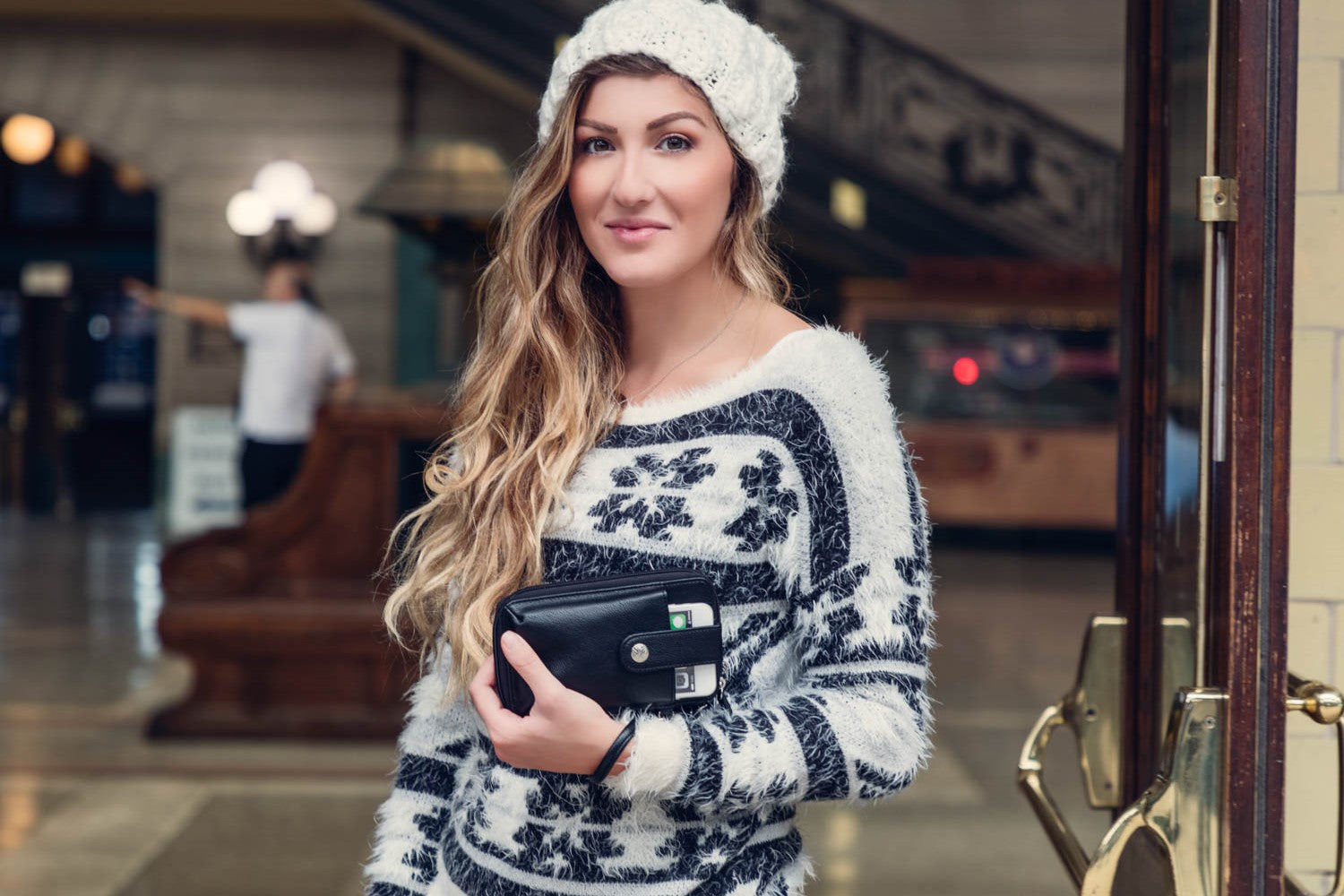 Valentine's Day is right around the corner and everyone is beginning to shop for the perfect gift to make their loved ones feel special. And while chocolates, teddy bears, and flowers are all fine choices, why not consider branching out this year and going for a gift that is unique, useful, fashionable, and (best of all) affordable?
Our fabulous collection of organizer wallets and women's bags is perfect for giving your special someone a stylish and memorable gift this Valentine's Day. With dozens of styles and colors available, you're sure to find a timeless gift that fits her style perfectly and can be used for years to come.
The Moment You Have Been Waiting For
Here are some of our top gift ideas for her this Valentine's Day that are sure to make her feel extra loved.
Our Big Fat Wallet is the signature item in our collection for many reasons. This classic style includes everything she'll ever need in a wallet, with its several card pockets, pen holder, picture pockets, checkbook holder, accordion pockets, zip around compartment, and more.
Better yet, the Big Fat Wallet also features our patented Safe Keeper RFID blocking technology for keeping all of her personal information safe. In a time of hacking and identity theft, this feature is a must-have for any wallet. Choose between several different colors and patterns for the style that suits her best.
A cell phone wallet is one of the most convenient accessories a woman can have in her collection, and she's sure to love this one. Our Jacqui Cell Phone Wallet allows her to safely carry her phone, cards, and other small essential items all in one.
The snap front pocket and zippered back compartment are easy to access as she needs and the built-in RFID Safe Keeper technology will keep her information protected.
This high-quality vegan leather wallet is available in dozens of eye-catching colors and patterns, all at a fraction of the price you'll pay for similar styles on the market.
3.       A Convenient Wristlet and Portable Charger -
Back Up Buddy Wristlet with External Phone Charger
For a simpler style that's just as functional, our Back Up Buddy Wristlet is an ideal gift for the girl on the go. This small wristlet style is a more compact version of our other wallet options, but with the added bonus of a flat external phone charger.
This feature is endlessly useful for the career woman and includes both an Apple Lightning and micro USB adapter. Like many of our other products, this wristlet also includes our patented Safe Keeper RFID blocking technology for extra security.
Our Miracle Cell Phone Crossbody Bag combines the best of both worlds: a convenient cell phone bag and a stylish crossbody bag. This bag includes several pockets for her phone, cards, and cash, as well as a zippered top pouch for any other small necessities.
The Miracle Crossbody Bag is especially useful for travel, as it allows your loved one to carry everything she needs for the day right at her side.
5.       Protect and Connect in Style – 
Protect and Connect Crossbody Bag
This stylish triple zip crossbody bag is sure to become a staple in her collection. Each vegan leather bag is designed with a trendy Paris-themed print and includes a convenient portable charger for all of her Apple Lightning and micro USB-compatible devices.
The pockets inside allow this purse to function as both a wallet and purse, with RFID blocking technology acting as a protector for any personal information theft.
Every fashionista can tell you that a crossbody bag is one of the essential items to any woman's wardrobe. Even in 2021, this bag is still considered a must-have style thanks to its hands-free design.
Our Katie RFID Protect Crossbody bag takes this classic style and upgrades it for the 21st century with our innovative Safe Keeper RFID technology, protecting your loved one from any attempted information theft.
The size of the Katie bag is perfect for holding everything she needs and the comfortable adjustable strap ensures this style will work for women of all shapes and heights. With several stylish colors and patterns to choose from, you're sure to find the perfect fit for your Valentine.
Possibly our most versatile style, the Brady Crossbody Belt Bag is the ideal gift for any girl who seems to have everything. This bag can easily transform from a trendy belt bag into a sleek and sophisticated crossbody, or even a convenient wristlet depending on the occasion.
This bag includes all of the features she'll need in a wallet and small handbag, like credit card pockets, two large zippered compartments, and a dedicated pocket from her phone, complete with protection from RFID scanner theft. 
Valentine's Day Is Right Around The Corner
When shopping for that perfect Valentine's Day gift, consider choosing an item that is not only heartfelt but useful in your loved one's life. You don't have to spend hundreds of dollars to give a gift that she will cherish for years to come After all, every girl could use a stylish, well-made wallet or bag in their life!
Our collection offers many top-quality options that are tailored down to the finest detail, even offering a sense of security whenever she leaves the house. And even with all of these features in mind, we strive to keep our bags and wallets as affordable as possible, making them perfect for all budgets.
Our women's wallets and purses are made with the busy, on-the-go woman in mind and she's sure to love receiving a gift she can use and enjoy, even long after Valentine's Day is over. 

Still don't know what to get that special someone in your life? Get them a Mundi Gift Card so they can choose a wallet that's right for them!
Leave a comment
Comments will be approved before showing up.
---
Also in Inside The Wallet
Your bag is your best friend. It's the accessory you take with you everywhere – whether you're heading to the office or grabbing brunch. While we all love our bag, it's easy to become frustrated when you can't find what you're looking for. Have you ever stood at the counter trying to find your credit card to pay for a coffee? Does your handbag seem to swallow up your lipsticks and hair accessories? That's why you need an organizer purse that makes it easy to find all your essentials. When you have an organized purse, you'll never get stressed about finding cash ever again.
Your phone is a lifeline. For most of us, it's practically become an extension of who we are. You can't leave home without it, and it rarely leaves our hand. With phones getting bigger to accommodate everyday activities streaming, it's becoming harder to slip your phone into your pocket.
We've all heard of the nightmares of people having their phones pickpocketed. Just think of how much personal information is in your phone – as well as the price tag of your phone. That's why you need a phone bag. Whether it's a wallet organizer with cell phone pocket or a dedicated cell phone bag, your phone deserves extra protection.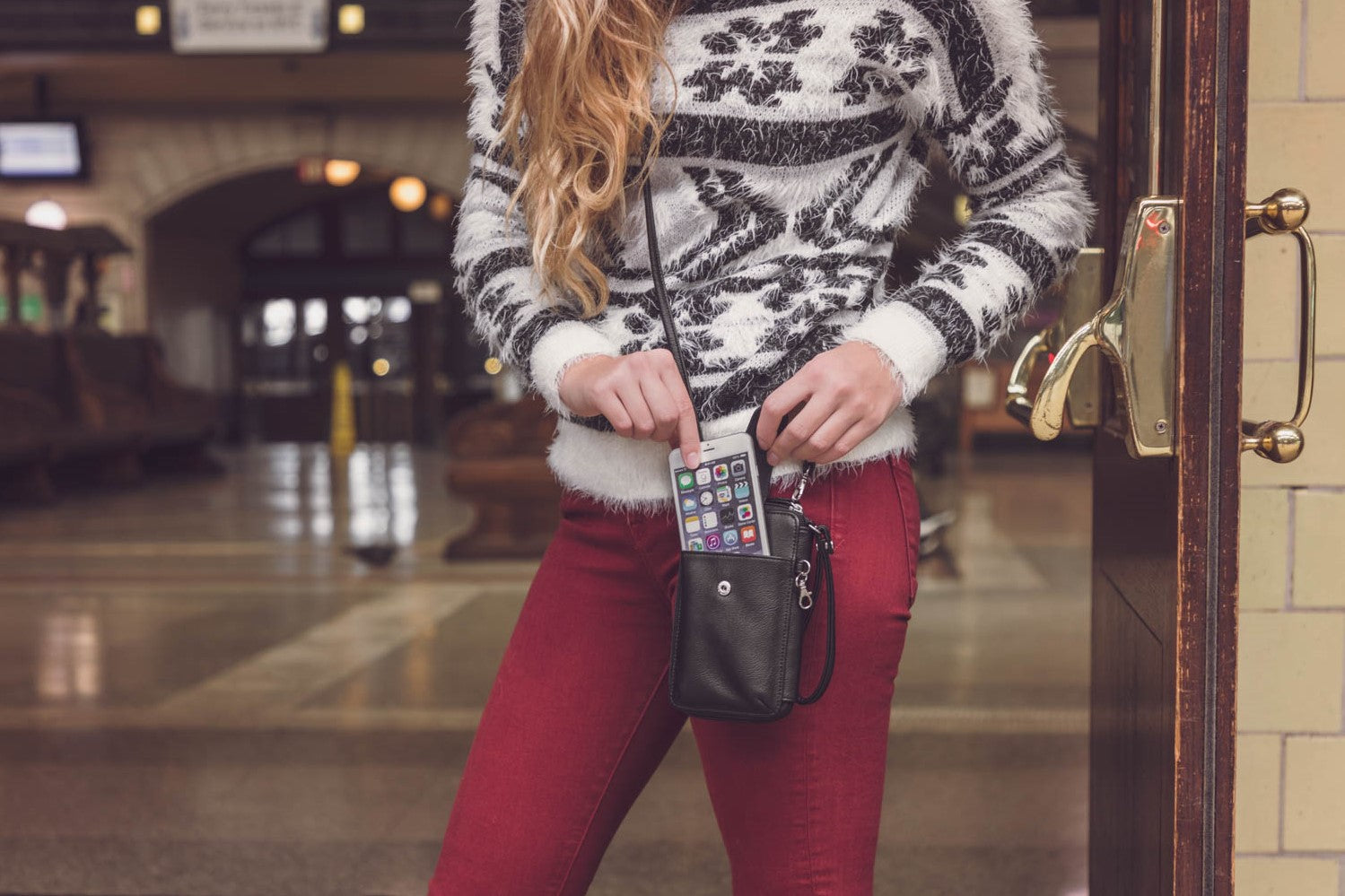 2022 is right around the corner. The New Year brings with it endless opportunities and a chance to start afresh. Whether you're happily waving '
au revior'

 
to 2021 or feeling anxious about the new year, it's a time to stop and reflect. That's why so many of us set new year's resolutions.