Why You Need an RFID Crossbody Bag
In this day and age, it's no secret that technology reigns supreme. Gone are the days of having to carry a wad of cash with you wherever you go. Instead, everything we could possibly need for day-to-day life can be stored and used with ease and efficiency. However, this isn't always a positive thing.
While credit cards and other items offer plenty of conveniences, they're also at 
high risk for theft via RFID skimming. Now, you may be wondering what RFID is, what RFID skimming is, and what you can do to help prevent it. If so, then you've come to the right place!
In today's post, we'll be giving you the lowdown on all things related to RFID, electronic theft, and the best way you can prevent your money and identity from being stolen.
What is RFID?
So first, let's start off with the basics: what exactly is RFID anyway? To put it simply, RFID chips are what store all the information on your debit cards, license, and many other forms of identification. These little metallic chips contain tons of sensitive personal information. "RFID" is an acronym for "Radio Frequency Identification," as these chips are read via radio waves. You can read even more in-depth on the technology at AB&R, who supplies businesses with RFID solutions.
While RFID has completely changed the game in making transactions fast and simple, it's also come at a cost. From nearly the beginning, cards with RFID chips have been susceptible to electronic theft. Using card readers, these thieves can easily scan your cards' information (even from outside of your wallet and purse) and commit all manners of theft against you.
What needs RFID protection?
While the crime of RFID skimming is most often committed against debit and credit cards, they're not the only thing that needs protection. Anything that contains an RFID chip is at risk of theft, including passports, drive's licenses, any ID cards, and even gift cards. With all these forms of payment and identification being a possible risk, you're probably wondering how on earth you can ensure the protection of your assets, identity, and peace of mind as you go about your day. Thankfully, we have the perfect solution: Mundi Wallets.
Why choose Mundi Wallets?
Now that we've gotten those technicalities out of the way, you can likely see how important it is to protect yourself against electronic theft. The good news is that by choosing an RFID bag and/or wallet that offers this protection, you can secure your belongings and go about your day without fear, even in the most crowded of areas. Here's what sets our bags apart from the pack:
Patented Anti-Theft Technology
At the end of the day, any brand can claim that they offer an RFID crossbody purse. But Mundi Wallets has taken it a step further by patenting our own 
exclusive RFID Safe Keeper technology. We can assure you that all of our bags and wallets are designed with attention to detail, giving you that peace of mind that your cards and other RFID-enabled devices are safe and secure.
Stylish Options
While it's easy to find an RFID crossbody bag on the market, it's a lot more difficult to find options quite as fashionable as the ones we offer here. We truly have an option for everyone. If you're looking for something simple, yet classically stylish, the Katie Anti-Theft Crossbody Bag will perfectly complement anything and everything in your wardrobe. For lovers of bold colors and patterns, you can't miss the Brady Crossbody Belt Bag. This RFID all in one crossbody has all of the features you could possibly want in a bag, including plenty of credit card slots, zippered pockets, a phone pocket, and even a removable wristlet and crossbody strap (not to mention the myriad of gorgeous patterns!).
Perfect for the Girl on the Go
RFID skimming can happen any time you're out and about but, just as with all types of theft, you're much more at-risk when frequenting heavily crowded busy areas. Our bags are the perfect way to carry all of your essentials with ease and prevent electronic theft whenever you're traveling to work, shopping, or any other time you find yourself in one of these high-foot traffic areas.
On a similar note, if you have any upcoming vacations planned, our RFID Safe Keeper technology is a must-have. Popular tourist destinations and airports are well-known for pickpockets, scammers, and yes, RFID theft. Our bags happen to be the perfect compact size for comfortable travel and will offer you plenty of protection. In particular, our Little Miracle and Cornelia cell phone bags fit snugly to the body and are an ideal size for your smartphone, cards, cash, passport, and any other small essentials, making traveling and public transport a breeze.
A Fair and Low Price
Many other brands offer RFID blocking technology, but at a high price. In our mind, there's no reason why you have to pay exorbitant prices in order to feel safe and protected. All of our products are priced fairly with our consumers in mind. Our low prices also allow you to pick up multiple bags if you so desire.
After all, who wouldn't love having the perfect bag for every outfit and occasion?
There are few things more important than protecting your identity and belongings from those who wish to do your harm. Through our line of colorful, stylish, and secure bags, Mundi Wallets hopes to make RFID skimming and electronic theft a thing of the past. Pick up one of our crossbody bags (or a few!) and get ready to walk with confidence and peace of mind.
Leave a comment
Comments will be approved before showing up.
---
Also in Inside The Wallet
Your bag is your best friend. It's the accessory you take with you everywhere – whether you're heading to the office or grabbing brunch. While we all love our bag, it's easy to become frustrated when you can't find what you're looking for. Have you ever stood at the counter trying to find your credit card to pay for a coffee? Does your handbag seem to swallow up your lipsticks and hair accessories? That's why you need an organizer purse that makes it easy to find all your essentials. When you have an organized purse, you'll never get stressed about finding cash ever again.
Your phone is a lifeline. For most of us, it's practically become an extension of who we are. You can't leave home without it, and it rarely leaves our hand. With phones getting bigger to accommodate everyday activities streaming, it's becoming harder to slip your phone into your pocket.
We've all heard of the nightmares of people having their phones pickpocketed. Just think of how much personal information is in your phone – as well as the price tag of your phone. That's why you need a phone bag. Whether it's a wallet organizer with cell phone pocket or a dedicated cell phone bag, your phone deserves extra protection.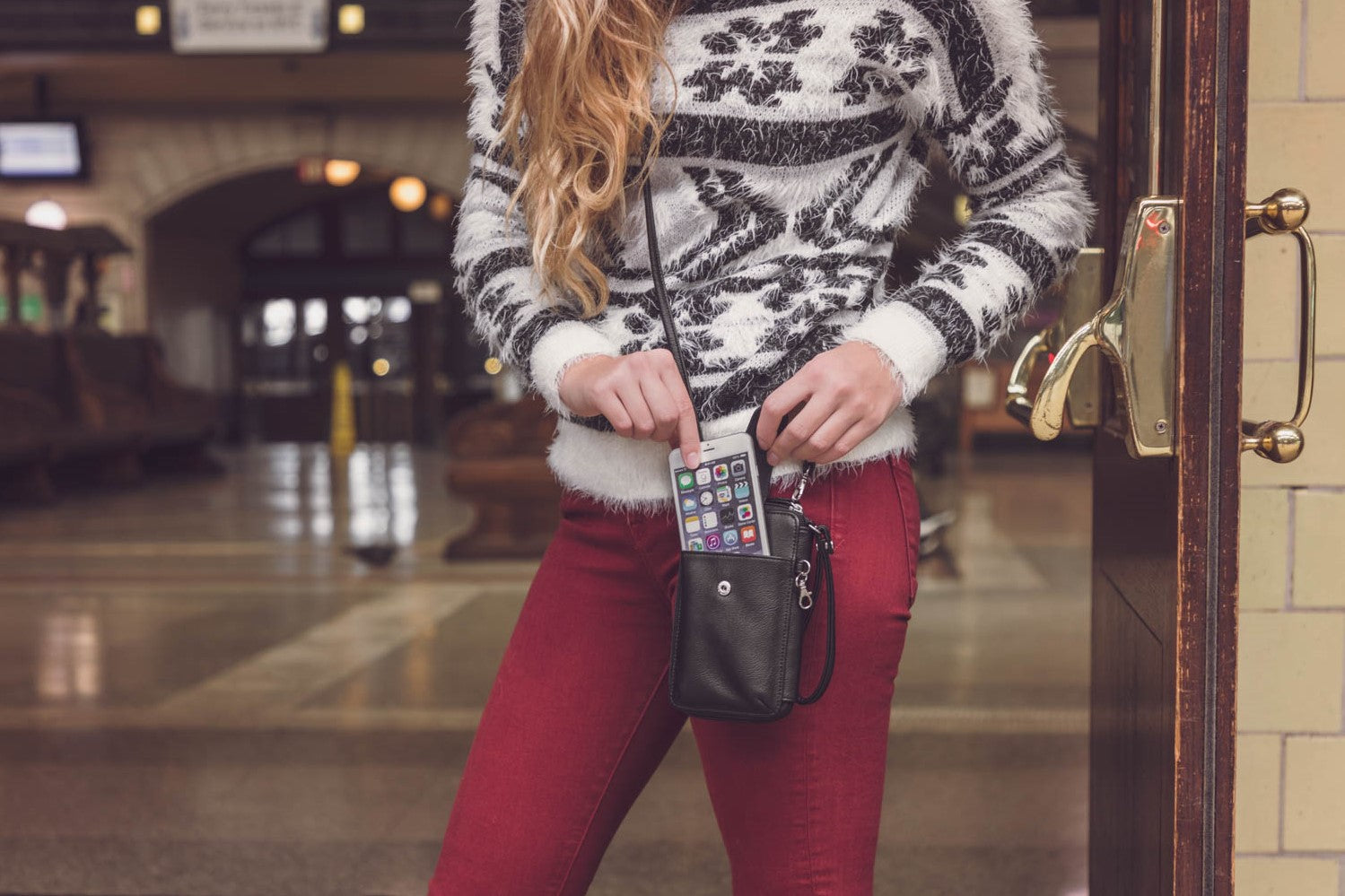 2022 is right around the corner. The New Year brings with it endless opportunities and a chance to start afresh. Whether you're happily waving '
au revior'

 
to 2021 or feeling anxious about the new year, it's a time to stop and reflect. That's why so many of us set new year's resolutions.