Why You Need an RFID Protected Wallet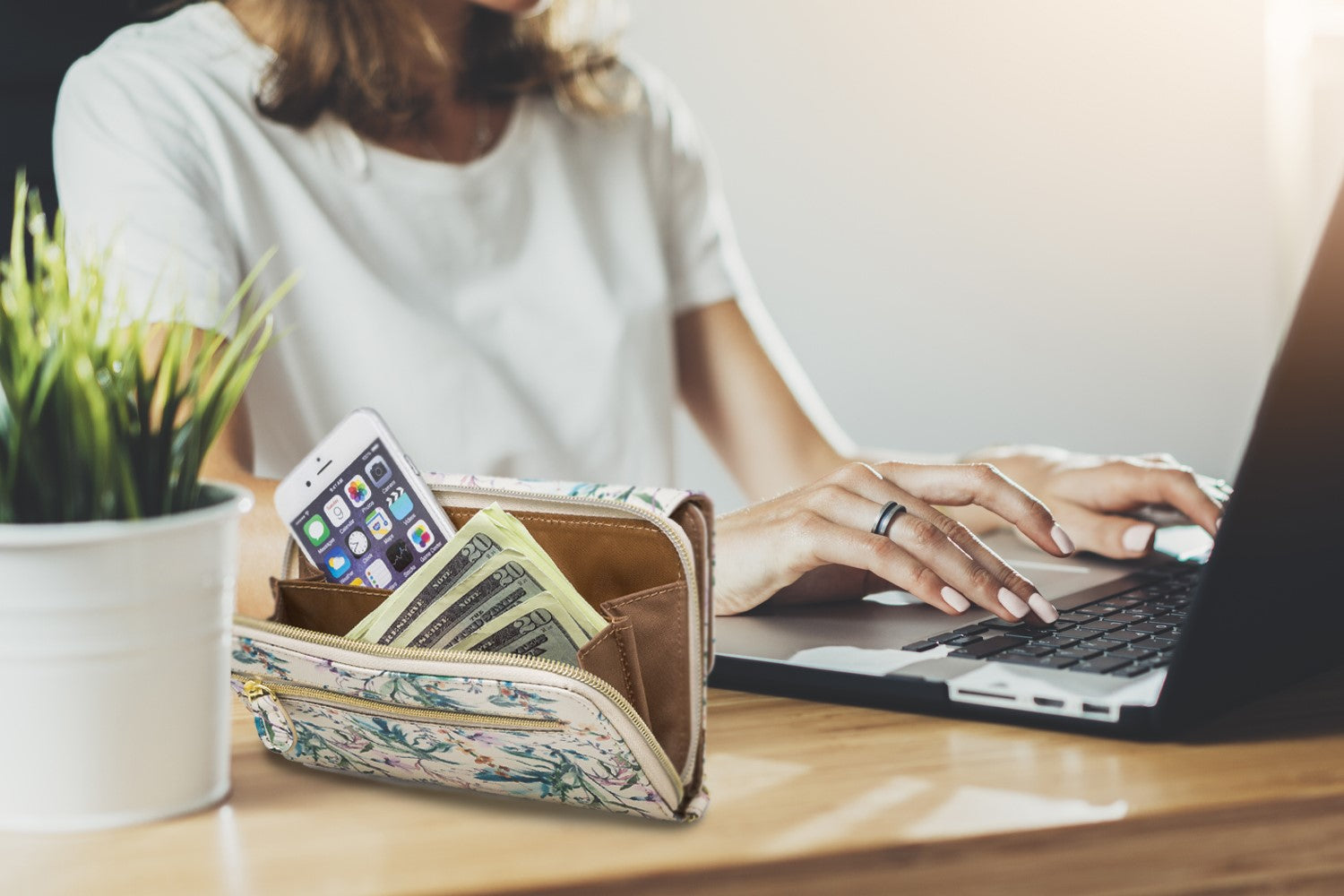 We are currently living in a very insecure world, where situations change in the nick of time. We are specifically referring to losing or having something stolen from you, especially your personal belongings. Although this might not have ever happened to you, traveling and commuting from one place to another can lead to these unfortunate events. Whether going to work, vacation, or any kind of trip, each of us is a potential victim of having something stolen or electronic fraud.
With the vision and mission to contribute to the safety of women, having their belongings protected, we at Mundi have made an effort to have the majority of our wallets and crossbody bags cater to this need. Our Women's RFID Wallets and bags have a special security system installed, that keeps your personal information safe. 
RFID blocking technology is an innovative approach to providing security to all women by protecting their personal information. This kind of protection is much needed when traveling long hours, where your wallet and bag can be a target of potential electronic abuse or fraud.
What is RFID Safe Keeper?
As mentioned above, our wallets and bags have RFID technology installed to keep your belongings and information safe and secure. The patented Safe Keeper RFID blocking technology provides extra security against thieves who are trying to steal your personal information by scanning your wallet and bag. 
This includes everything from contactless credit cards, smartwatches, and other RFID enabled items. It blocks all the attempts of taking over personal data and information and it provides a safe and comforting peace of mind when you're surrounded by a bunch of people you don't know.
Women's RFID Wallets
In the process of designing our wallets and bags, RFID protection was our main goal that needed to be installed and incorporated into the majority of our wallets and crossbody bags. However, the second most important aspect was making the pieces fashionable and stylish so that women will love to wear them. Wallets and bags are a big part of every woman's daily outfit, so they might as well provide you with a sense of security, right?  
A wallet is a necessary item that carries different types of documents and payment cards that are the target of many frauds. To cater to all demographics, our women's RFID wallets and bags are quite colorful and include multiple pockets and compartments so you have room for all of your daily items. 
Here are a few of our favorite RFID Protected Wallets. Take a look!
For the Fashionistas
Fashionistas are always looking to leave an impression with everything they wear and carry, even with their wallets too. That is why the wallet has to have a fashionable appearance and cool look instead of only fulfilling its primary role. That is why the File Master Clutch is a suitable choice. 
The wallet itself is very spacious and fitting, with lots of storage space for all cards, documents, cash, and coins. This wallet comes in a plethora of styles to go with any outfit in your closet. It even has a specially provided place where you can put your phone! A fashionable and functional wallet that is secured with our RFID Safe keeper technology.
For the Classic Ladies
For the ladies who follow and flaunt classic fashion style, the wallet also needs to come in a classic style. The most common choice here is the Amsterdam Indexer Small Trifold Wallet. It is practical and small in size that can open in three sections. 
This makes it much easier for carrying around and does not take much space in the purse. Each part is specially designed to fit different types of items, and the cover comes in a nice classic floral print. Secured with RFID Safe keeper technology, this wallet is an excellent choice for a gift and/or personal use. For all those who need a small, functional wallet, and want to secure their data and personal information, the Amsterdam Indexer is for you! 
For Modern Businesswomen
The modern businesswoman highly appreciates the wallet as an accessory and fashion garment. In those terms, the wallet is a precious item that depicts the style, profession, personality, and future aspirations. Businesswomen have a particular fashion style and work outfit that they flaunt, and it is only suitable and expected that the wallet should also be business-inspired. One such wallet is our My big fat wallet that is very practical and spacious. 
The wallet is separated from both sides. The front side opens up to three additional parts and closes up with a button, while the back feature two zippers that provide extra space. The entire wallet has the RFID Safe keeper technology integrated, which makes it not only practical and fashionable but secure too. With the removable wristlet, it can also be worn as a handpiece. Giving you plenty of options and style variations to go with your business attire. 
For the Travelers
Traveling means carrying all-important things with you, which includes everything from the phone, phone charger, iPad, money, smartwatches, credit cards, your passport/ID, and other essential items. For all of them to be safe and secure, the Backup Buddy wristlet is an excellent choice. 
It is big enough to fit your documents, money, phone, and even other things that you will want to be with you all the time. The front and the top zipper are convenient for easily pulling out and putting in the things and the integrated RFID Safe keeper technology is the extra safety measure that will give you peace of mind.  The wristlet comes in three different colors and prints, and you can easily match it with the rest of your luggage.
If you are frequently traveling or planning on traveling in the near future, be sure to get a piece like our RFID Wallets. The safe and secure benefit they provide makes them unique on the market. And there really is no greater enjoyment and pleasure when traveling and visiting places when you know that your personal information and electronic cards are safe and sound. 
RFID Wallets For You
Those are just a few of our favorite picks from our lineup, but we encourage you to take a look at all of our RFID protected wallets and crossbody bags. Fashionable, functional, and multiple styles to reflect your personality, these wallets and crossbody bags are here with you through every step of your journey. 
Now, you may be asking yourself "Is this necessary? Will I ever be subject to an RFID scammer?".  These are some great questions that we, unfortunately, cannot answer for you, but we can leave you with a different question. Wouldn't you rather be safe than sorry?
Leave a comment
Comments will be approved before showing up.
---
Also in Inside The Wallet
Your bag is your best friend. It's the accessory you take with you everywhere – whether you're heading to the office or grabbing brunch. While we all love our bag, it's easy to become frustrated when you can't find what you're looking for. Have you ever stood at the counter trying to find your credit card to pay for a coffee? Does your handbag seem to swallow up your lipsticks and hair accessories? That's why you need an organizer purse that makes it easy to find all your essentials. When you have an organized purse, you'll never get stressed about finding cash ever again.
Your phone is a lifeline. For most of us, it's practically become an extension of who we are. You can't leave home without it, and it rarely leaves our hand. With phones getting bigger to accommodate everyday activities streaming, it's becoming harder to slip your phone into your pocket.
We've all heard of the nightmares of people having their phones pickpocketed. Just think of how much personal information is in your phone – as well as the price tag of your phone. That's why you need a phone bag. Whether it's a wallet organizer with cell phone pocket or a dedicated cell phone bag, your phone deserves extra protection.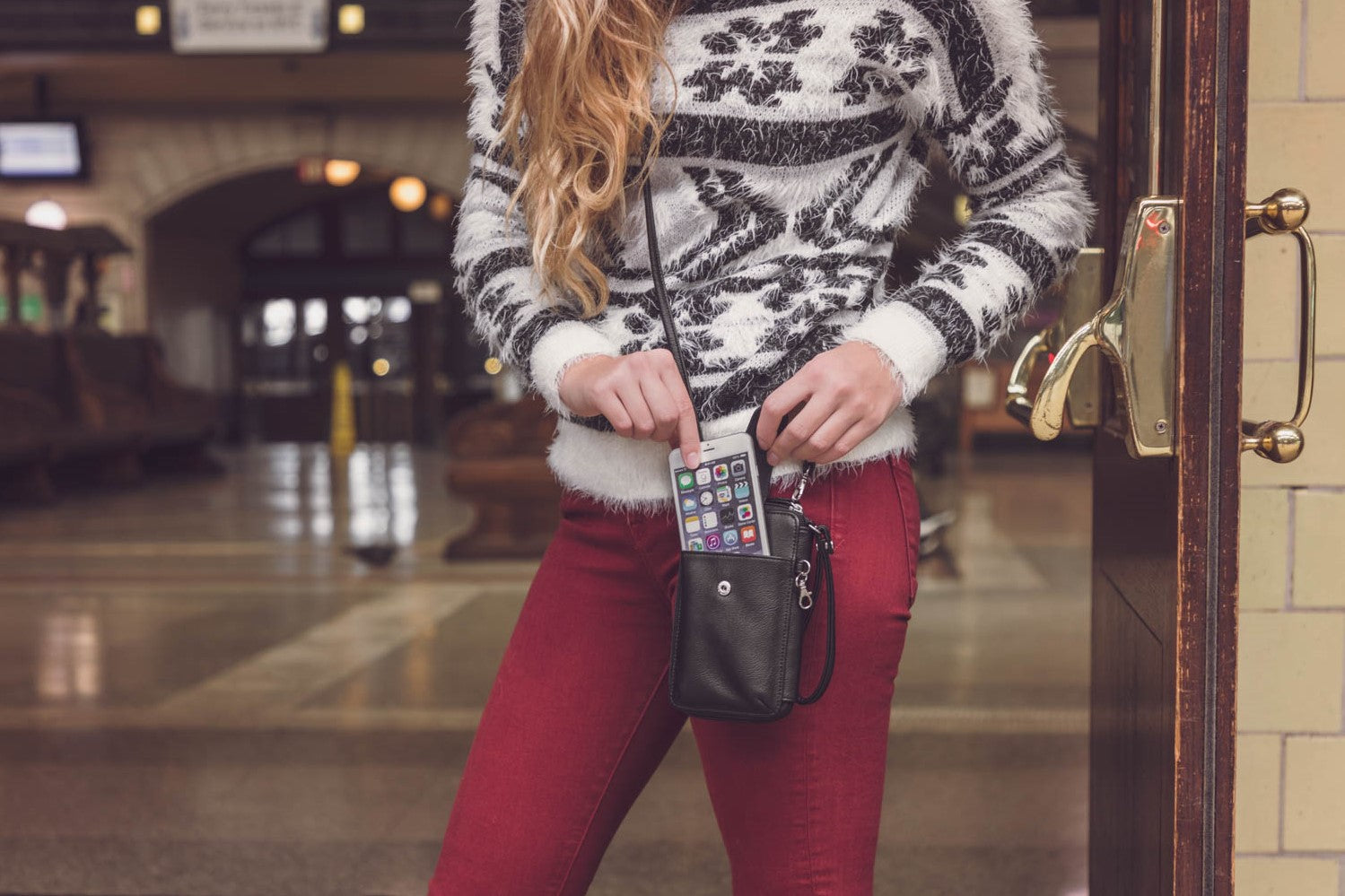 2022 is right around the corner. The New Year brings with it endless opportunities and a chance to start afresh. Whether you're happily waving '
au revior'

 
to 2021 or feeling anxious about the new year, it's a time to stop and reflect. That's why so many of us set new year's resolutions.