2021 Mother's Day Gift Guide
Celebrating moms is one of the best things we do each year. We give thanks to the women who raise us, support us, and oftentimes make sacrifices for us to live a better life. Sometimes, we feel as though just one holiday celebrating mothers is not enough!
One of the telltale struggles with Mother's Day gifts is finding the perfect gift for your mom that is thoughtful but is also practical. If you, like us, are often at a loss when trying to find a great gift for your mom or a mother in your life on Mother's Day, look no further. We've aggregated an essential list of gift ideas that will not only show your mom that you love her, but that will also be functional and stylish in her everyday life.
 1. The Crossbody Bag That Multitasks as Well as She Does.
Let's face it, your mom is probably a supermom. She's multitasking all the time, taking care of everyone around her, and she deserves a thank you. This idea of moms consistently taking care of multiple responsibilities at once isn't new, but 
it's starting to be more appreciated. We think some of the most apt gifts you can get her this year are small crossbody bags. 
This Mundi Brady Crossbody Bag has almost as many functions as she does: it's a convertible crossbody purse, clutch, and trendy belt bag. Plus, its design is understated and chic, making it the perfect accessory for any of your mom's looks.   
2. A Bag That Goes Where She Goes.
For moms on the move, we like to suggest a hyper-functional crossbody bag with the features she actually needs. The Miracle Cell Phone Crossbody Bag is the perfect bag for any mom who doesn't like to fuss with an accessory when she's on the go. We love this one because it's got a pocket for everything you'd 
need: cell phone pocket, keys pouch, four credit card slots, and both small and large zippered pockets for any extras. 
Plus, Mundi has made a commitment to sustainability in their handbag production and is proactively sourcing materials made from recycled plastic bottles. That means you can feel good about your Mother's Day gift. Being hands-free is super important for moms, so opting for a small crossbody bag can really pay off in your Mother's Day gift-giving.
3. A Wallet That Protects Her Information.
These days, the concerns over our personal information security are more prevalent than ever. Our moms are one of the most important people in the world, so it's important that we do what we can to keep her and her personal information as safe as possible. That's why we think a great Mother's Day gift this year is an RFID-blocking wallet. RFID—which stands for radio frequency identification—is a process by which radio waves are used to identify people or documents. 
RFID can be used to ascertain information from any number of items in our 
wallets, including credit cards. The RFID blocking technology in this sleek Rio Leather Indexer is an essential feature.
We also love the low-profile silhouette of this wallet. It's the perfect card and bill holder for a mom who has a classic, chic style sensibility. Plus, it comes in neutral leathers or in red for a pop of color against any outfit.
4. The Wristlet That Will Keep Her Safe
This year, we've learned that exposure to bacteria, germs, and viruses can be extremely detrimental to our health and wellbeing as a society. Depending on the surface, it's possible to get sick from a germ-laden surface. If you want to keep your mom safe from the grimy surfaces of the world, we highly recommend our Keep it Clean Organizer. 
Aptly named, this nylon wristlet organizer will help her keep track of her disinfecting wipes, masks, and gloves. Plus, it has a handy pocket marked "used" so she will always know where to grab for fresh protective gear!
This wristlet is sleek, durable, and is clearly marked with everything you need to stay safe from any germs. One of the best parts of this handy wristlet is that it's completely machine washable, so you never have to worry about how to keep everything clean and sanitary!
A Functional and Fashionable Gift
Keeping your mom looking stylish with small crossbody bags, personal safety items, and women's wallets will make her know you truly care. Get her one wallet or crossbody bag for the upcoming holiday, or a mix of both!
Our assortment of wallets and small crossbody bags are RFID protected, so you can't go wrong with the various styles and color options we have available. All of our accessories will be sure to suit any mom's unique style and needs.
Still don't know what to get that special someone in your life? Get them a Mundi Gift Card so they can choose a wallet that's right for them!
Leave a comment
Comments will be approved before showing up.
---
Also in Inside The Wallet
Your bag is your best friend. It's the accessory you take with you everywhere – whether you're heading to the office or grabbing brunch. While we all love our bag, it's easy to become frustrated when you can't find what you're looking for. Have you ever stood at the counter trying to find your credit card to pay for a coffee? Does your handbag seem to swallow up your lipsticks and hair accessories? That's why you need an organizer purse that makes it easy to find all your essentials. When you have an organized purse, you'll never get stressed about finding cash ever again.
Your phone is a lifeline. For most of us, it's practically become an extension of who we are. You can't leave home without it, and it rarely leaves our hand. With phones getting bigger to accommodate everyday activities streaming, it's becoming harder to slip your phone into your pocket.
We've all heard of the nightmares of people having their phones pickpocketed. Just think of how much personal information is in your phone – as well as the price tag of your phone. That's why you need a phone bag. Whether it's a wallet organizer with cell phone pocket or a dedicated cell phone bag, your phone deserves extra protection.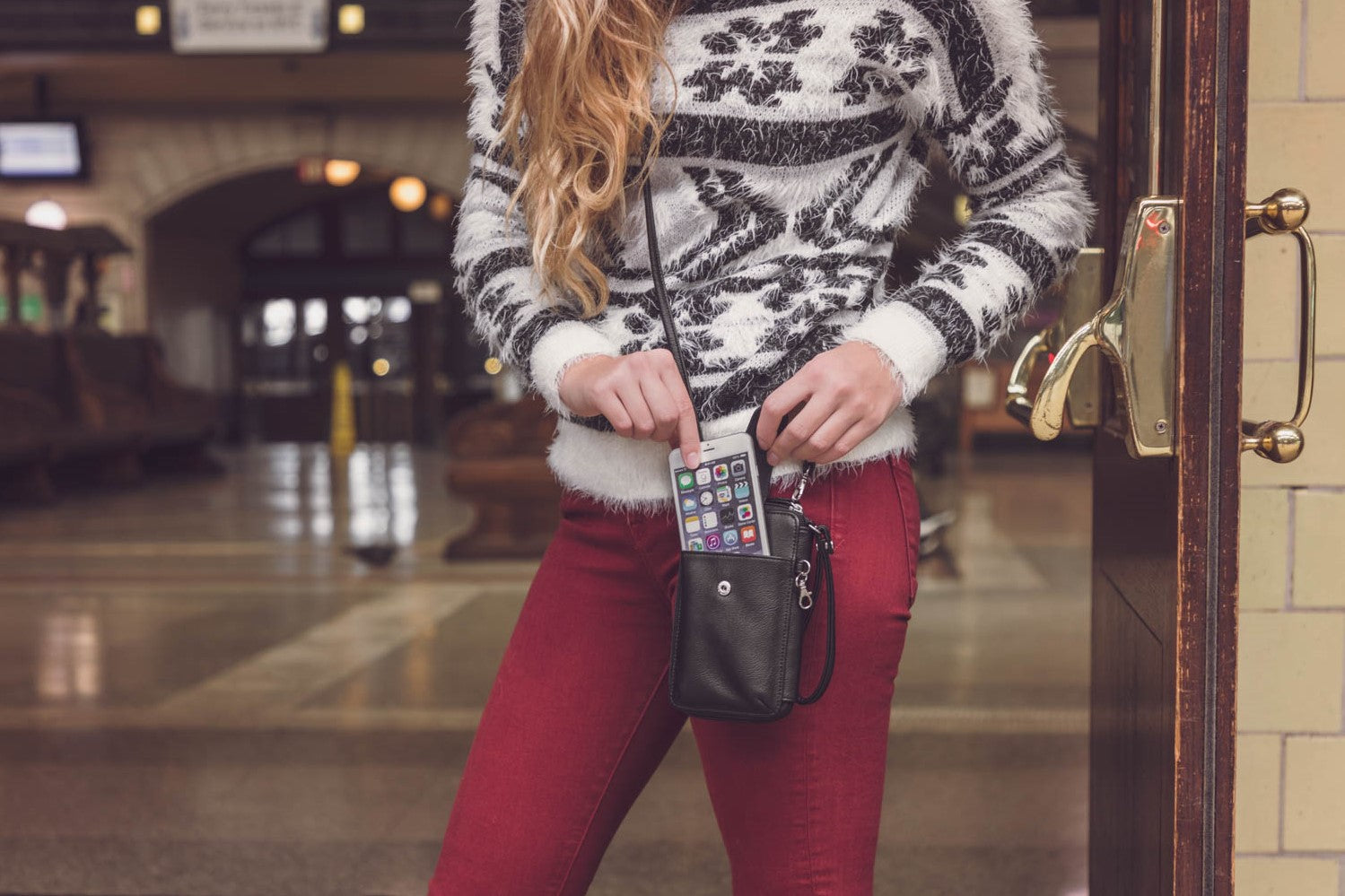 2022 is right around the corner. The New Year brings with it endless opportunities and a chance to start afresh. Whether you're happily waving '
au revior'

 
to 2021 or feeling anxious about the new year, it's a time to stop and reflect. That's why so many of us set new year's resolutions.