Best Extra Large Wallets for Women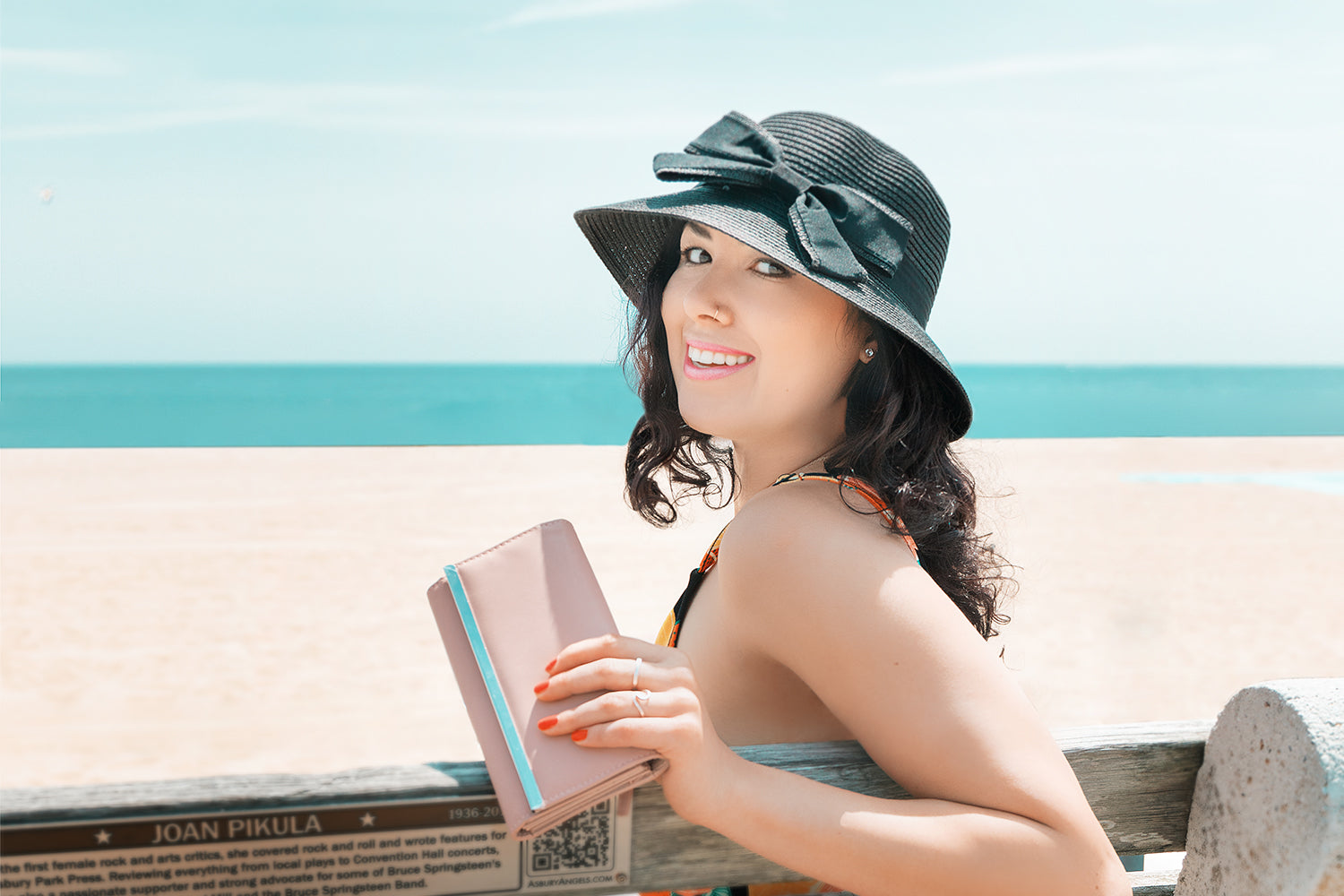 Wallets are an essential part of everyday carry for almost all people, regardless of age or gender. Our wallets are what keep the most important things to us organized and safe. We stow credit cards, debit cards, ID's and driver's licenses, cash and coins, library cards, membership cards, coupons, and tons more. Some even include small photos of family and loved ones in their wallets, which is a testament to how important these pocketbooks are to us as a species. 
For women, wallets can be even more than an important organizational tool. They can be major fashion statements. Stylish pocketbooks, particularly large scale ones, can be used to accessorize your outfit in addition to holding your belongings for safe keeping.
Wristlet Wallets
Extra large women's wallets are extremely useful accessories. This size wallet 
can come in numerous styles, with some of the most popular being wristlet wallets and clutch wallets. Wristlet wallets come with a strap—which is often detachable—so that the user can casually wear it around their wrist. 
This style can be especially appropriate in less formal situations, like running out to the grocery for a few items, hitting the mall with your friends, or if you're headed to the gym and prefer to minimize what you're carrying with you.
Clutch Wallets 
Clutch wallets are larger, longer wallets and often have either a center clasp or a zipper as a means of fastening. This style of wallet can definitely be dressed up, and you'll often see a clutch style wallet in the hands of celebrities and other women attending special events, where a purse may not be appropriate or even necessary.
Though extra large wallets may seem small if you're used to carrying around a full sized handbag, they are oh-so-mighty when it comes to the amount they can carry and keep organized. If you're looking for a wristlet wallet, trifold wallet, or a clutch wallet that's a bit larger in scale, here are some of the best ones on the market.
For the Woman On The Go: The Bold Vegan Leather Wristlet
Wristlet wallets are some of the most mobile women's accessories you can find. These small but mighty pocketbooks are like a mini handbag, only better. Our
My Big Fat Wallet
is the perfect extra large size wallet for women who like to simplify their everyday carry without compromising on internal space.
This 7.5 inch by 4.5 inch vegan leather wallet comes in a wristlet style for simplistic carrying. Just sling it on your wrist and go! If you prefer to sport it as a clutch, no worries. The wristlet strap is easily removable for an easy design that flexes to your needs. 
Don't let the sleek silhouette and simple fold over design fool you, though. My Big Fat Wallet has seven card slots, multiple pockets, dual ID windows and an RFID security shield, so your cards and sensitive information stays safe in your wallet. This wallet is spacious and organized, so you'll never have to wonder where any of your cards or important items are.
My Big Fat Wallet is also ideal for women who don't stray from bold colorways and prints. This wristlet wallet comes in multiple different colors and patterns, so there's sure to be a wallet that matches your unique style. Or, if versatility is more your thing, get a few so you can match all your different outfits and moods.
For the Woman Who Likes Everything in Its Place: The Clutch That's Big on Organization
We all have that friend—or perhaps are that friend—who needs to have everything in its place. Sometimes, organization can be incredibly calming. Don't worry, we have you covered with the File Master Clutch. It has tons of pockets and card slots but features a sleek shape, so you can stay organized without a clunky look. 
This women's clutch features 13 individual card slots, various additional pockets 
including two gusset pockets and two slip pockets, two ID window slots, and has RFID safe keeper technology so you can store your cards with peace of mind. The file master is also a trifold wallet, meaning it folds out into three sections, each with its own impressive level of organizational pockets and slots. 
You'll never worry about having enough space or about each individual item having its own spot in your wallet. The File Master makes true on its name; it is a master of filing and organizing your belongings.
Similar to the My Big Fat Wallet, the File Master Clutch comes in multiple different colorways including solid colors and unique patterns, so you can stay organized but never be bored with your style. 
For the Woman With Sophisticated Style: The Classic and Durable Snap Closure Clutch
Some women prefer a simple and sophisticated design in neutral, classic colors. For that, we recommend the Rio Leather Clutch RFID Wallet. 
The Rio Clutch is elegant and understated, but never underestimated. These classy clutches come with a whopping 16 credit card slots, two ID window slots, four utility pockets, two cash accordion pockets, and a seamless snap closure. That means you'll have room for all your cards, coupons, and cash, as well as additional utility pockets for items like checks or grocery lists.
This leather clutch wallet also includes our patented Safe Keeper RFID blocking technology that provides you security against anyone attempting to steal your personal information with an RFID reader. The Rio Clutch is the perfect wallet for a woman who wants one, go-to, beautiful clutch that will accentuate any outfit and will be an absolute workhorse of organization and durability.
There's A Wallet For Everyone
Women's extra large wallets are some of the best accessories to invest in. With so many styles, you're sure to find something to complement your wardrobe. If you're not a purse or handbag user, or if you're more of a minimalist when it comes to your everyday carry, a large wallet could be a great option. 
We have numerous options for extra large women's wristlets, clutches, and trifolds, so you can find the perfect purse companion or standalone wallet for your lifestyle. If you're not into wallets, check out our wallet crossbody bag crossovers for crossbody bags that pack a punch with multiple pockets, credit card slots, RFID protection, and more!
Leave a comment
Comments will be approved before showing up.
---
Also in Inside The Wallet
Your bag is your best friend. It's the accessory you take with you everywhere – whether you're heading to the office or grabbing brunch. While we all love our bag, it's easy to become frustrated when you can't find what you're looking for. Have you ever stood at the counter trying to find your credit card to pay for a coffee? Does your handbag seem to swallow up your lipsticks and hair accessories? That's why you need an organizer purse that makes it easy to find all your essentials. When you have an organized purse, you'll never get stressed about finding cash ever again.
Your phone is a lifeline. For most of us, it's practically become an extension of who we are. You can't leave home without it, and it rarely leaves our hand. With phones getting bigger to accommodate everyday activities streaming, it's becoming harder to slip your phone into your pocket.
We've all heard of the nightmares of people having their phones pickpocketed. Just think of how much personal information is in your phone – as well as the price tag of your phone. That's why you need a phone bag. Whether it's a wallet organizer with cell phone pocket or a dedicated cell phone bag, your phone deserves extra protection.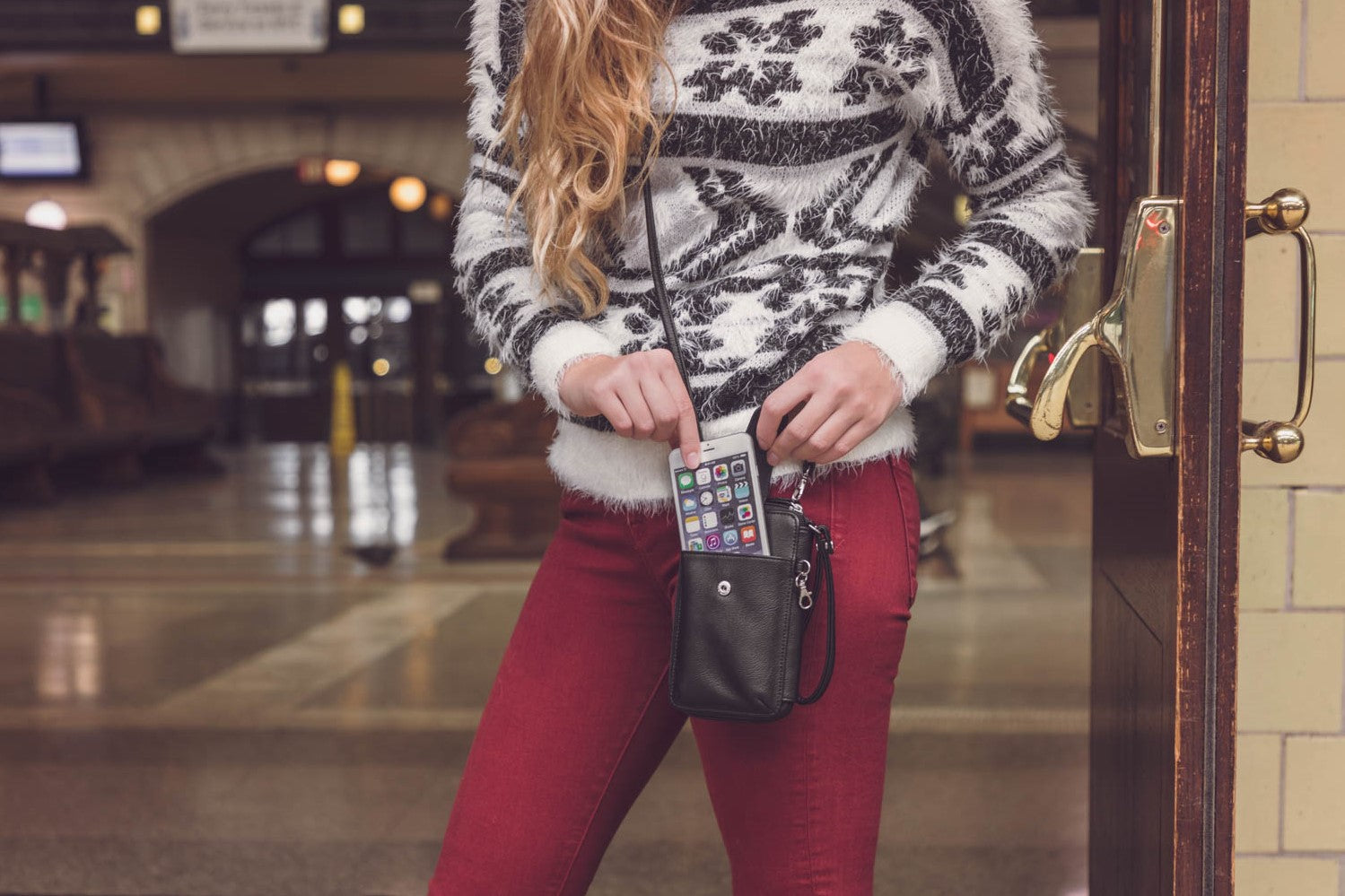 2022 is right around the corner. The New Year brings with it endless opportunities and a chance to start afresh. Whether you're happily waving '
au revior'

 
to 2021 or feeling anxious about the new year, it's a time to stop and reflect. That's why so many of us set new year's resolutions.