The Best Travel Bags for Women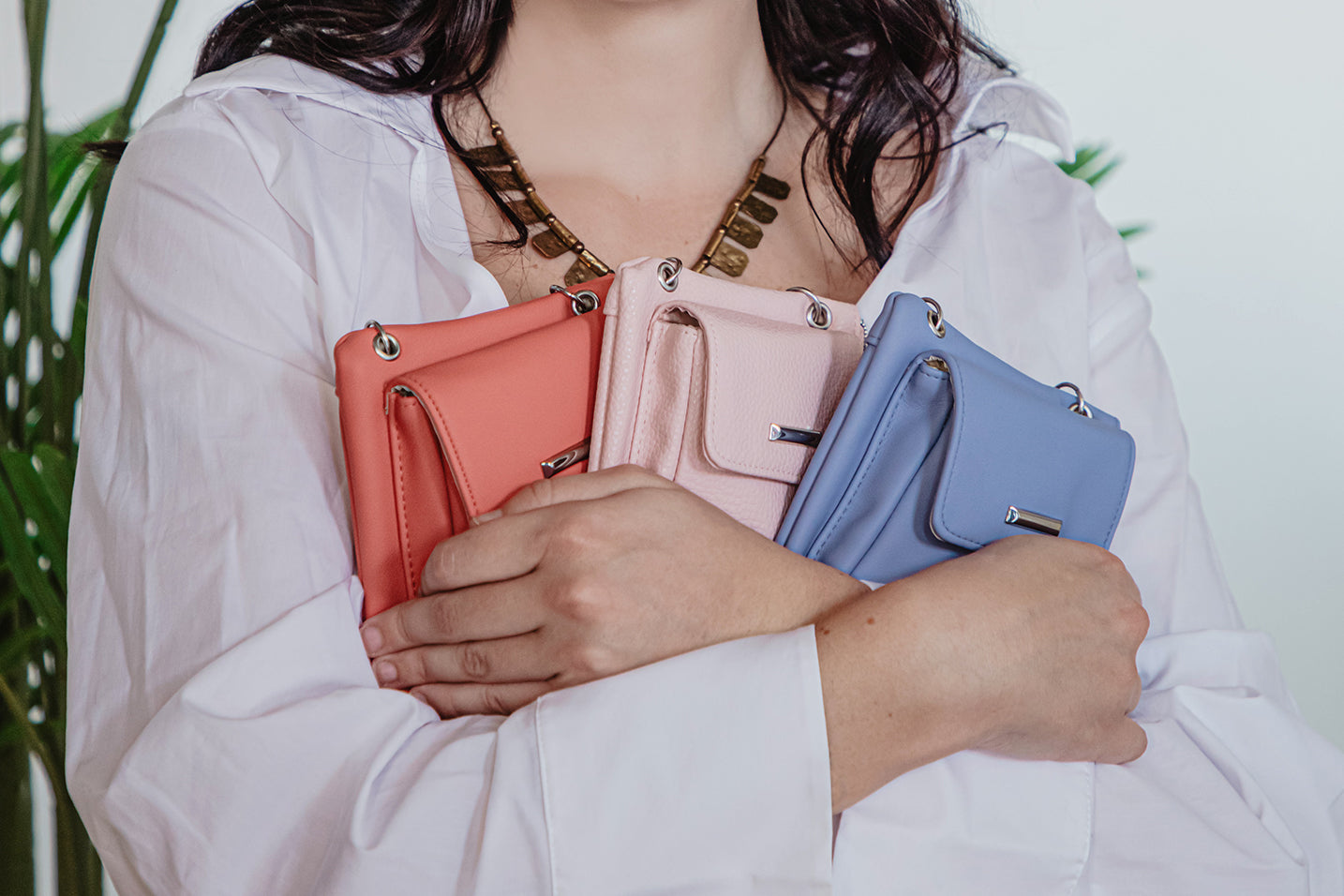 Ever since people began to travel for leisure many decades ago, we've all been on the search for the ultimate bag for traveling. While on the go in a new destination, there are a few marks that the perfect bag has to hit, including convenience, safety, and style.
Though it may seem difficult to find travel bags that fit all of these criteria, we have the perfect answer: crossbody bags! Not only are crossbody bags one of the biggest handbag trends for 2021, according to The Zoe Report, but these hands-free styles are classically stylish and will give you all the convivence and safety you need. Whether you're going on a weekend road trip or to a far-off destination, Mundi Wallets thankfully has the perfect travel bags and women's wallets for your vacation.
The endlessly versatile Brady Crossbody Belt Bag is an absolute must-have for traveling. Whether you prefer a crossbody, wristlet, or belt bag while on your 
getaway, there's no need to worry about packing all three – the Brady Crossbody can easily convert into all of these styles to suit your needs! With its timeless and classic design, plenty of convenient pockets, and RFID protection, this bag can fit all of your necessities while on the go and will be a lifesaver during your vacation.
In addition to a great travel bag, you won't want to leave home without an equally great wallet. Our My Big Fat Wallets are without a doubt the ultimate women's wallets for traveling and everyday use. You'll no longer have to worry about whether your wallet will fit everything you need – the My Big Fat Wallet includes several credit card slots, horizontal pockets, zipper pockets, and even has room for your smartphone.
What makes this travel wallet so special though is our patented Safe Keeper RFID blocking technology. Sadly, theft while traveling, whether it be your money, valuables, or personal information, is becoming more and more common every day. But RFID protection is the perfect solution to safeguarding your credit and bank cards from any potential criminals. 
When it comes to finding the perfect travel bags for you, you may be looking for something more secure than a wristlet, yet more compact than crossbody bags. Well, Mundi Wallets has the perfect solution for this as well! Cell phone bags are becoming a very popular option for those looking for convenience and security, and our Cornelia Cell Phone Bag definitely fits the bill.
This clever accessory includes all of the features you'll love about our women's wallets and crossbody bags: plenty of pockets for credit cards, small valuables, and your smartphone, along with convertibility and, of course, our amazing RFID protection technology. We also offer the Cornelia Cell Phone Bag in plenty of vibrant colors, perfect for just about any style and personality.
Our Katie Crossbody Bag is proof that your travel bags can be both secure and stylish at the same time! This bag's classic and sleek design is perfect for adding a fashionable touch to your finished look while on your travels, while including plenty of storage space for your essential items. The interior zippered pocket has space for 12 cards, cash, and coins. We've also included a spacious back pocket with room for your smartphone and passport. 
Just like many of our other styles, the Katie Crossbody comes in several beautiful patterns and colors, ranging from classic black and brown to floral and geometric. There really is a style for everybody! You can even remove the strap if you've ever in need of a stylish (and well-protected) clutch for an evening out or travel wallet.
As we mentioned previously, cell phone bags are a huge trend at the moment, so we've decided to take these convenient bags to the next level with our Little Miracle Cell Phone Crossbody Bag, Just as the name suggests, this bag is a "little miracle" when it comes to traveling. The slim, compact size and shape allow will give you freedom of movement while in crowded spaces like airports or busy streets, while our RFID protection will give you peace of mind that all of your personal information is sound and secure.
One of the main details we love so much about this bag is its multitude of pockets. The front zippered pockets can fit plenty of your essential items. You'll be able to have your phone, cash, cards, passport, and even a few makeup items on you at all times with the Little Miracle Crossbody. This is not only a perfect bag for traveling but one that you'll use and love long after you arrive back home.
Kimberly Crossbody Bag
While many people think of large tote bags to be the ultimate travel bags, we beg to differ. Large bags may be able to hold everything you need at once but once your feet hit the ground, having to carry around a large cumbersome bag can end up being more of a hassle than it's worth – not to mention they're much more of a security risk.
The Kimberly Crossbody Bag may be small, but it definitely packs a punch! The compact size of this bag makes movement easier and allows you to hold all of your belongings close to your body. This bag conveniently acts as a great travel wallet as well, with credit card slots, room for cash, and our patented RFID Safe Keeper Technology.
Let's Go!
Busy streets and cities, airports, and public transportation are some of the most high-risk locations for theft of valuable and personal information. When it comes to finding the perfect bag for walking around in a new destination, you'll want to find the most convenient and safe options possible. That's why our collection at Mundi Wallets are the perfect travel companions! Our crossbody styles, along with their multitude of pockets and RFID Safe Keeper technology, are the perfect way to stay safe, secure, and stylish while on your next vacation.
5 Responses
Leave a comment
Comments will be approved before showing up.
---
Also in Inside The Wallet
Your bag is your best friend. It's the accessory you take with you everywhere – whether you're heading to the office or grabbing brunch. While we all love our bag, it's easy to become frustrated when you can't find what you're looking for. Have you ever stood at the counter trying to find your credit card to pay for a coffee? Does your handbag seem to swallow up your lipsticks and hair accessories? That's why you need an organizer purse that makes it easy to find all your essentials. When you have an organized purse, you'll never get stressed about finding cash ever again.
Your phone is a lifeline. For most of us, it's practically become an extension of who we are. You can't leave home without it, and it rarely leaves our hand. With phones getting bigger to accommodate everyday activities streaming, it's becoming harder to slip your phone into your pocket.
We've all heard of the nightmares of people having their phones pickpocketed. Just think of how much personal information is in your phone – as well as the price tag of your phone. That's why you need a phone bag. Whether it's a wallet organizer with cell phone pocket or a dedicated cell phone bag, your phone deserves extra protection.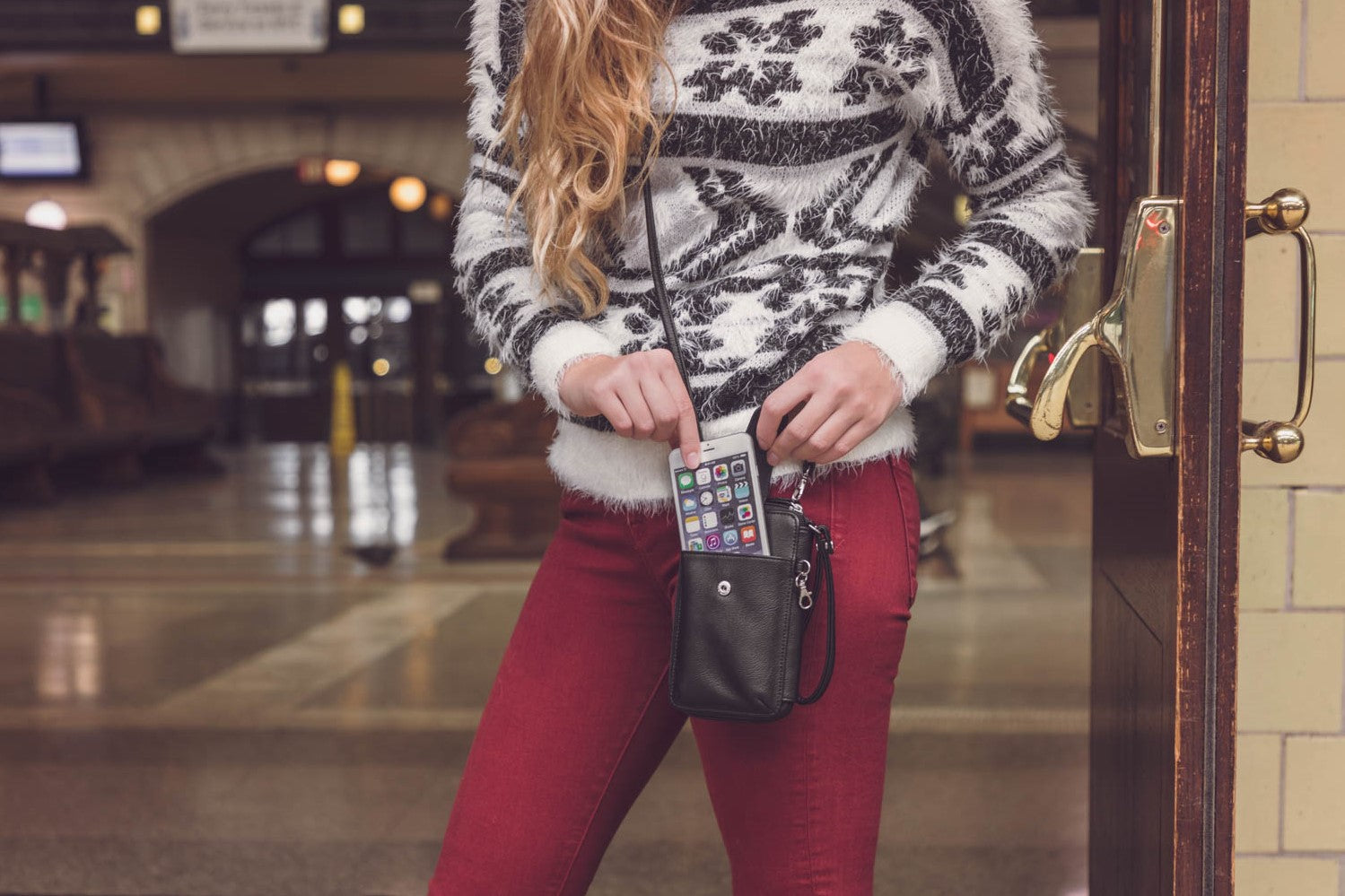 2022 is right around the corner. The New Year brings with it endless opportunities and a chance to start afresh. Whether you're happily waving '
au revior'

 
to 2021 or feeling anxious about the new year, it's a time to stop and reflect. That's why so many of us set new year's resolutions.