The Rise of the Cell Phone Bag
Who would have thought we'd be walking around with tiny televisions in our back pocket? Or nestled at the bottom of our handbag or briefcase? It seems like almost everyone you know owns a cellphone or the coveted smartphone—and when they're not constantly looking down at it in their hands it's 'lost' in their bag! We're currently living in the 'Wild West of tech' age and we need those phones ready to be whipped out with speed and efficiency when the latest Twitter drama strikes. What you really need is a reliable holster for your phone, but we call it a cell phone bag or our versatile "crossbody wristlet".
Traveling lightly is the best way to keep track of all your most important and essential items you carry around on a daily basis, but it's proven to help with preventing shoulder and back pain which results from carrying heavy and overstuffed handbags. Outlined in a Premier Health article, "carrying a heavy shoulder bag or purse can cause an uneven weight distribution, straining back muscles and affecting blood flow to the shoulder," according to the American Occupational Therapy Association. Instead of toting bowling balls in your purses, focus on what you really care about the most—your smartphone's availability and protection.
Look at that! We have exactly what the doctor ordered. Available in 26 different styles, patterns, and colors, there's a Jacqui Cell Phone Wallet for every personality. From professional to laidback to vacation with the ladies—your perfect cell phone bag is waiting for you. The cellphone pocket itself measures out to be 6.5'' x 4'' which suits the Apple iPhone Xs to the 6 plus and the Samsung Galaxy Note 8 to the S9 plus.
The best part about this cell phone bag is that it can also function as a crossbody or a wristlet. Making it an excellent travel companion on your next grand adventure whether that is to the kitchen or to another country! In addition to its versatility, this wallet/crossbody contains one outer cell phone pocket, six credit card pockets, one ID window, one zippered change pocket (parking meter money at easy access), one large cash bill pocket, a removable wristlet strap, a removable crossbody strap, and finally, RFID safe keeper technology.
I hear a lot about RFID… what is it?
According to an NPR article, most pickpockets can access your identity, credit card information, and more without ever attempting to loot your pockets thanks to radio frequency identification; known as RFID.
While RFID is necessary in some cases, "the technology helps keep track of livestock and inventory. It makes automatic payment on toll roads and faster scanning of passports possible, and, starting around 2004, brought us contactless payment with certain credit cards." There is absolutely a time and place for RFID, but definitely not when you're in a foreign country.
This is why it's important for handbags to have that built-in safe keeper technology in order to keep YOU safe. Also, why Mundi Wallets insist on having the safe keeper technology in most of its products, including crossbody bags, wristlets, wallets, you name it!
How the Handbag Is Evolving…
We've dabbled in the history behind how clutch wallets came to be… but it's only a matter of time when historians will be documenting the 'clutch to cell phone bag' movement. With most people actively clutching onto their cell phones every waking moment of their lives, it only makes sense that the handbag industry adapts to this universal demand of having the phone at easy access.
And did you hear? Cell phones can be pretty gross, you don't want to be constantly holding onto it. According to University of Michigan Institute for Healthcare Policy and Innovation member Emily Martin, assistant professor of epidemiology at University of Michigan's School of Public Health, "because people are always carrying their cellphones even in situations where they would normally wash their hands before doing anything, cell phones do tend to get pretty gross."
Wait. Say That Again?! Who's Not Washing Their Hands?
In fact, according to the same IHPI article, "research has varied on just how many germs are crawling on the average cell phone, but a recent study found more than 17,000 bacterial gene copies on the phones of high school students."
That is truly disgusting and disturbing on many levels, hopefully, as adults we have more self-control than high school students, but with the digital age becoming more and more influential in our daily lives. We better stock up on more sanitizer and wet wipes safe for cell phone use… especially during the COVID-19 pandemic. It's absolutely necessary to free up that hand space and prevent germs from spreading onto our phones (which we hold close to our faces) yikes!
…and the Pandemic's Impact
In an article written by the CBC, cell phone transmission of germs is rather shocking, microbiologist specialist Jason Tetro shared "cell phones are like an organ of your body, an extension of your body," in a phone interview with The Canadian Press. Confirming that COVID can also be caught via cell phone, "in the first couple of hours while the droplets dry, you have a significant risk of picking up [the virus] with your finger and then putting it into your nose or mouth," further explains Tetro. Now imagine the number of times you touch your face during any given day, starting that vicious cycle of touching your phone then your face and back again (double yikes!)
While you may be very cautious on your essential trips to the grocery store or the bank, the incessant need to have your phone in your hand at all times could mean close encounters of the germ-kind for you. So bite the bullet and put your phone away in the cutest and trendiest little cell phone bag that you could use as an extension of yourself. If there is ever a ring or ding that needs tending to, coming from your cell phone then don't worry, it's RIGHT there, ready to go, waiting for you!
Leave a comment
Comments will be approved before showing up.
---
Also in Inside The Wallet
Your bag is your best friend. It's the accessory you take with you everywhere – whether you're heading to the office or grabbing brunch. While we all love our bag, it's easy to become frustrated when you can't find what you're looking for. Have you ever stood at the counter trying to find your credit card to pay for a coffee? Does your handbag seem to swallow up your lipsticks and hair accessories? That's why you need an organizer purse that makes it easy to find all your essentials. When you have an organized purse, you'll never get stressed about finding cash ever again.
Your phone is a lifeline. For most of us, it's practically become an extension of who we are. You can't leave home without it, and it rarely leaves our hand. With phones getting bigger to accommodate everyday activities streaming, it's becoming harder to slip your phone into your pocket.
We've all heard of the nightmares of people having their phones pickpocketed. Just think of how much personal information is in your phone – as well as the price tag of your phone. That's why you need a phone bag. Whether it's a wallet organizer with cell phone pocket or a dedicated cell phone bag, your phone deserves extra protection.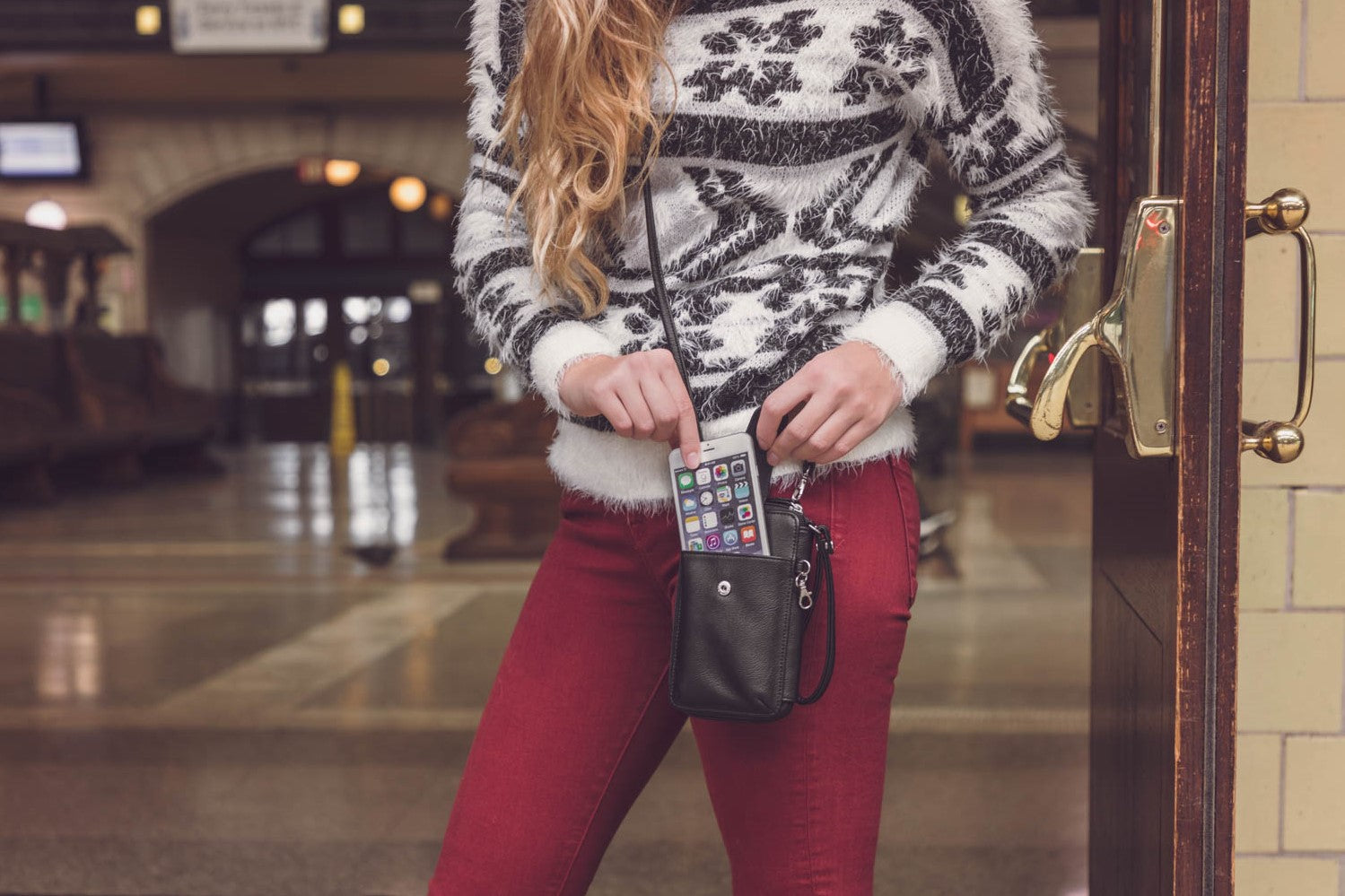 2022 is right around the corner. The New Year brings with it endless opportunities and a chance to start afresh. Whether you're happily waving '
au revior'

 
to 2021 or feeling anxious about the new year, it's a time to stop and reflect. That's why so many of us set new year's resolutions.