Top 5 Small Crossbody Bags for Summer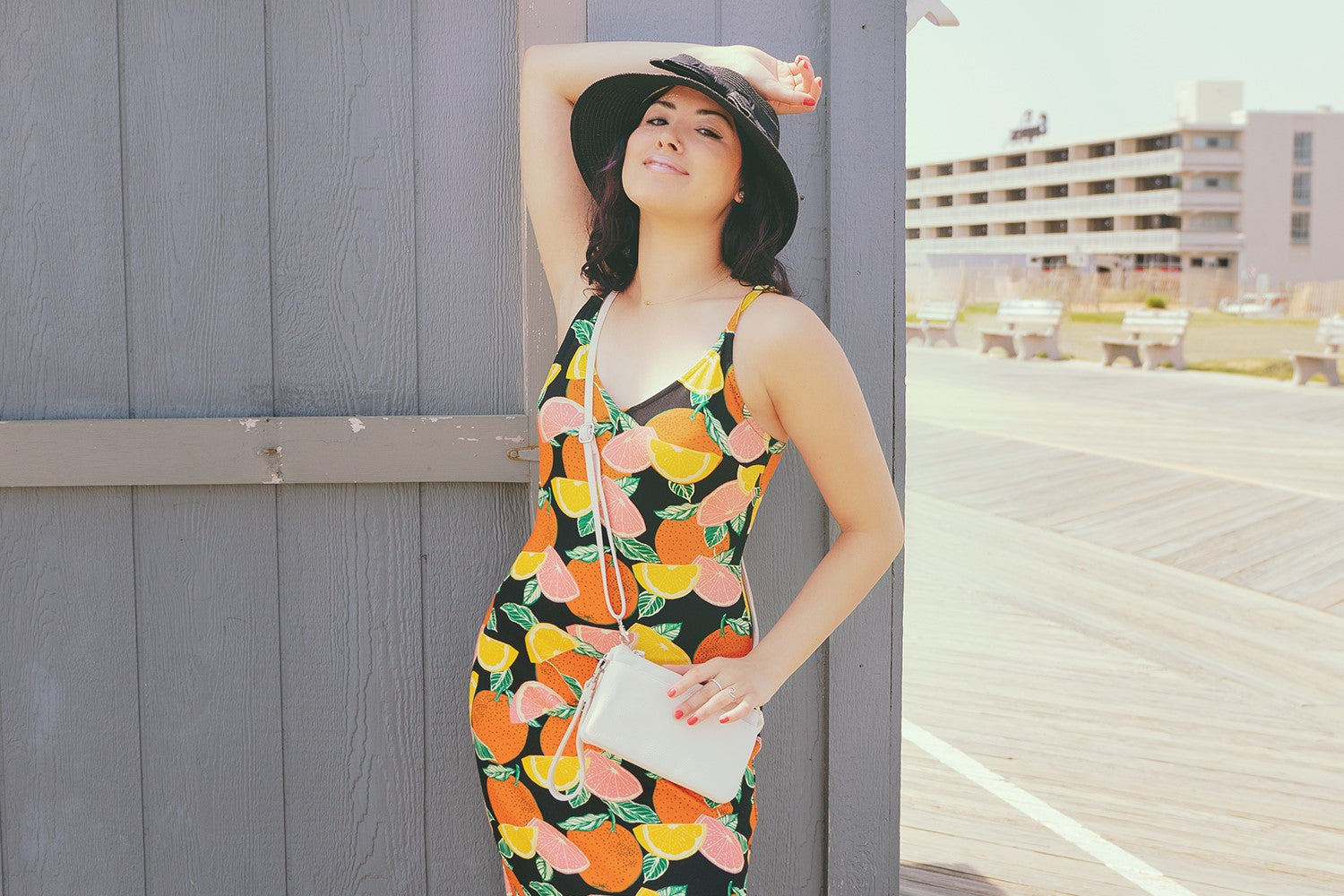 Sometimes, a small bag that can keep your hands and arms free is all you need. For many women, traveling light is the norm: all they need is their wallet, metro card, keys, phone, and perhaps a few small toiletry products. Especially when traveling or taking part in summer activities like concerts and festivals, being able to have your hands free is essential. 
Fussing with a bag is not optimal for crowded or busy situations, but you still want to keep the most important things with you at all times. That is why small purses are the perfect companion for any woman with light everyday carry. Here are five of our top small crossbody bags to consider when shopping for your next handbag.
1. The Felicia Crossbody Bag
Our Felicia Crossbody Bag is one of the most classic-looking crossbody handbags you can buy. With neutral brown vegan leather exteriors, either of the two colorways—brown or taupe—can go with any outfit or accent any occasion. 
The Felicia has a slim body with one exterior zip pocket, making it a subtle yet classy handbag to sport as you travel, shop, or meet up with friends. 
The adjustable strap makes it comfortable and versatile for numerous body types, while the RFID Safe Keeper protects your information and credit cards from potential compromise. RFID stands for "radio-frequency identification" and is a technology used to decode digital data from credit cards, bar codes, and other cards that use RFID tags. With our RFID Safe Keeper technology, you don't have to worry about your items going unprotected. This $17.95 purse is perfect for someone who wants a go-with-everything, go-everywhere bag that is ideal for travel.
 2. The Kimberly Crossbody Bag
The Kimberly Crossbody Bag is for the hands-free woman who wants to make a 
big statement in a small handbag. The bold print colorways and bright solids make any outfit pop, even an all-black or neutral one. In contrast to our Felicia bag, the Kimberly Crossbody features a flap closure with a snap, a built-in interior organizer wallet, and two slip pockets. 
The Kimberly is $16.95 and comes with our easy adjustable strap and ever-secure RFID Safe Keeper technology. This small crossbody purse is the ideal companion to someone who wants everything in their life to be organized without sacrificing an ounce of stylishness.
3. The Katie Crossbody Bag
Our Katie Crossbody Bag is sleek, functional, and comes in loads of colorways so you can find one to match any style. Or, for the woman who doesn't have just one way of dressing, choose a few to accent different seasons or parts of your wardrobe. It's commonly known, after all, that the average woman owns about 
19 pairs of shoes, so why not apply this to your small crossbody bag collection?
With our wide selection of 16 colors for the Katie Crossbody Bag, you can find a bag that matches each of your favorite pairs of heels, boots, sneakers, or sandals. The $17.95 Katie comes fully equipped with a functional internal wallet organizer with 12 credit card slots. So, you never have to worry about your credit cards, IDs, membership cards, or cash going missing again. Oh, and the shoulder strap is removable in case you want to use our Katie as a wallet instead. 
4. Cornelia Cell Phone Bag
If you're looking for an even sleeker crossbody organizer, go for a cell phone bag. The Cornelia Cell Phone Bag comes in at 7.25" by 4.75", making it a micro bag with macro function. It has a smartphone pocket, ID holder, 4 credit card pockets, a change pouch, and a convertible wrist strap or crossbody strap for maximum versatility. 
Plus, it comes with our secure RFID Safe Keeper technology, so you don't have to worry about the safety of your cards or passport. Coming in at $16.95, this bag is ideal for the traveler who's going extra light, or for sporting events and concerts where you don't want to lug around a bag with anything more than what is necessary.
5. Little Miracle Cell Phone Bag
If you're looking for a cell phone bag that fits everything the Cornelia Bag does with just a bit more storage, the Little Miracle Cell Phone Bag may be the perfect bag for you. It has an easily accessible smartphone slip pocket, as well as three other exterior zipper pockets, so you can make sure everything you carry has a designated place.
Plus, our Little Miracle Cell Phone Bag comes in four unique color options (one for each season). At $16.95, this crossbody bag is not only fashionable and functional, but it is affordable!
Crossbody Bags, Phone Bags, and More!
For only the essentials, crossbody bags from Mundi Wallets are the way to go. Small crossbody purses for women create a comfortable, minimalist, hands-free look that is perfect for any traveling excursion or summer activity. All of our small crossbody bags come with our hyper-secure RFID Safe Keeper technology, keeping your precious belongings protected while you travel or commute. 
Not interested in crossbody bags? Take a look at our wallets and cell phone bags. Who knows? Maybe you'll find something you like! 
Leave a comment
Comments will be approved before showing up.
---
Also in Inside The Wallet
Your bag is your best friend. It's the accessory you take with you everywhere – whether you're heading to the office or grabbing brunch. While we all love our bag, it's easy to become frustrated when you can't find what you're looking for. Have you ever stood at the counter trying to find your credit card to pay for a coffee? Does your handbag seem to swallow up your lipsticks and hair accessories? That's why you need an organizer purse that makes it easy to find all your essentials. When you have an organized purse, you'll never get stressed about finding cash ever again.
Your phone is a lifeline. For most of us, it's practically become an extension of who we are. You can't leave home without it, and it rarely leaves our hand. With phones getting bigger to accommodate everyday activities streaming, it's becoming harder to slip your phone into your pocket.
We've all heard of the nightmares of people having their phones pickpocketed. Just think of how much personal information is in your phone – as well as the price tag of your phone. That's why you need a phone bag. Whether it's a wallet organizer with cell phone pocket or a dedicated cell phone bag, your phone deserves extra protection.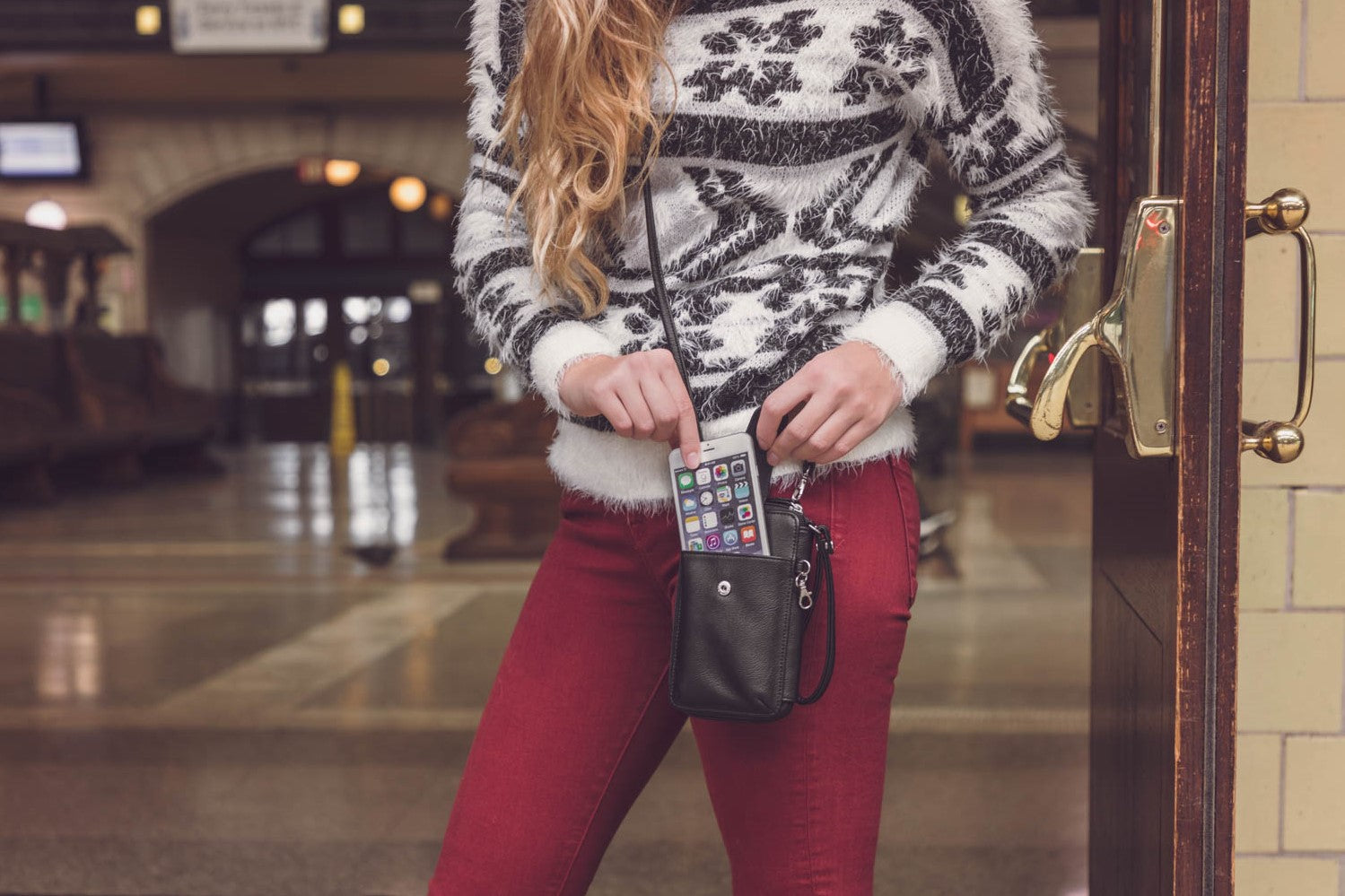 2022 is right around the corner. The New Year brings with it endless opportunities and a chance to start afresh. Whether you're happily waving '
au revior'

 
to 2021 or feeling anxious about the new year, it's a time to stop and reflect. That's why so many of us set new year's resolutions.