What is a Wristlet Wallet?
Sometimes, we find ourselves with a few too many items for a wallet and too few items for a full-blown handbag. Enter: the wristlet. What is a wristlet? Wristlets are a convenient and stylish way to hold onto and keep organized your pared-down everyday carry.
Wristlet wallets and wristlet purses give your outfit a boost in style while also being an ingenious grab-and-go solution to carrying your essentials. They're the perfect piece for your wardrobe if you find yourself running out the door every day without the desire to fuss with a handbag or purse.
If you're curious what all the buzz is about regarding wristlet wallets and purses, here's what you need to know.
All About Wristlets
Wristlets are one of the best innovations in women's purse, handbag, and wallet 
styles. They combine the ease and size of wallets with the style and class of full-size purses. By definition, wristlets are small pouches or bags with a strap that is meant to be worn hanging from the wrist.
Wristlet purses are often confused with clutch bags, but the wrist strap is what makes the major difference in these two styles of bags. This addition makes a small pouch or pocketbook style bag so much more convenient. Plus, for those of us who are always losing our wallet or ID, the fact that you can literally hang it from your wrist makes your life so much easier.
Types of Wristlets
Just like standard purses, handbags, or wallets, there are numerous types of wristlets that suit any closet or lifestyle. With so many different styles of wristlets, there is sure to be a cute wristlet that matches your unique tastes.
Wristlets can come in many different colorways and materials, ranging from sophisticated leather wristlets to more casual canvas or nylon wristlets. You could dress up a leather wristlet for a night on the town or tote a nylon wristlet for a few quick errands at the mall. This style of women's handbag is one of the most versatile, especially for women who prefer not to carry too much with them on their day-to-day activities.
Wristlets also range in construction and silhouette. Some wristlets are pouch wristlets, with a large central compartment and snap or zip closure. A pouch wristlet has very few additional interior or exterior pockets, but still looks very chic.
Another popular style of wristlet is one that is more akin to a large organizer wallet. This type of wristlet has many interior slots and pockets to keep your cash, cards, and coins under control and in perfect harmony. If you're a woman who likes to have a big pocketbook but doesn't need to carry much else, this type of wristlet could be perfect for you.
One of the most classic wristlet styles is our My Big Fat Wallet. My Big Fat Wallet is an oversized pocketbook style, with a detachable wrist strap and faux leather exterior. If you're new to the world of wristlets, this style is an optimal place to start.
It has a classic silhouette but comes in so many different colorways, from solids to patterns, so it's a great initial wristlet for any woman. As an added bonus, My Big Fat Wallet has our RFID blocking technology, which keeps you safe from anyone attempting to steal your personal information with an RFID reader.
Where and How to Wear a Wristlet
Styling a wristlet is easy breezy. This compact, easily mobile style of purse can be simply slung on the wrist as you head out for your day. Wristlets are the perfect "going out" bag, and a chic black leather one can be paired with slim pants, heels, and your favorite jacket for a bar or concert look.
You can also sport a casual nylon wristlet with a fashionable sweat set and clean 
sneakers for a great "lazy Sunday" look that looks anything but lazy. Just check out our Jacqui Cell Phone Wallet for some casual wristlet inspiration.
Wristlets are wonderful accessories because you can wear them almost anywhere, and they never make you look overdressed or underdressed the way other handbag styles might.
Why Should I Get a Wristlet?
Wristlets Wallets are perfect for you if you find that you're always running out the door in the nick of time to get to your appointment or reservation, or if you find yourself losing or forgetting some of your most important items.
Wristlets make it easy for you to just grab one item and go, without having to concern yourself with which handbag you left your wallet, keys, or phone in. It's also a great travelling companion.
You can easily stow and access important things like your ID card, credit cards, passport, and currency for wherever you are in the world—all from a bag on your wrist. No more fumbling around in an extra-large tote or purse with multiple compartments—you know right where everything is, immediately.
Opting for a pouch wristlet or cute wristlet wallet style bag means that you prioritize the essentials without compromising on style. Wristlets are the perfect bag for women on the go who would rather not worry about toting a heavy or oversized purse.
Leave a comment
Comments will be approved before showing up.
---
Also in Inside The Wallet
Your bag is your best friend. It's the accessory you take with you everywhere – whether you're heading to the office or grabbing brunch. While we all love our bag, it's easy to become frustrated when you can't find what you're looking for. Have you ever stood at the counter trying to find your credit card to pay for a coffee? Does your handbag seem to swallow up your lipsticks and hair accessories? That's why you need an organizer purse that makes it easy to find all your essentials. When you have an organized purse, you'll never get stressed about finding cash ever again.
Your phone is a lifeline. For most of us, it's practically become an extension of who we are. You can't leave home without it, and it rarely leaves our hand. With phones getting bigger to accommodate everyday activities streaming, it's becoming harder to slip your phone into your pocket.
We've all heard of the nightmares of people having their phones pickpocketed. Just think of how much personal information is in your phone – as well as the price tag of your phone. That's why you need a phone bag. Whether it's a wallet organizer with cell phone pocket or a dedicated cell phone bag, your phone deserves extra protection.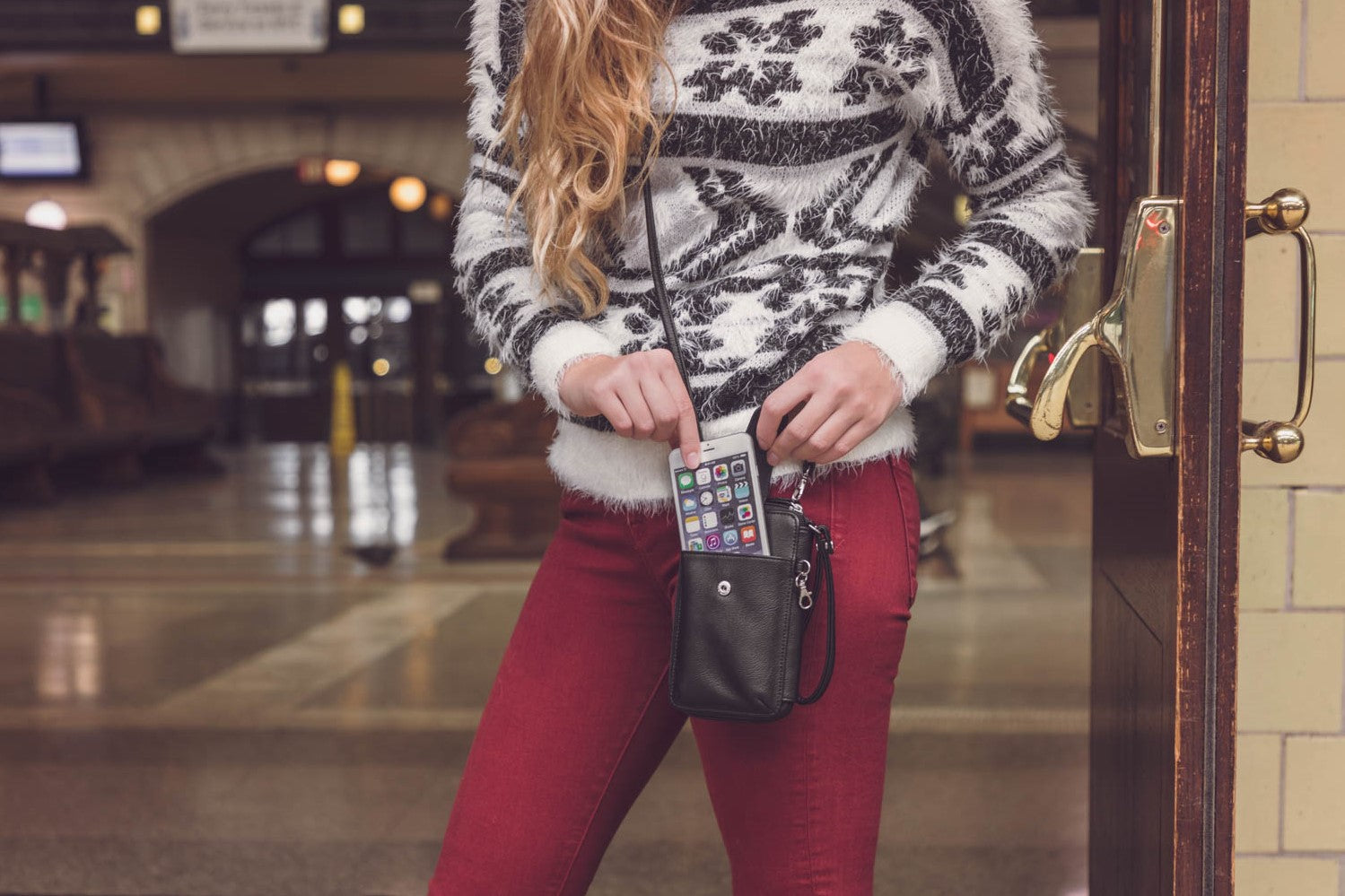 2022 is right around the corner. The New Year brings with it endless opportunities and a chance to start afresh. Whether you're happily waving '
au revior'

 
to 2021 or feeling anxious about the new year, it's a time to stop and reflect. That's why so many of us set new year's resolutions.