What is an Organizer Wallet?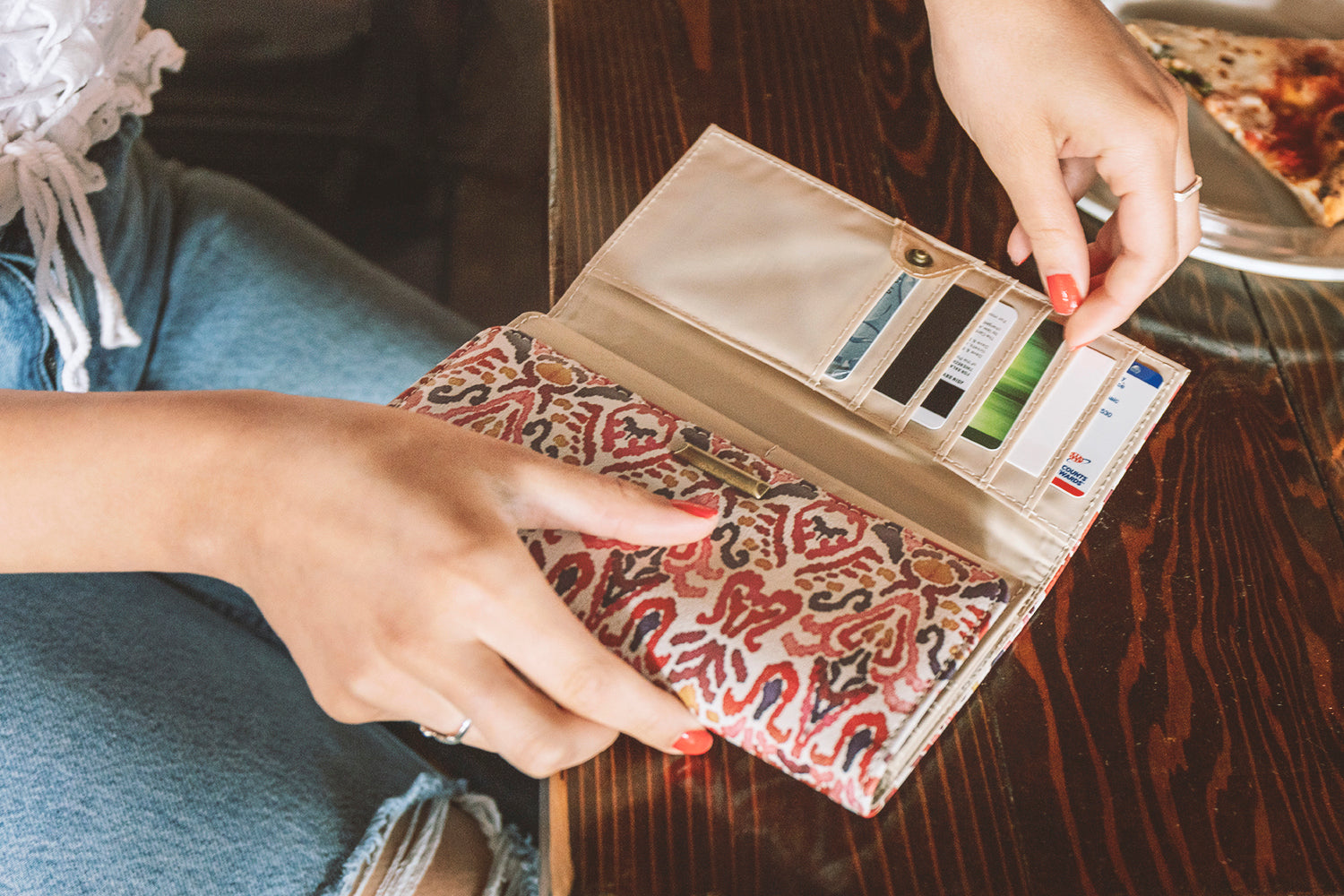 Throughout life, we often accumulate a lot of important items: credit cards, ID cards, cash, coins, tickets, gift cards, membership cards, and more. With all of these things to keep track of, it's important to have a good quality wallet or crossbody bag to keep everything straight. Women's wallets often only have a few slots and may have a pocket for cash as well as an ID sleeve. However, organizer wallets are a special kind of women's wallet that address more organizational issues than the standard pocketbook.
About Organizer Wallets
Organizer wallets are one of the most ingenious innovations in the world of 
women's wallets. Typically, organizer wallets are those with wallet organizers built in. That is, they contain many different card slots, compartments for identification cards and membership cards such as library or gym cards, slots for cash, and a pocket for loose change. 
We offer numerous types of organizer wallets, so that you can find one that fits your unique lifestyle. For instance, for the jetsetter, our Big Fat Wallet may be best, as this travel wallet organizer includes tons of space for cards and currency—both your home country's money and the currency of the land you're visiting—and it comes with RFID blocking security.
Types of Organizer Wallets
There is an organizer wallet for every type of lifestyle or occasion. We have you covered with a full catalog of wallets with the pockets to house everything you need. If you crave bold patterns with a traditional silhouette, the File Master Clutch is the perfect match for you. It has tons of pockets and card slots with a sleek shape, so you can stay organized and look classy. 
If you like the look of a snap closure for coins with a classic leather finish, the
Rio Leather Indexer RFID Wallet
is your new best friend. This slim wallet is small but mighty with 17 card pockets, an ID window, and RFID Safe Keeper tech.
If you're not a purse or handbag fan, or if you're more of a minimalist when it comes to your everyday carry, a wallet organizer with cell phone pockets could be a great way to pare down and still be able to carry everything you need. This type of organizer wallet is also a great option for nights out when you only want to worry about carrying one thing with you.
A Note About RFID Technology
Some wallet organizer pocketbooks also contain pockets with RFID blocking technology. RFID stands for "radio-frequency identification" and is a technology used to decode digital data from credit cards, bar codes, and other cards that use RFID tags. That means that someone with an RFID reader can compromise data from your cards. 
For this reason, it is incredibly important to invest in an organizer wallet such as 
our Rio Leather Clutch RFID Wallet. This clutch wallet includes their patented Sake Keeper RFID blocking technology that provides you security against anyone attempting to steal your personal information with an RFID reader. Plus, the Rio Leather Clutch has plenty of room for all your other important cards, pocket cash, IDs, and even includes utility pockets for items like checks.
Why Should I Get an Organizer Wallet?
According to PR Newswire, Americans spend $2.7 billion annually replacing lost items. This could be keys, phones, drivers' licenses, remotes, reading glasses, and many more. One of the top reasons for losing an item is that you do not have a good organizational system. So, if you find yourself losing items like your library card or those coffee shop gift cards you've been stockpiling since Christmas, investing in a good organizational system may be a great move for you. 
Wallet organizers or wallets that have robust organizers built in are a perfect place to start. This is a wallet system where everything has its own place. That means no more looking around for your gym member card or ripping up the sofa cushions to find loose bills and change. Everything in an organizer wallet has its own home, so there's no excuse for things to fall into disarray.
Furthermore, organizer wallets are a great way to stay stylish and pull together your outfits. With so many styles, colorways, and textures, you're sure to find something to complement your wardrobe.
Getting Organized!  
Life's little items deserve special places in our wallets and pocketbooks, which is why women's organizer wallets are so handy. They can help you keep everything organized, while also being stylish, easy to use, and protecting you from RFID scanners that can be used to compromise your cards.
We have numerous options for women's wallets, crossbody bags, and phone bags that contribute to a stylish, organized lifestyle. Take a look at what we have to offer and let us know if you need any help! 
4 Responses
Leave a comment
Comments will be approved before showing up.
---
Also in Inside The Wallet
Your bag is your best friend. It's the accessory you take with you everywhere – whether you're heading to the office or grabbing brunch. While we all love our bag, it's easy to become frustrated when you can't find what you're looking for. Have you ever stood at the counter trying to find your credit card to pay for a coffee? Does your handbag seem to swallow up your lipsticks and hair accessories? That's why you need an organizer purse that makes it easy to find all your essentials. When you have an organized purse, you'll never get stressed about finding cash ever again.
Your phone is a lifeline. For most of us, it's practically become an extension of who we are. You can't leave home without it, and it rarely leaves our hand. With phones getting bigger to accommodate everyday activities streaming, it's becoming harder to slip your phone into your pocket.
We've all heard of the nightmares of people having their phones pickpocketed. Just think of how much personal information is in your phone – as well as the price tag of your phone. That's why you need a phone bag. Whether it's a wallet organizer with cell phone pocket or a dedicated cell phone bag, your phone deserves extra protection.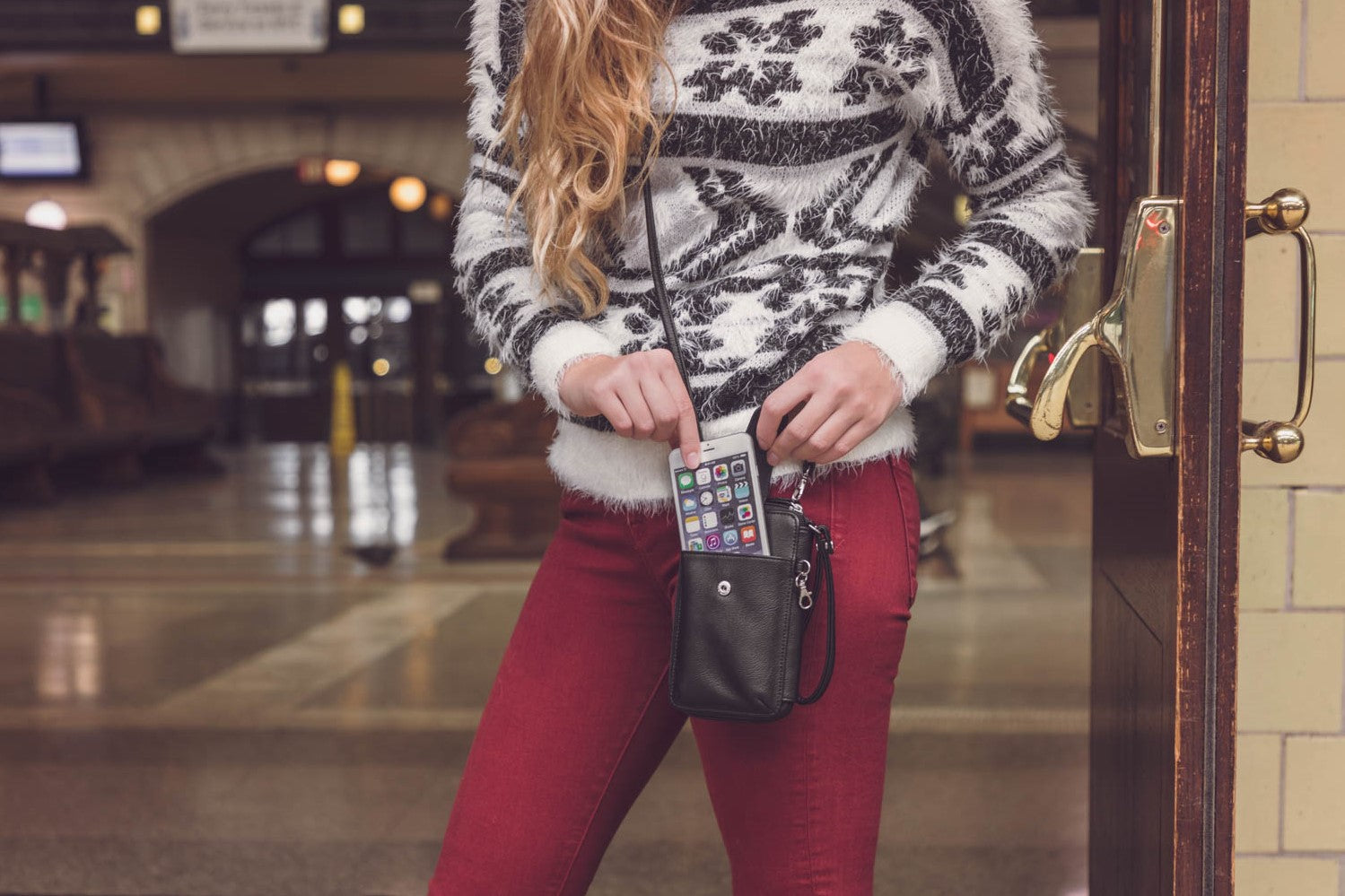 2022 is right around the corner. The New Year brings with it endless opportunities and a chance to start afresh. Whether you're happily waving '
au revior'

 
to 2021 or feeling anxious about the new year, it's a time to stop and reflect. That's why so many of us set new year's resolutions.