Recycled Wallets And Crossbody Bags
Fashion isn't skin-deep. Not only is it important to be responsible about what you allow to drape over your skin for your own health and well-being, but you have to consider its impact on the environment, the animals, and the people crafting your new favorite piece. 
For too long, the average consumer has chased discount price-tags without considering the trade-off of a cheap and poorly produced item because there is always a 'hidden-cost' in everything… and we don't need our planet paying for it.
Mundi Cares About…
At Mundi, we're committed to style and sustainability by reducing our environmental footprint. According to BBC Future, "Fashion accounts for around 10% of greenhouse gas emissions from human activity, but there are ways to reduce the impact your wardrobe has on the climate." We all only have one chance to preserve and protect our favorite orbiting little green and blue marble, so we figure let's jump in and do all that we can to produce beautiful products ethically and sustainably.
Using the Right Materials
According to BBC Earth, the dissolving pulp or bleached wood pulp used for making fibers such as viscose and rayon (commonly used in the fashion industry) are sourced from trees found in ancient and endangered forests. Leading to habitat eradication and mass deforestation. Furthermore, "currently, more than 150 million trees are logged to be made into clothes." 
Currently, 90% of our product line is made from vegan leather—but we're not stopping there. Along with sourcing materials such as fabrics made from biodegradable leather, our designers are keen on using other fabrics made from 100% recycled plastic bottles and water-based synthetics.
We Love to Recycle (And We Don't Mean Styles)
At Mundi, we've made a company-wide effort in reducing our paper usage by 
saying 'no' to excessive and over-the-top packaging (because honestly, the quality of the product should speak for itself). 
According to National Geographic, "Manufacturing a paper bag takes about four times as much energy as it takes to produce a plastic bag, plus the chemicals and fertilizers used in producing paper bags create additional harm to the environment." 
The minimal and necessary packaging we use to protect your goods, including poly bags, are made from recyclable materials; in addition to all of our POP bands, carding, hand tags, and boxes.
Presenting Mundi's Recycled Wallet
Our latest initiative in making Mundi more eco-friendly is our development in producing sustainable wallets and crossbody purses with 100% recycled interior linings. But it doesn't stop there—we are currently sourcing eco-friendly materials (made from at least 35% recycled raw materials) to produce the exteriors of recycled wallets and recycled purses. Because Mundi purses care for the environment inside and out.
Keeping Our Purses Pure
Not only does Mundi care about how your women's vegan wallet is made—we care about its long-term impacts. We want our purses to supply you with constant happiness and style—and not risk the health of you or your loved ones. 
All of the materials we use to produce our products are Proposition 65 compliant. Meaning there are no harmful chemicals used in the making of our wallets or bags; ensuring the safety of you, your family, and the environment.
Our Big Fat Surprise
Our Big Fat Wallet ($16.95) is a proud staple Mundi piece. Available in different colors and patterns, there's a special women's vegan wallet for everyone. Spacious with maximum carrying potential, this no-nonsense eco-friendly wallet features 7 credit card pockets, 1 ID window, 2 picture pockets, 3 large horizontal pockets, 2 zipper pockets, and 2 accordion pockets. 
The big fat advantages of this showstopper wallet are its recycled interior liner—it takes about two recycled water bottles to make—and its RFID Safe Keeper to protect your information. Saving the earth and your credit cards from fraud never looked so good! 
Be the Master of Your Pocketbook
Don't take a back seat when it comes to living your best life! Grab life by the horns and prove who's boss with the File Master Clutch ($16.95). From professional to downright groovy (available in Tie Dye), this clutch recycled wallet is the perfect complement to tackling your busy schedule. 
Featuring 13 credit card pockets, 2 slip pockets, 2 interior picture or ID windows, 2 zippered pockets, 2 gusset pockets, and an RFID Safe Keeper. Let's not forget, the File Master Clutch is also part of our women's vegan wallet collection with its recycled interior liner made from two recycled water bottles.
Look at You Saving the Planet With *No Hands*
And finally *drum roll please* one of the favorites of our recycled purses… the Jacqui Cell Phone Wallet ($16.95). Preppy and light-weight, this fashionable 2-in-1 combo sustainable wallet is the best choice for someone who likes being hands-free. 
Featuring an outer cell phone pocket, 6 credit card pockets, 1 ID window, 1 zippered change pocket, 1 large cash bill pocket, and removable wristlet and crossbody straps. This ambidextrous wallet contains an RFID Safe Keeper and recycled interior liner.
We Care About Humanity
Not only do we strive to source the most eco-friendly material to produce our recycled purses and sustainable wallets—we strive to take care of our people too. We ensure that all of our facilities are socially compliant with the health and well-being, safety, and rights of their employees, the surrounding community, and the environment; while keeping the livelihood of workers in their supply and distribution chains in mind too.
On That Note
We've mentioned before how the concentration of carbon produced has risen globally. We're simply just doing our part while keeping our customers, employees, environment, and communities in mind. Think twice before purchasing anything just to keep up with the ever-changing trends. 
When looking at purses, bags, and wallets, remember timeless pieces and quality materials never go out of style. Not only do they protect the earth, but they'll also preserve your status as a fashion icon.
4 Responses
Leave a comment
Comments will be approved before showing up.
---
Also in Inside The Wallet
Your bag is your best friend. It's the accessory you take with you everywhere – whether you're heading to the office or grabbing brunch. While we all love our bag, it's easy to become frustrated when you can't find what you're looking for. Have you ever stood at the counter trying to find your credit card to pay for a coffee? Does your handbag seem to swallow up your lipsticks and hair accessories? That's why you need an organizer purse that makes it easy to find all your essentials. When you have an organized purse, you'll never get stressed about finding cash ever again.
Your phone is a lifeline. For most of us, it's practically become an extension of who we are. You can't leave home without it, and it rarely leaves our hand. With phones getting bigger to accommodate everyday activities streaming, it's becoming harder to slip your phone into your pocket.
We've all heard of the nightmares of people having their phones pickpocketed. Just think of how much personal information is in your phone – as well as the price tag of your phone. That's why you need a phone bag. Whether it's a wallet organizer with cell phone pocket or a dedicated cell phone bag, your phone deserves extra protection.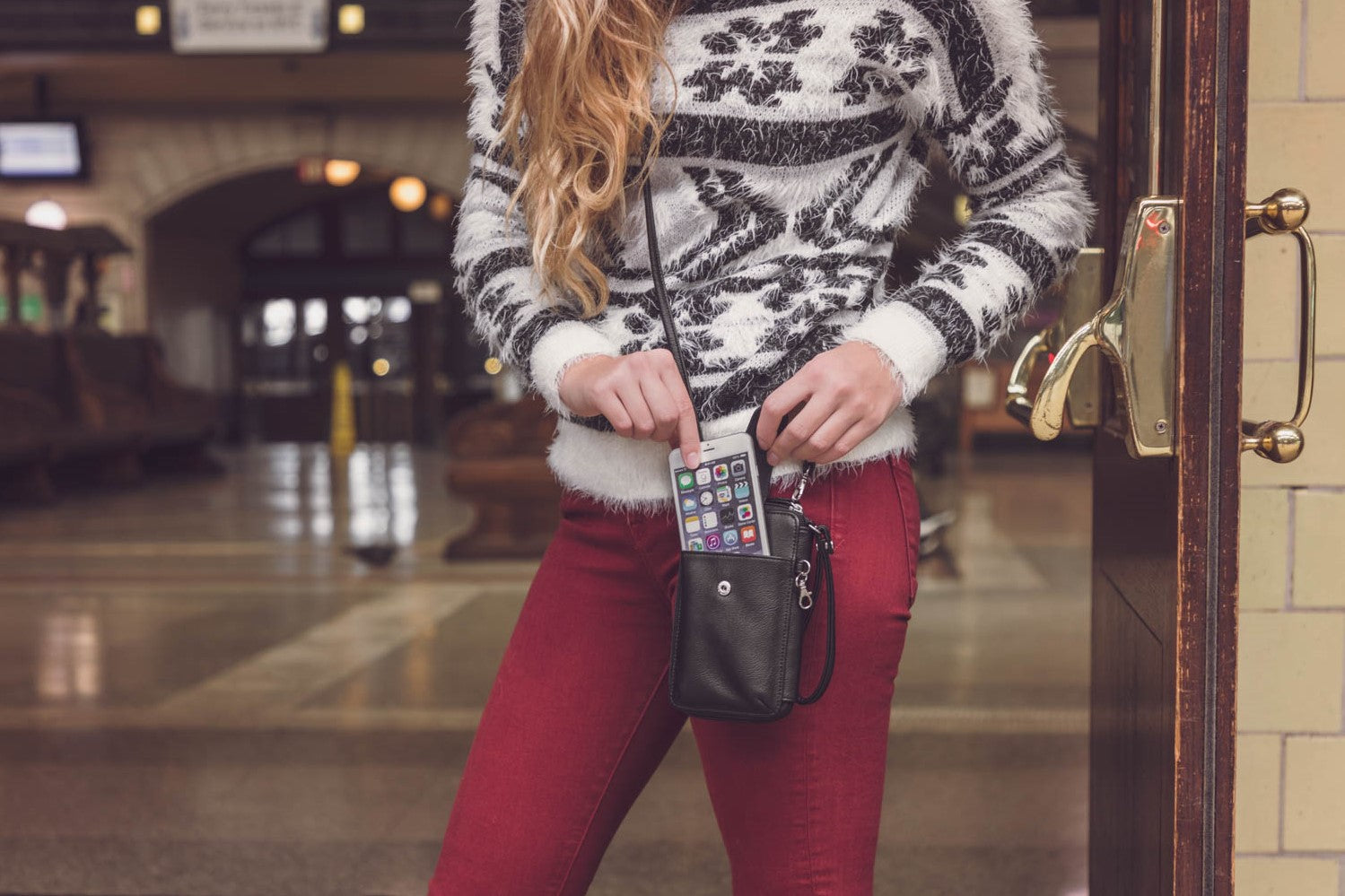 2022 is right around the corner. The New Year brings with it endless opportunities and a chance to start afresh. Whether you're happily waving '
au revior'

 
to 2021 or feeling anxious about the new year, it's a time to stop and reflect. That's why so many of us set new year's resolutions.