Best Bags and Wallets for Fall
For many of us, fall is officially on. Many people in colder climates are already celebrating the season. There is much to love about fall! Changing leaf colors, crisper air, cozy fall sweaters, and of course: autumn fashion trends. And, with autumn clothing comes awesome autumn shoes and accessories. 
Fall handbags are some of the best parts of this season's fashion. They help you pull together your looks and can be extremely functional on your next fall break trip or your quick run to the store to get a pumpkin spiced everything. If you're curious about some hot fall wallets and fall bags for the chilly season, here is a roundup of some of the best bags for fall.
Brady Crossbody Belt Bag - $16.95
Sometimes, the best handbag for fall is one that can be worn in all seasons and for all occasions. The Brady Crossbody Belt Bag is a unique hybrid handbag with 
a versatile, adjustable shoulder strap that allows the purse to be worn as a hands-free crossbody, a sweet wristlet, or a trendy belt bag worn around the waist.
This chic fall purse also has a sleek design and comes in both neutral vegan leather colorways and in several unique and stylish prints. The Brady Crossbody does not skimp on storage space, either. Featuring six credit card pockets for all your most important cards, an interior zippered pocket for securing small items, two large zip-close pockets, and a zippered smartphone pocket so you can keep your cell safe.
Speaking of safe, the Brady also has Mundi Wallets' RFID Safe Keeper technology, which secures your credit cards and other personal information against individuals trying to steal your information.
My Big Fat Wallet - $16.95
If you want your fall to be simple, functional, and chic—My Big Fat Wallet is your new best friend. This slim trifold organizer wallet may have a low profile, but it offers high levels of organization.
Among the variety of organizational tools, My Big Fat Wallet offers seven credit 
card pockets for important cards, an ID window for your driver's license or state-issued identification, two picture pockets to showcase friends and loved ones, three large horizontal pockets for longer items, two zippered miscellaneous pockets, and two accordion pockets for cash or checks.
There's even a checkbook holder and a pen loop, making My Big Fat Wallet your one-stop shop for fall fashion and financial organization!
Cornelia Cell Phone Bag - $16.95
If you want to infuse a little color into your fall wardrobe, look no further than the small but bold Cornelia Cell Phone Bag. This cell phone bag holds far more than your phone and its variety of rich colorways will make a huge splash in any fall seasonal occasion.
The outer snap pocket neatly holds your smartphone for safekeeping, while the fold-out organizer wallet's credit card pockets and slip pockets keep you in line and eliminate the need for an extra wallet. Plus, there's an outer zip pocket for change or special keepsakes you find on your autumn walks.
The Cornelia Cell Phone Bag is a fall bag that can be worn as a chic crossbody or a more formal wristlet or clutch bag. The Cornelia Cell Phone Bag also contains 
RFID Safe Keeper technology so you can store your important cards with peace of mind. This crossbody bag is the perfect companion to someone who would like to spend their fall season exploring their city in a chic, neutral jacket look.
Jacqui Cell Phone Wallet - $16.95
If you want a small and mighty bag that won't distract from your entire outfit, or if you want to try out a bolder fall fashion look this season, the Jacqui Cell Phone Wallet is perfect for you. This sleek crossbody bag comes in neutrals, fun colors, and its low-profile silhouette keeps the attention off your storage companion and on your outfit.
However, just because this little crossbody bag is unassuming, doesn't mean it's any less of a miracle. The Jacqui Cell Phone Bag is a fashionable 2-in-1 combo created for convenience. This quilted cellphone bag features a phone pocket, multiple card slots, and a detachable strap that allows it to be worn as a crossbody or wristlet.
Mavis Crossbody Purse - $16.95
One of the newest additions to the Mundi family, this Crossbody Bag is a fall bag in a quintessential autumnal tone: olive green, black, and deep red. 
This vegan leather fall crossbody handbag can go with absolutely everything, from oatmeal-colored knits to your brightest fall coat. It also has all the organizational aspects you'd want from a purse in a sleek design: Outer cell phone pocket, two zippered compartments, four interior slip pockets, 18 credit card pockets, and a removable crossbody strap.
The Mavis Crossbody also has an adjustable crossbody strap making it easy to fit any body type or height. It also comes with unique RFID Safe Keeper technology and is made of conflict-free vegan leather material. The Mavis is easy to spot clean, easy to wear, and easy to love!
Heather Organizer Clutch - $16.95
Sometimes fashion is about the element of surprise. The Heather Organizer Clutch (another new addition to the family) is a chic organizer wallet that takes the form of a clutch wallet. It's extremely wearable, super cute, and incredibly functional.
This clutch wallet is an all-in-one organizer wallet and passport holder with RFID Safe Keeper technology. Perfect for traveling or girls on the go, this clutch also comes in olive green, black, and deep red.
As far as organizational facets go, the Heather Organizer Clutch features 16 credit card pockets, one ID window, two zippered compartments, four slip pockets, and our RFID blocking technology. Perfect for easy grabbing, take this clutch with you wherever you go.
Pro tip: The deep red colorway of the Heather Clutch is an easy fall classic. 
Spice It Up!
Mundi Wallets has everything you need to pull together some amazing autumnal looks this fall. From chic and sleek crossbody handbags to versatile belt bags to wallets that double as wristlets, you'll never be left in the lurch as you tote and store your fall items.
1 Response
Leave a comment
Comments will be approved before showing up.
---
Also in Inside The Wallet
Your bag is your best friend. It's the accessory you take with you everywhere – whether you're heading to the office or grabbing brunch. While we all love our bag, it's easy to become frustrated when you can't find what you're looking for. Have you ever stood at the counter trying to find your credit card to pay for a coffee? Does your handbag seem to swallow up your lipsticks and hair accessories? That's why you need an organizer purse that makes it easy to find all your essentials. When you have an organized purse, you'll never get stressed about finding cash ever again.
Your phone is a lifeline. For most of us, it's practically become an extension of who we are. You can't leave home without it, and it rarely leaves our hand. With phones getting bigger to accommodate everyday activities streaming, it's becoming harder to slip your phone into your pocket.
We've all heard of the nightmares of people having their phones pickpocketed. Just think of how much personal information is in your phone – as well as the price tag of your phone. That's why you need a phone bag. Whether it's a wallet organizer with cell phone pocket or a dedicated cell phone bag, your phone deserves extra protection.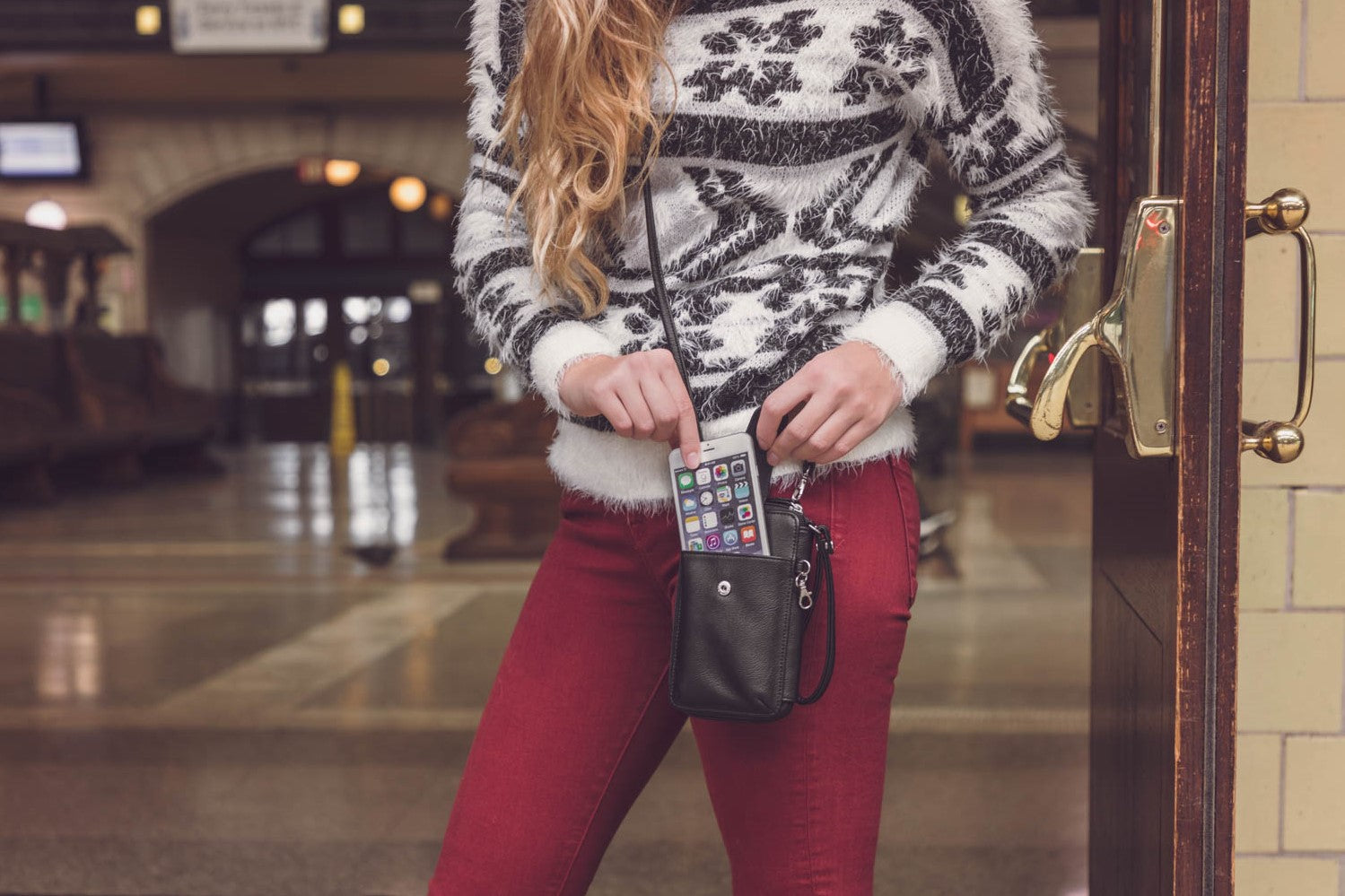 2022 is right around the corner. The New Year brings with it endless opportunities and a chance to start afresh. Whether you're happily waving '
au revior'

 
to 2021 or feeling anxious about the new year, it's a time to stop and reflect. That's why so many of us set new year's resolutions.