What is the Difference Between a Clutch and a Wallet?
Wallets and everyday bags are among the most important accessories a woman can invest in. A good, organized, everyday wallet is essential for keeping your most important belongings safe, secure, and all in one place. However, when looking for the wallet, clutch, or wristlet that will be your new everyday companion, it's important to do your research. 
Cute wallets are easy to find, but locating a cute wallet that is actually useful and functional in your everyday life is an entirely different story. There are so many styles of small, organizational bags that it can be hard to keep them all straight! From regular wallets to bifold wallets to clutches and more- there's so much to consider. So, what is the difference between a clutch wallet and a traditional trifold wallet?
What is a Clutch?
"Clutch" is a word that gets tossed around quite a bit in the accessories and fashion industry, but what does it mean? By definition, clutch wallets and clutch 
bags are those that are small, compact, and are carried in the hand or under the arm. Clutch wallets and clutch handbags do not have straps, handles, or wrist holds. 
Often, women's clutch wallets are seen in more formal occasions and are used only for holding onto essential cash and cards, an extra tube of lipstick, keys, and a cell phone. Clutch wallets also may not always include traditional wallet elements like card slots, change pouches, or billfolds, whereas those elements are often found in other styles of wallets. 
Clutch bags come in numerous types and styles, like an envelope clutch, a snap clutch, a box clutch, or a pouch clutch.
The Benefits of a Clutch
There are numerous benefits of clutch bags. First, they are typically rather small and therefore are perfect for women with a more minimal everyday carry. Their small size also makes them cute as a button! 
Clutches are most remarkably different from wallets because they stand on their own, whereas some wallets are better off stashed in a handbag. Clutch wallets and bags also carry with them a more formal, fancy look. So, you'd be better off opting for a clutch than a normal wallet if you are gracing the red carpet, heading to a fundraiser, or attending a gala or art gallery opening. 
Clutch bags are the perfect companion to a more formal or eveningwear look, as they do not look out of place among fancier clothes.
What is a Wallet?
After learning about the ins and outs of a clutch, it's natural to wonder "How 
exactly do we define wallets?". Wallets are small, typically sleek and smooth cases that we use to carry cash, coins, credit and debit cards, library cards, and other memberships, as well as our IDs. They often snap, fold, or zip closed and can be made of leather, vegan leather, nylon, canvas, and more. 
Wallets usually have slip pockets meant specifically for cards as well as "window pockets" with translucent coverings to show off photo IDs. Wallets can come in tons of different styles, including bifold, trifold, zip, snap, Velcro, and cell phone wallets that snap onto the back of your phone. 
One thing prevails in all types of wallets, however: wallets are typically made "to size" of currency and credit cards to ensure all your important belongings fit snugly.
The Benefits of a Wallet
The benefits of women's wallets are many. For one, traditional wallets are typically easier to slip into purses and handbags than larger clutch wallets or bags while still offering a great organizational solution for cash, cards, and IDs. 
Wallets can also be coordinated with other accessories, like handbags, belts, and shoes to create a cohesive outfit. Cute wallets are a great way to express yourself with a subtle pop of color or bold pattern without committing to getting a full handbag or tote in a bright color or pattern. 
Regular wallets are usually the best choice for everyday purposes, as they can keep everything you need organized and compact.
Other Cute Wallets
Beyond clutch wallets and traditional trifold wallets, there are other types of cute wallets that can serve you in your everyday life. These include wristlet wallets, indexer wallets, and organizer wallets. 
Wristlet Wallets
Wristlet wallets are those with a detachable wrist strap that can be worn casually and easily around the wrist for easy access while shopping, community, or traveling. My Big Fat Wallet is a great option for women who are looking for the ease of a wristlet style without skimping on storage space or organizational aspects. Plus, it comes in 12 unique colorways and patterns. 
Indexer Wallets
Indexer wallets are those that are perfectly proportioned for indexing your belongings. They often have multiple flaps of card and ID slots, giving you tons of 
options for storing your stuff.
 The Rio Genuine Leather Indexer RFID Wallet is a great option in this style. The RFID Safe Keeper technology also keeps all your credit cards and other sensitive materials safe from potential exposure. 
Organizer Wallets
Organizer wallets are one of the best innovations in the wallet space. These wallets have organizers built right in, so you never have to worry about whether everything is in its place. 
The Madame Secretary Wallet is a great option for someone who wants to display elegance and class in their wallet while still keeping everything organized to a tee. It also comes in sleek, neutral leather so you look expensive, even though it comes in at an affordable price: about $25 for a versatile, high-quality wallet.
What Wallet Are You Going With?
Mundi Wallets has a broad range of women's wallets, clutches, crossbody bags, women's wristlets, and more. You are sure to find a wallet or organizer that fits your unique lifestyle and needs, without spending over budget. 
You can also find clutch wallets or a fashionable wristlet for your next important work outing, fundraising event, or date night. Look chic, stay organized, and feel at peace knowing that all your belongings are in line.
Leave a comment
Comments will be approved before showing up.
---
Also in Inside The Wallet
Your bag is your best friend. It's the accessory you take with you everywhere – whether you're heading to the office or grabbing brunch. While we all love our bag, it's easy to become frustrated when you can't find what you're looking for. Have you ever stood at the counter trying to find your credit card to pay for a coffee? Does your handbag seem to swallow up your lipsticks and hair accessories? That's why you need an organizer purse that makes it easy to find all your essentials. When you have an organized purse, you'll never get stressed about finding cash ever again.
Your phone is a lifeline. For most of us, it's practically become an extension of who we are. You can't leave home without it, and it rarely leaves our hand. With phones getting bigger to accommodate everyday activities streaming, it's becoming harder to slip your phone into your pocket.
We've all heard of the nightmares of people having their phones pickpocketed. Just think of how much personal information is in your phone – as well as the price tag of your phone. That's why you need a phone bag. Whether it's a wallet organizer with cell phone pocket or a dedicated cell phone bag, your phone deserves extra protection.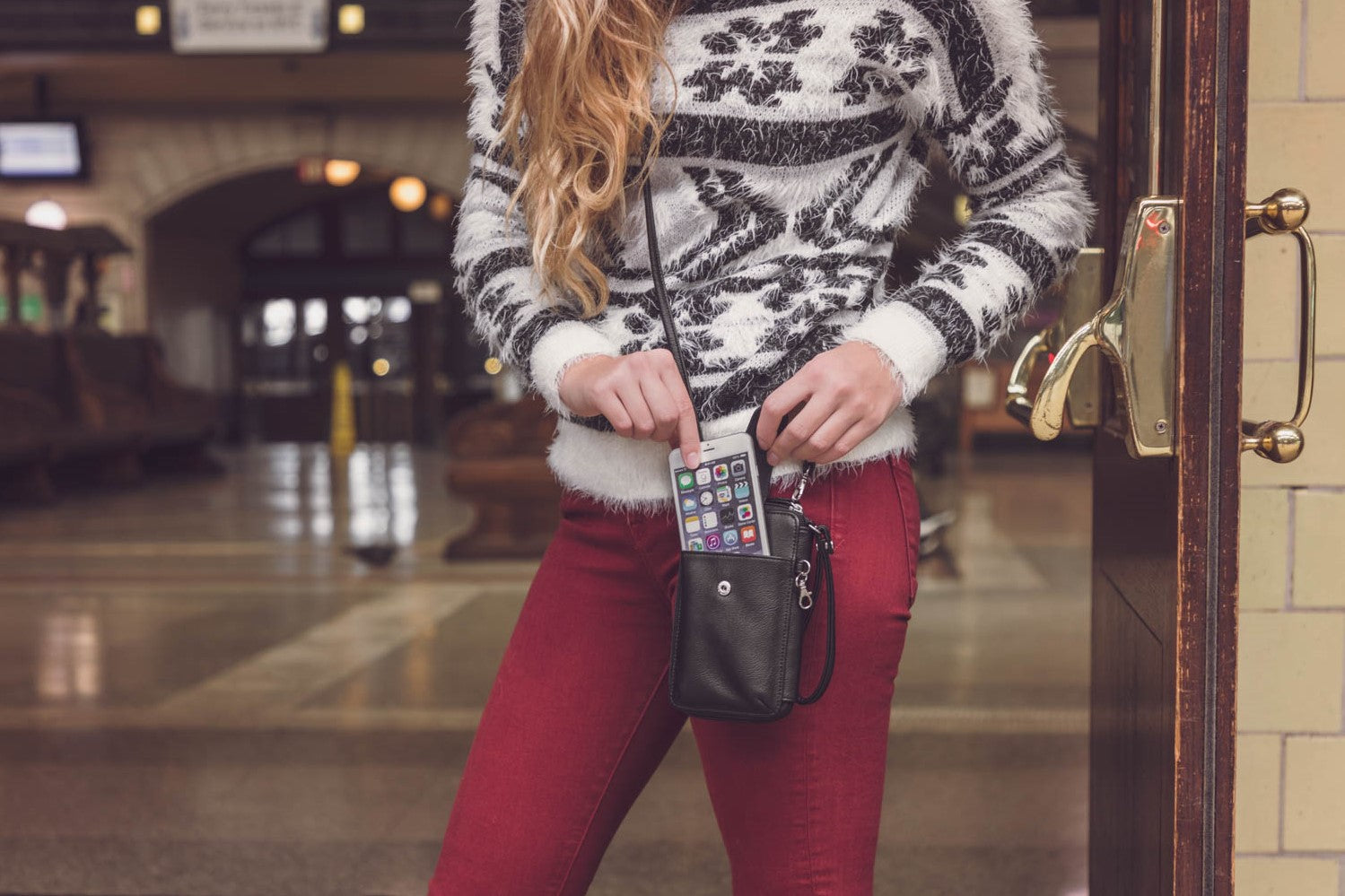 2022 is right around the corner. The New Year brings with it endless opportunities and a chance to start afresh. Whether you're happily waving '
au revior'

 
to 2021 or feeling anxious about the new year, it's a time to stop and reflect. That's why so many of us set new year's resolutions.